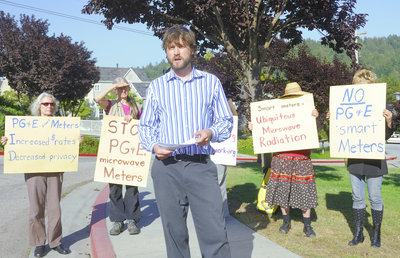 Our short lived group has had initial success on July 20th/ 21st as the Scotts Valley City Council and the Capitola City Council voted to take a strong stand and sign on to petitions by the EMF Safety Network and the City of San Francisco demanding that the California Public Utilities Commission (CPUC) enact an immediate moratorium on smart meter installation.
This doesn't mean that smart meters will stop being installed in these cities however.  That authority rests with the PUC, who have so far been less than receptive to legitimate concerns about health and environmental impacts of these new meters.
By continuing (not so) smart meter installation, PG&E is showing it cares about individual ratepayers about as much as it cares about the democratic process of the positions of local government.   It's a good thing that regular citizens are putting up resistance to this undemocratic intrusion.   Spread the word and create a 'smart meter free zone' in your neighborhood today.