Welcome to Stop Smart Meters! Store. Proceeds help us organize against smart meters. To shop, simply click on the "Add to Cart" buttons below.

If you have product questions please call 888 965 6435 and we will get back to you asap.
Thank you for your support!
---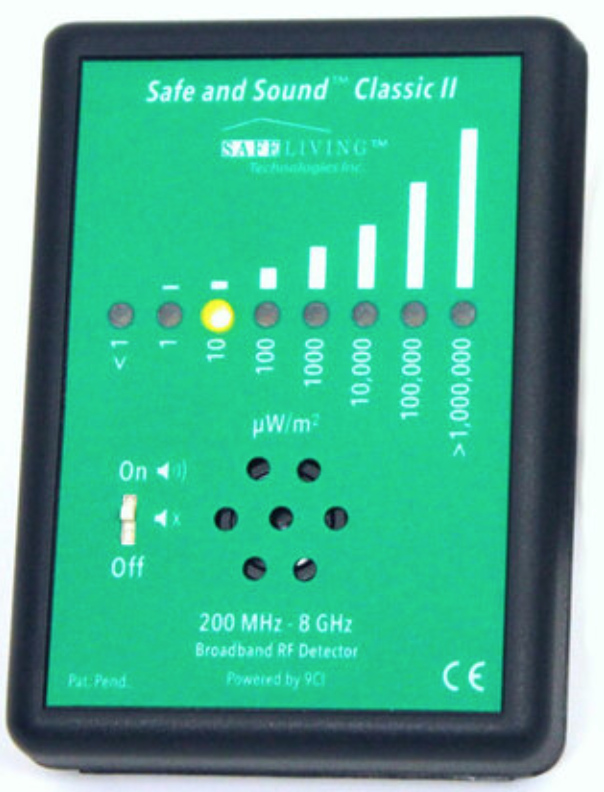 All EMF meters are fully guaranteed, calibrated by the manufacturer, and ship direct from Stop Smart Meters! in California (not via third party). Technical support and detailed usage guides included. Need advice about which EMF Meter to purchase? See below and read our FAQ.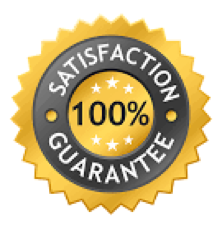 Satisfaction 100% Guaranteed: We provide support with all purchases, and will issue a refund within one month if for any reason you are not satisfied. Full details on our shipping and returns page.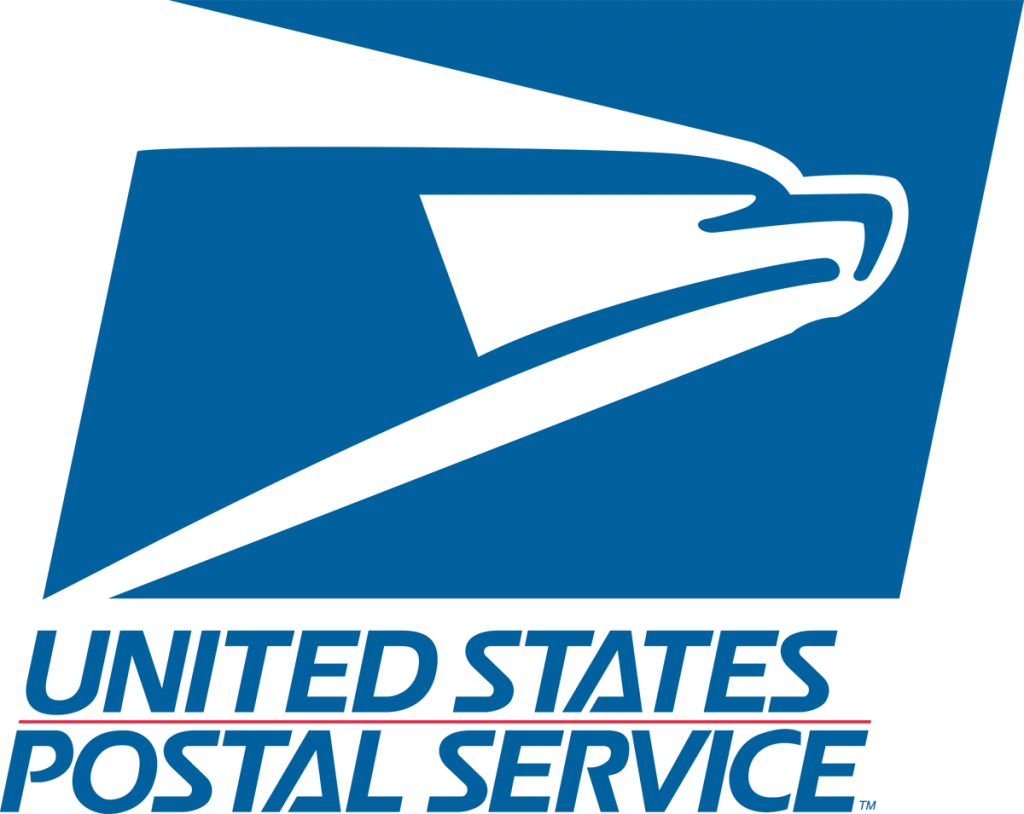 FREE domestic shipping with all purchases. All orders are expedited and ship USPS Priority/ First Class.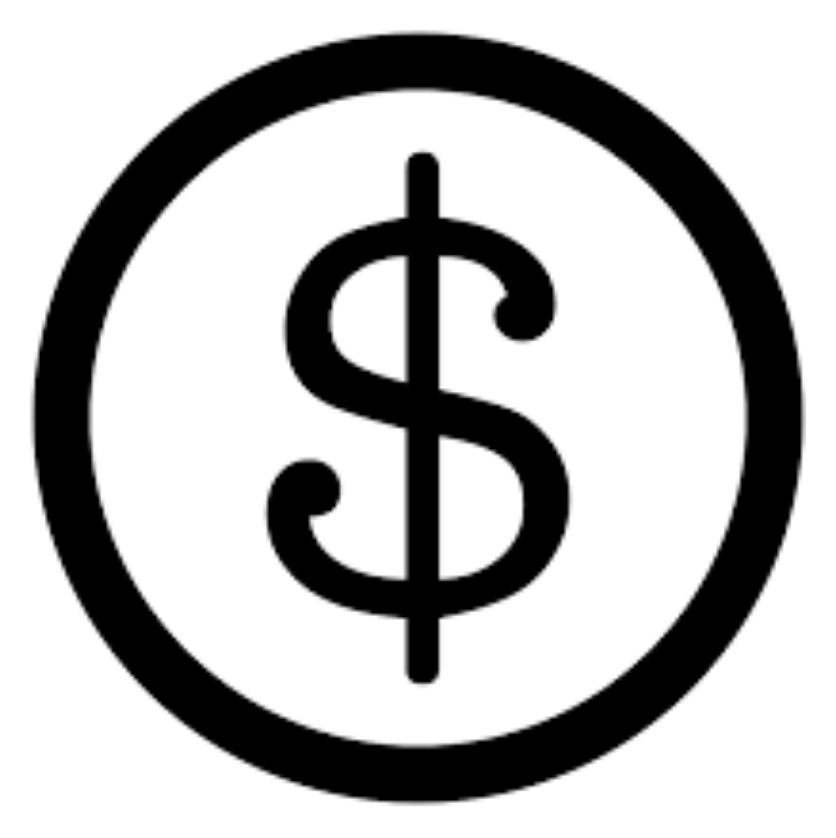 The EMF Meters we sell are guaranteed to be the most affordable of any available online. Save with our combo deals and bargain bin (see below). All prices subject to change.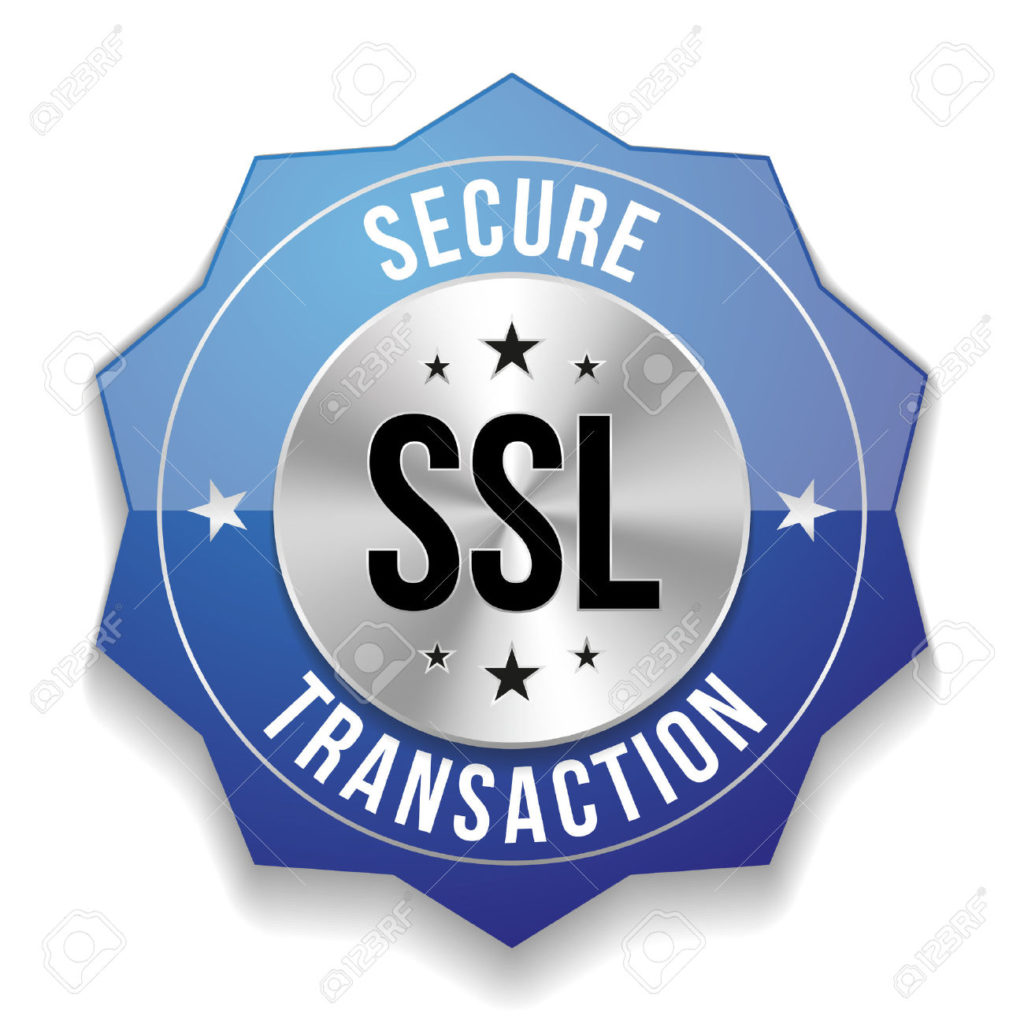 Online transactions handled via PayPal. Pay easily and securely with your debit or credit card, PayPal, or pay by Check/ Money order. We never share or sell your information to third parties, unlike the utilities.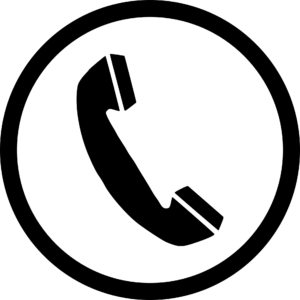 Contact Us: If you have any questions about anything in our store, or need advice about smart meters, please e-mail info@stopsmartmeters.org or call our hotline at (888) 965-6435
---
RF (Radiofrequency) Meters: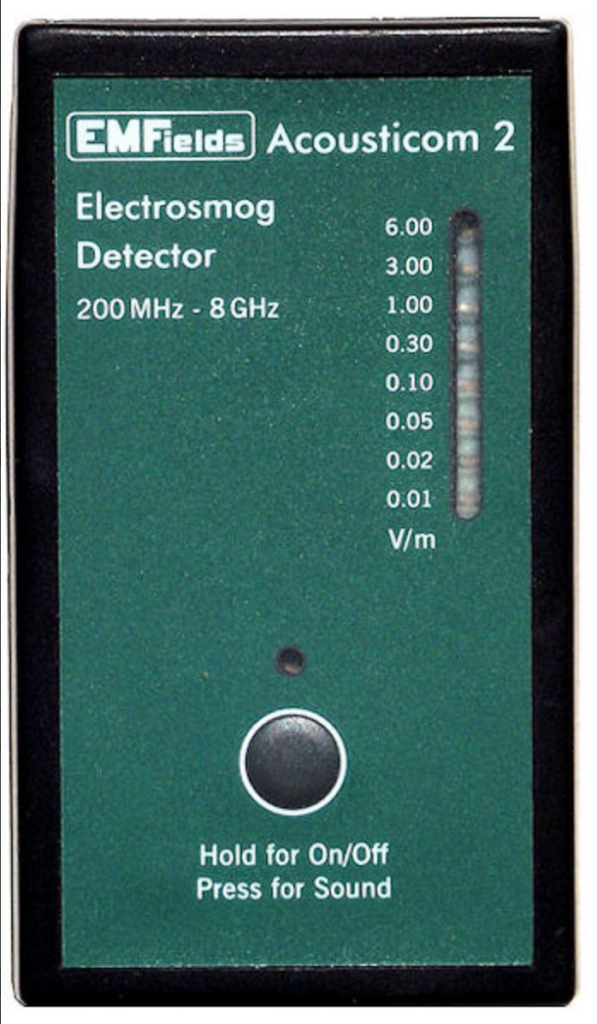 EMFields Acousticom 2 Basic RF Meter The Acousticom 2 presents RF measurements as an audio signal, with LEDs and an alarm at high levels of RF (you can also switch the sound off if you prefer to be less obvious when taking readings). With simple controls, easy to read results, but still using the same advanced microwave detector as the Acoustimeter AM-10, this instrument is perfect for those on a budget. It is smaller and lighter than the Acoustimeter, and comes in its own carry pouch.
When first turned on the Acousticom 2 is silent. The sound may be turned on and off by pressing the button. The Acousticom 2 also has an "alarm" sounder which emits a pulsing warning at higher exposure levels. If the alarm is not required, then it is easy to disable it each time when you turn the Acousticom 2 on. The demodulated sounds allow you to determine, with a small amount of practice, what type of device is creating the pulsing microwave levels that are present.
Sound samples are available on the "Further Information" tab on the EMFields website to help you identify what kind of signal your Acousticom 2 is measuring.
Buy this meter if you want a simple, compact and precise meter to measure wireless communications in the radio frequency spectrum.
Technical Data:
A line of colored LEDS displaying Peak exposure levels in V/m
Measurement range: 200 – 8 000 MHz ±6 dB (typical accuracy)
Sensitivity (Peak Display): 0.01 – 6.00 volts per metre (V/m)
0.01 / 0.02 / 0.05 / 0.1 / 0.3 / 1.0 / 3.0 / 6.0 V/m;
(equivalent to 0.5 to 100,000 peak µW/m2)
Some intermediate points when two LEDs are both lit are also defined: 0.2 / 0.6 / 2.0 / 4.5 V/m
The speaker may be switched on and off
An alarm sounder at higher exposure levels (may be disabled)
Power source: 1x PP3/MN1604 9 volt Alkaline or Rechargeable
Battery life: Up to 10 hours continuous with normal alkaline battery
» Low battery indicator light (the green 'on' light turns red)
Size (mm): 110 x 63 x 21 (LxWxD); Weight: 140g incl. battery
Includes soft shell zipper case
Warranty: 5 Years
Regular Price $189.95 Sale Price including shipping: $179.95 |  In Stock
---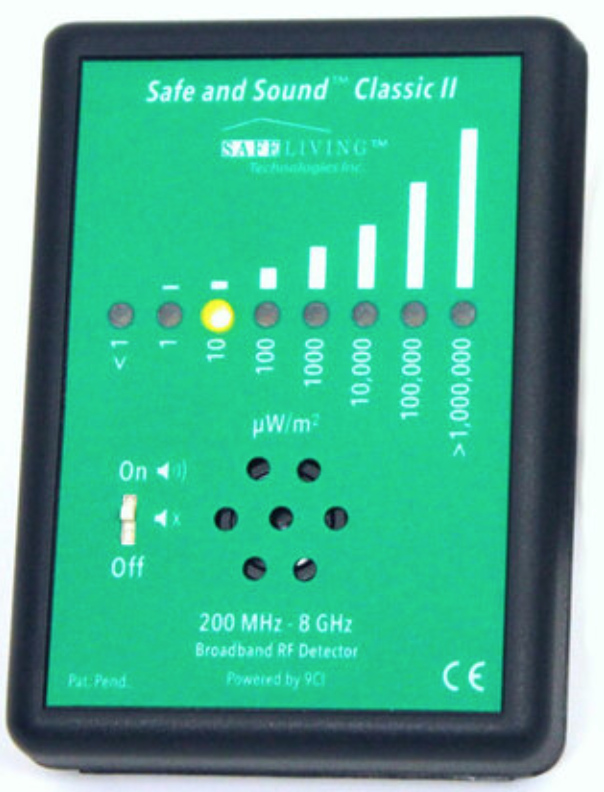 Safe and Sound Classic II RF Detector (RELEASED Nov. 2021- In Stock Now)

Updates from previous Classic (11/21):
More Lights
Bigger Speaker – Louder Sounds
More Sounds, Better Results
Longer Battery Life
3rd Party Certified RF Detector with +/-10dB accuracy from 200MHz – 8 GHz
Unlike any other detector in its price range. The Safe and Sound Classic II RF Detector is a compact, simple to use detector for Radio Frequency / Microwave Radiation. Engineered and designed by the RF Engineers of Safe Living Technologies. Manufactured in Canada and circuit board made in Silicon Valley, USA. Provides a quick and simple assessment of the RF present in your environment and requires no technical experience. It uses color coded LED's which correlate to measurement ranges to assess the RF exposure in your environment. The Safe and Sound also has a sound signature analysis which helps identify which RF sources you are being exposed to.
Features:
No technical experience required, easy to use and understand
True response detection range: 200MHz – 8GHz
Performance tested in 3rd party RF testing lab (report below)
Sound signature analysis to assist with source identification
Measurement ranges based on current Building Biology guidelines for sleeping areas
Uses state of the art measurement technology and is sensitive below 1 µW/m²
Color coded LED's which identify exposure levels corresponding to Building Biology Guidelines
EHS Friendly to hold – no emissions from electronics inside when sound is disabled
Battery operated (3 x AAA) – 12 to 20 hour battery life
Small, durable and compact handheld design: 65mm X 90mm X 21mm (2.5″ X 3.5″ X 0.8″)
Engineered in Canada – Manufactured in Canada and the USA
2 Year Warranty
Specifications
Frequency Measuring Range: <1μW/m2 to >1 000 000μW/m2
Sampling Rate: <5 μs
Zipper Case Dimensions: 85mm X 110mm X 30mm (3.5″ X 4.3″ X 1.2″)
Meter Dimensions: 65mm X 90mm X 21mm (2.5″ X 3.5″ X 0.8″)
Weight: Approx. 140 grams including batteries and zippered carrying case

Battery Life: 2 x AAA Alkaline Batteries – 12 to 20 hour battery life
Regular Price $169.00 Sale Price including shipping: $159.00 |  In Stock
---
Safe and Sound Pro II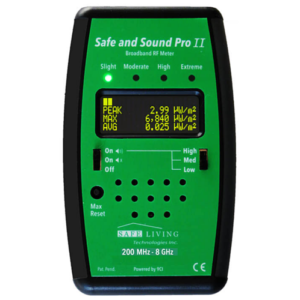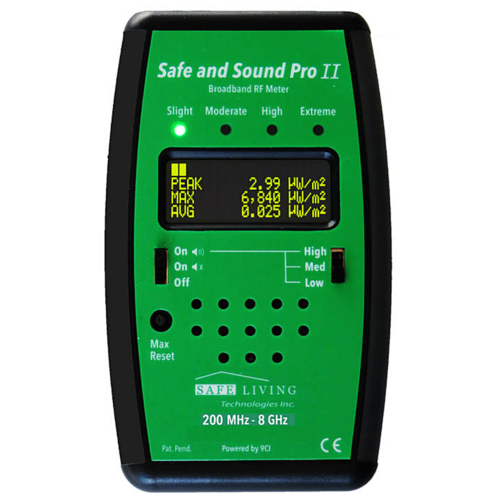 RF Meter  The Safe and Sound Pro II RF Meter is a compact, simple to use meter for Radio Frequency / Microwave Radiation (200 MHz to 8 Ghz). The Pro II includes all the same features the original Safe and Sound Pro has: Max Hold, USB power jack for continuous monitoring, Adjustable volume control and 2.5mm headphone jack and sound signature analysis.  New features include: Max Reset Button, lower noise floor, a more robust and bright display and an upgraded microprocessor.
Buy the Safe and Sound Pro 2 if you are looking for a technically sophisticated RF meter that is more likely to accurately measure microwave pollution across a wide spectrum.
Supplied with:
Safe and Sound Pro II RF Meter
Zippered Carrying Case
User's Guide
2 – AA Alkaline Batteries
2 Year Warranty
Technical Data:
Frequency Range of Meter: 650 MHz – 8 GHz (will detect signals from 200 MHz to 8 GHz)
Accuracy: +/- 6dB – 3rd Party Certified
Power Range: <0.001μW/m2 to >2,000,000μW/m2
Sampling Rate: <5 μs
LED Ranges @ 2.4 GHz: Green (Flashing) <1 μW/m2 / Green 1 – 10 μW/m2 / Yellow
10 – 100 μW/m2 / Orange 100 – 1,000 μW/m2 / Red 1,000 – 10,000 μW/m2 / Red
(Slow Flashing) 10,000 μW/m2 – 100,000 μW/m2 / Red (Fast Flashing) >100,000 μW/m2
Zipper Case Dimensions: 7″ x 4.5″ x 1.5″ (17cm x 11cm x 4cm)
Meter Dimensions: 6″ x 3.5″ x 1″ (15cm x 9cm x 2.5cm)
Weight (With Zipper Case): 0.6 lbs (0.286kg)
Material of Meter Case: Plastic
Battery Life: 2 x AA Alkaline Batteries – 12 to 15 hour battery life
(complete specs for the SS Pro 2 available at Safe Living Technologies) Use code SSM-5 for other purchases on their site to get a 5% discount)
Regular Price $399.95 Sale Price including shipping: $385.00 |  In Stock 

---
Low Frequency (Gauss) Meters: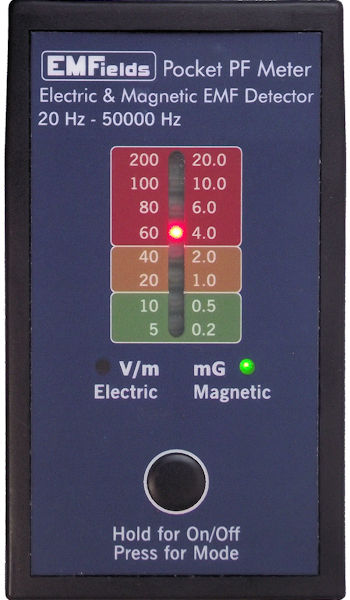 EMFields PF5 Pocket Electric and Magnetic Detector
The PF5 is EMFields' newest power-frequencies detector. The PF5 measures electric and magnetic electromagnetic fields from house wiring, including those from appliances at home and at work. The PF5, unlike most EMF meters on the market, also measures frequencies in the range from 20 Hz to well over 50 kHz. This enables the meter to measure the higher frequency electric and magnetic fields emitted by induction cooking stovetops, solar-panel inverters, 'energy-saving' compact fluorescent (CFL) lamps and some LED lights.
Buy this meter if you want a simple, high quality, compact and precise meter to measure Low Frequency magnetic and electric field emissions from power lines and appliances.

Regular Price $189.95  Sale Price including shipping: $179.95 |  In Stock
Technical Specifications
A line of colored LEDS shows the level
Electric fields range: 5 – 200 V/m
Frequency range: 15 – 2000 Hz ±3% typical accuracy)
Magnetic fields range: 0.02 – 2.0 µT
» also available scaled 0.2 – 20 mG
Resolution: 8 LEDs plus 7 middle points
Accuracy: 50 to 2000 Hz ±10%
Accuracy: 20 to 50000 Hz ±3 dB
with a useable response from 15 Hz – 70 kHz
Battery: 9V Alkaline or Rechargeable
Current: 16-23 mA
Battery life: 25 hours (normal alkaline)
Low battery (6.7V) shown by red V/m LED
Compact size (mm): 110 x 63 x 21 (LxWxD)
Weight:140g incl.battery; 175g with pouch
Warranty: 5 Years
---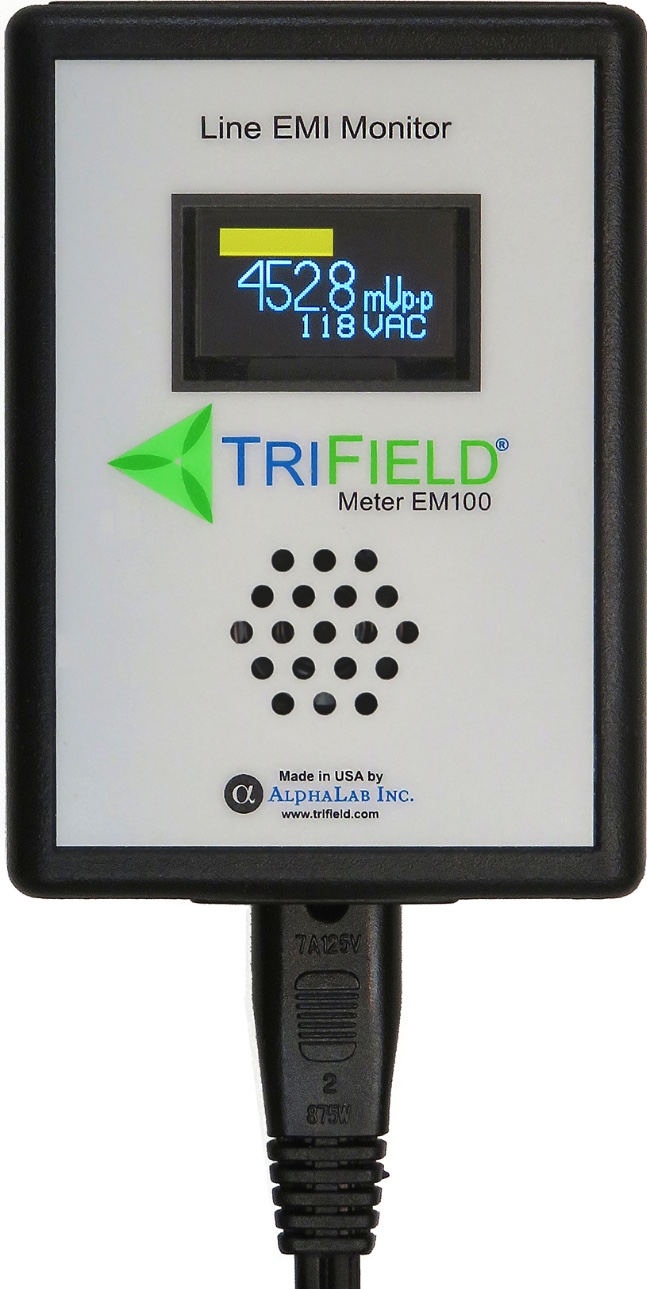 Dirty Electricity Meters:
Alphalab Inc. Trifield Power Line (Dirty Electricity) Meter
The Trifield Power Line Meter is an essential tool to measure and reduce "dirty electricity" in your home, caused by smart meters and other electronic devices. The Powerline Meter plugs into a wall outlet and requires no battery. It immediately displays total line noise in millivolts in the frequency range 10 KHz – 10 MHz. A speaker plays the sound of the Electro-Magnetic Interference (EMI).
Buy this meter if you want to measure power quality (or dirty electricity) levels on your home wiring.

Regular Price $159.95  Sale Price including shipping: $149.95 |  In Stock
Specifications
Operating Voltage: 85-300 VAC 50/60 Hz.
Voltage Reading: 85-250 VAC; Accuracy +/- 1 VAC
Line Noise Range: 0.1-1999.9 mVp-p AC (differential)
Noise Accuracy: +/- 8% @ 20 kHZ to 2 MHz; within factor of 2 (10 kHz to 10 MHz)
Size: 5.2 x 3.6 x 1.6 inches; 132 x 91 x 41 mm
Weight:  8 oz
Power Cable: Detachable 2-wire cord  (North America)
---
EMF Meter Bundle Deals:
Save money when buying multiple meters at the same time. Plus, get free shipping as always. Here are the EMF meter bundles we recommend: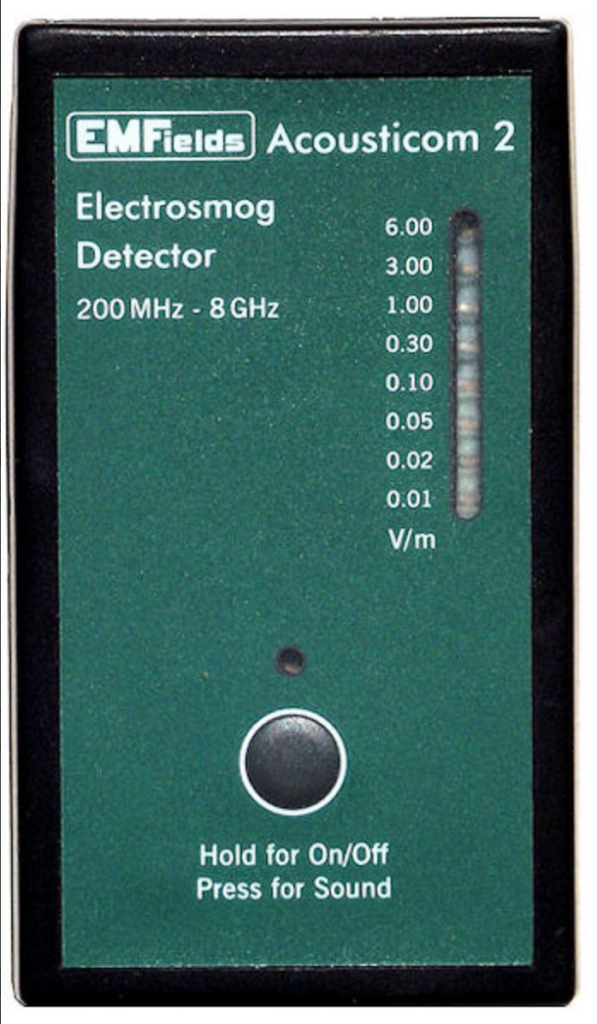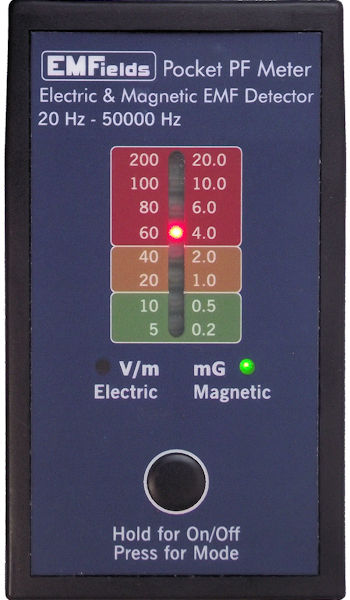 EMFields PF5 Gauss Meter and Acousticom 2 RF Meter Bundle (includes zipper cases)
Bundle Price: $319.95 |  In Stock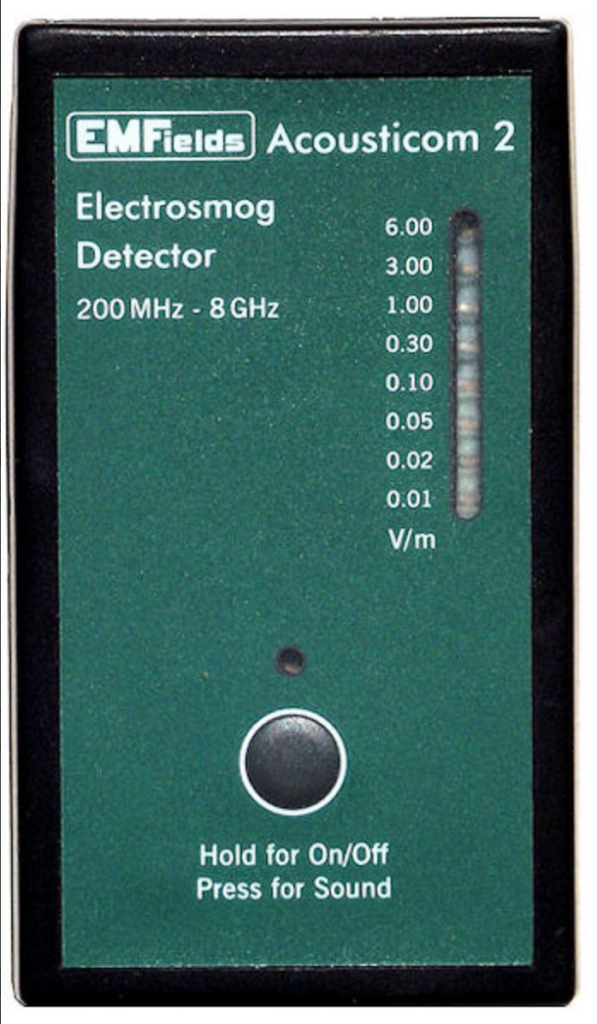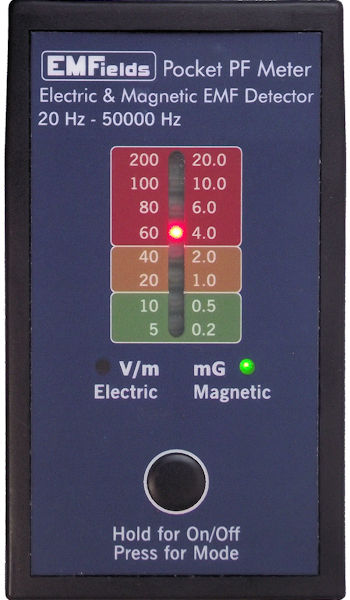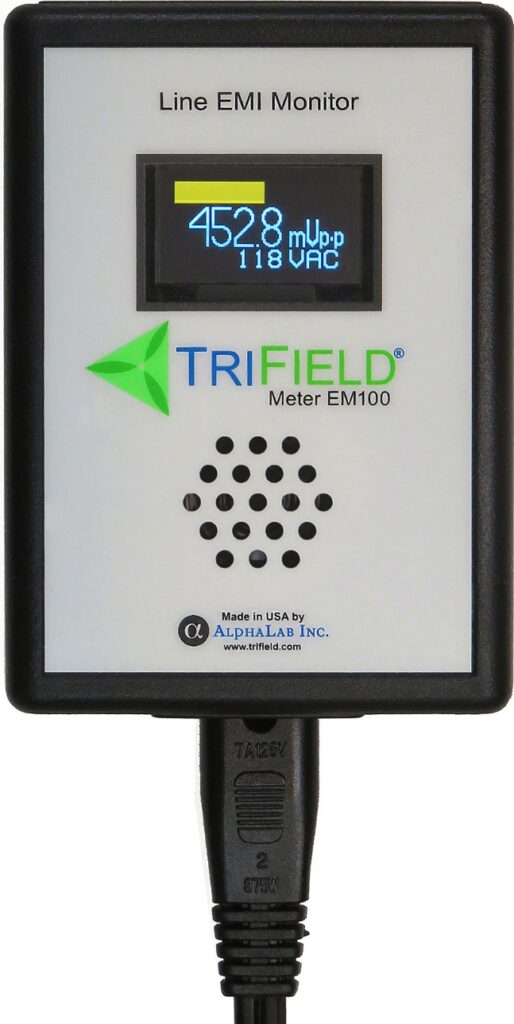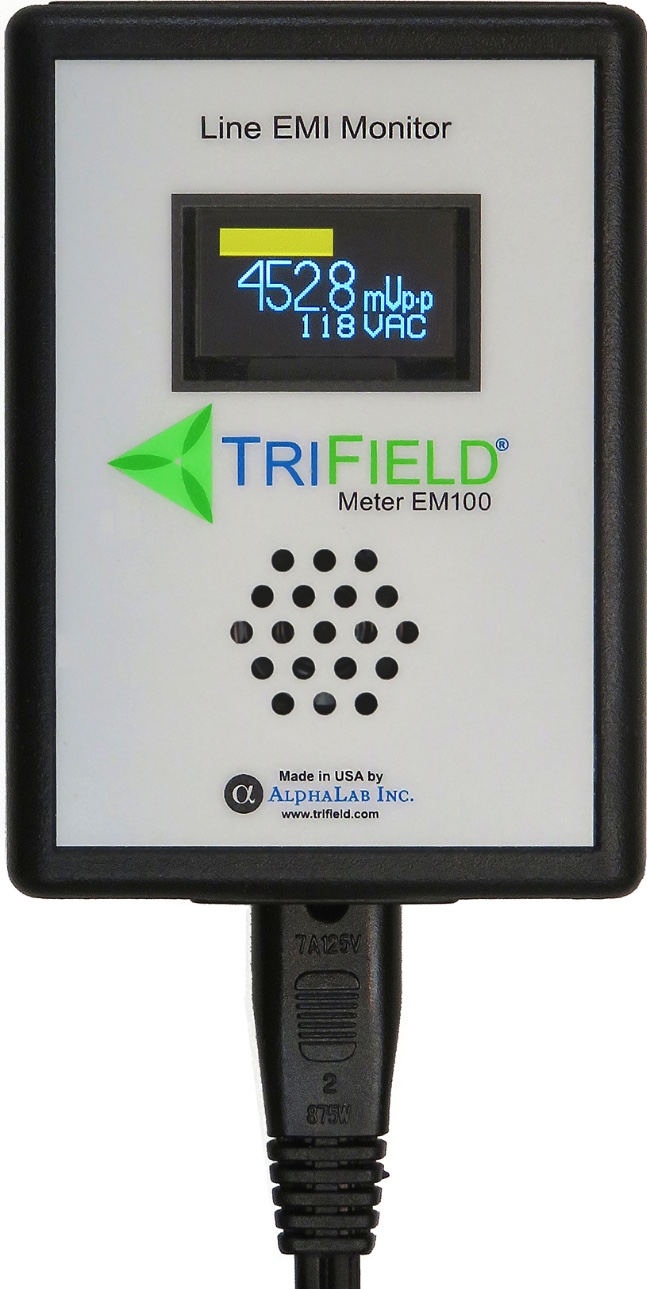 EMFields PF5 Gauss Meter, Acousticom 2 RF Meter, and Trifield Power Line (Dirty Electricity) Meter Bundle (includes zipper cases for EMFields Meters)

Bundle Price: $439.95 |  In Stock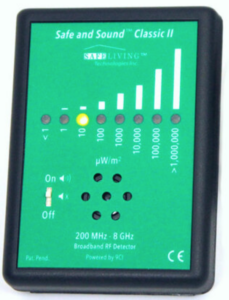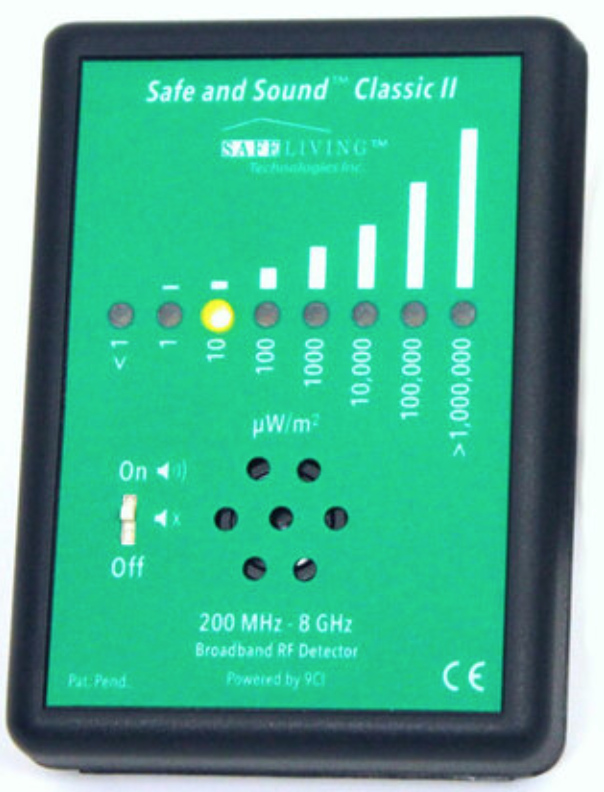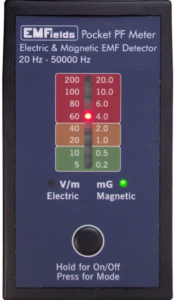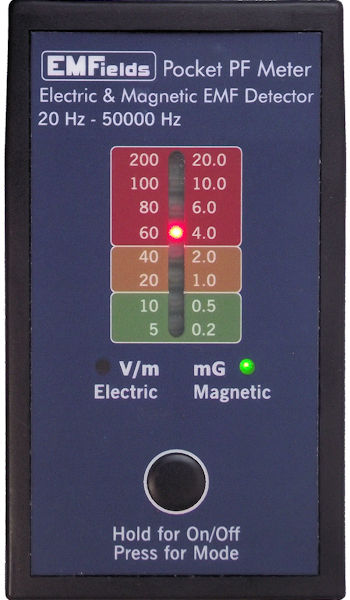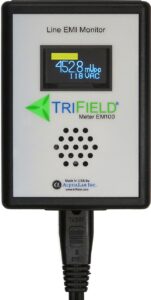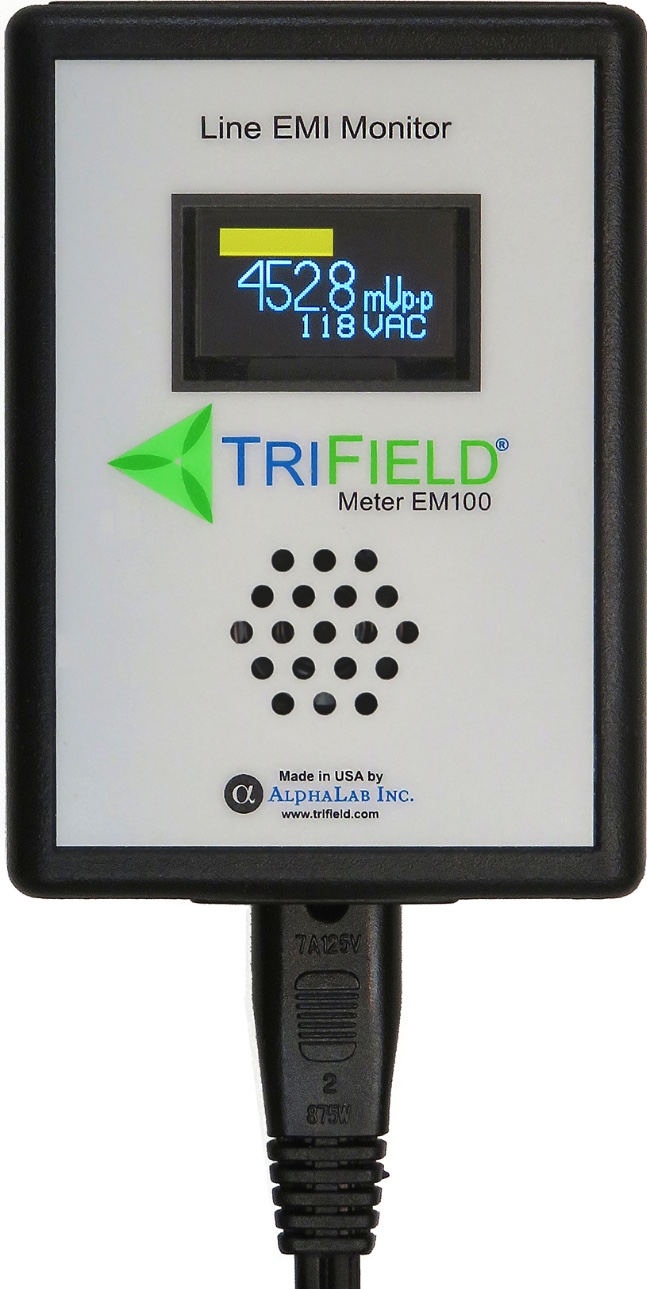 Safe and Sound Classic II, EMFields PF5, and Trifield Powerline Meter Bundle (includes zipper cases for all meters)
Bundle Price: $429.95 |  In Stock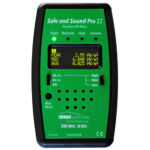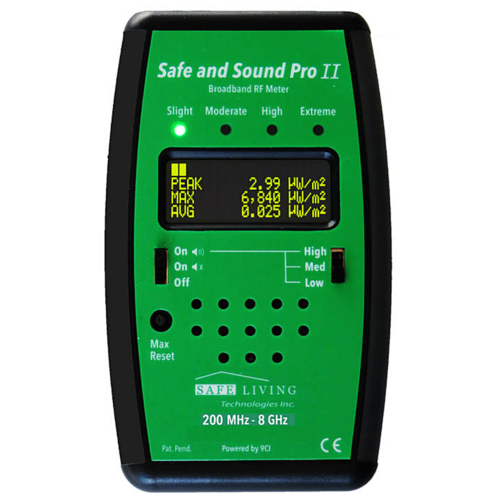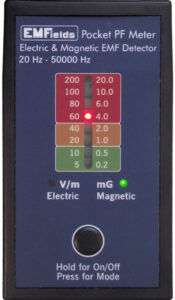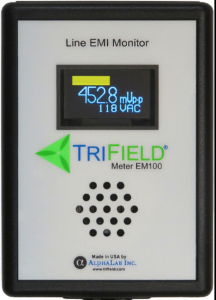 Safe and Sound Pro 2 RF Meter, EMFields PF5 LF Meter, and Trifield Dirty Electricity Meter Bundle (includes cases for all meters)
Bundle Price: $649.95 |  In Stock
---
Printed Material: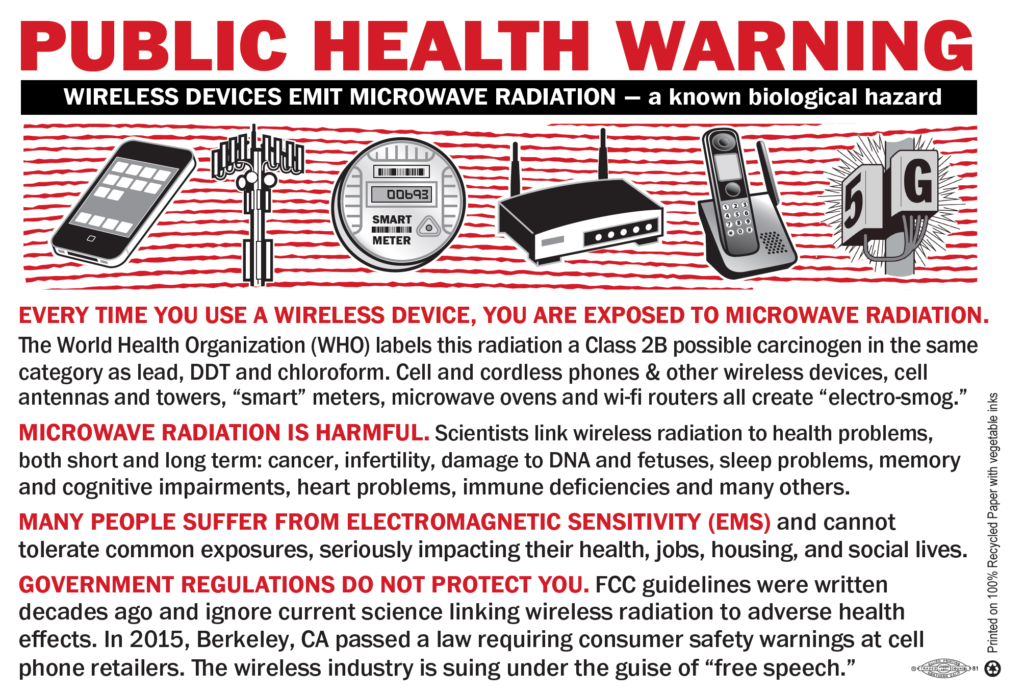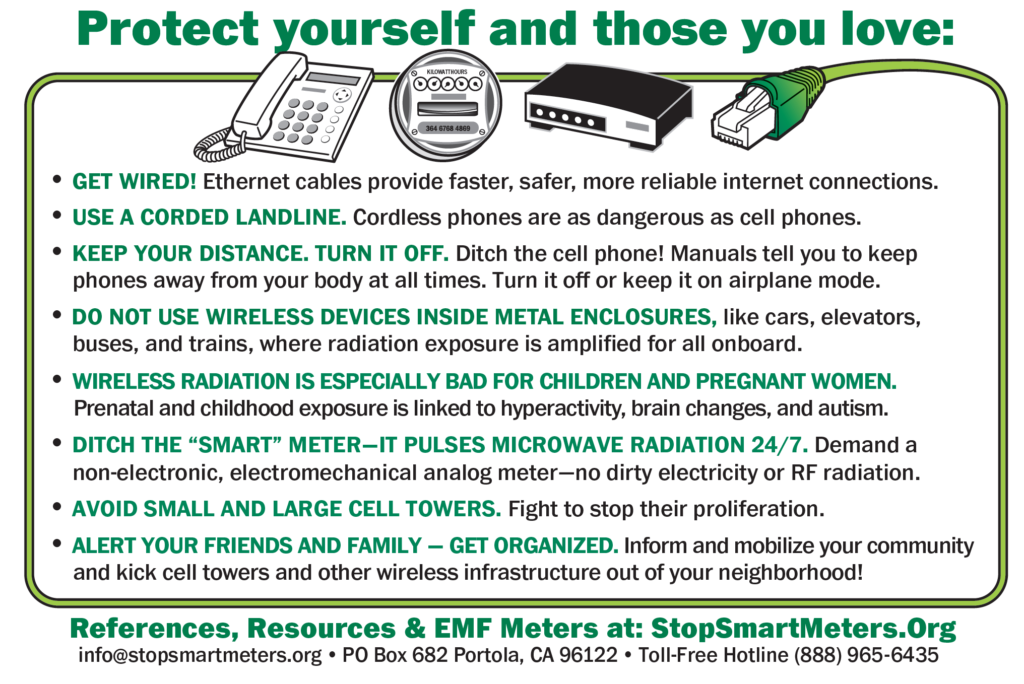 Public Health Warning Cards 4th Edition (released May 2019)- now includes 5G info and feistier language on community resistance. Printed on 4×6″ 100% recycled card stock.   Hand out to your neighbors and friends  Click here to see the full card. 50-pack $10.95 | Out of Stock

---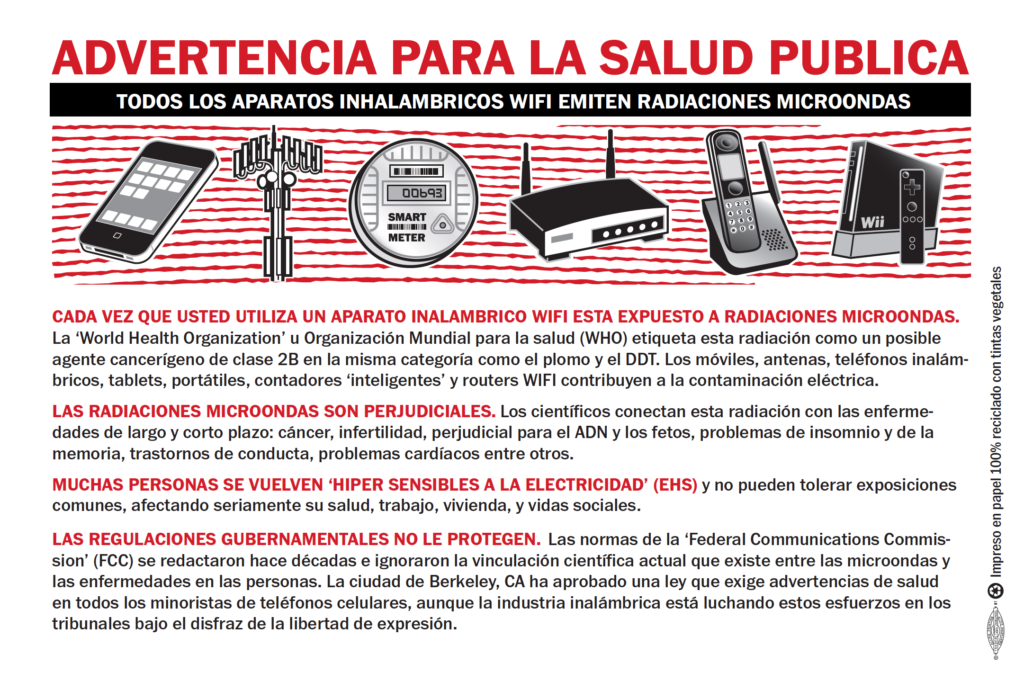 Advertencia Para La Salud Publica (En Espanol) Impreso en cartulina reciclado 100% de 4×6 "Entregue a sus vecinos y amigos"   50-pack: $10.95 | In Stock
---

Smart Meter Awareness Brochures– 4th Global Edition. Includes smart meter radiation comparison chart, types of smart meters, revised action items, plus space to add your local info with a label or stamp. Dimensions: 8.5 x 14″ 2 sided, double parallel fold brochure.  More info and download pdf on our brochure page.  Includes local labels for your area upon request.
50-pack $12.95| In Stock

---
DVDs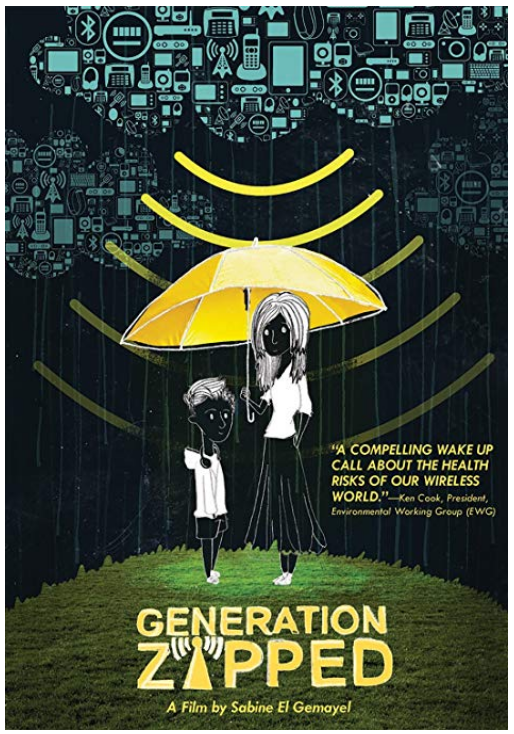 Generation Zapped New DVD (Region 1- US/ Canada) In less than a generation, cell phones and the Internet have revolutionized virtually every aspect of our lives, transforming how we work, socialize and communicate. But what are the health consequences of this invisible convenience? 'Generation Zapped' investigates the dangers of daily exposure to wireless technologies – including the devastating effects on our health from infertility to cancer – and suggests ways to reduce overexposure. $19.95 per DVD | In Stock
---
Books: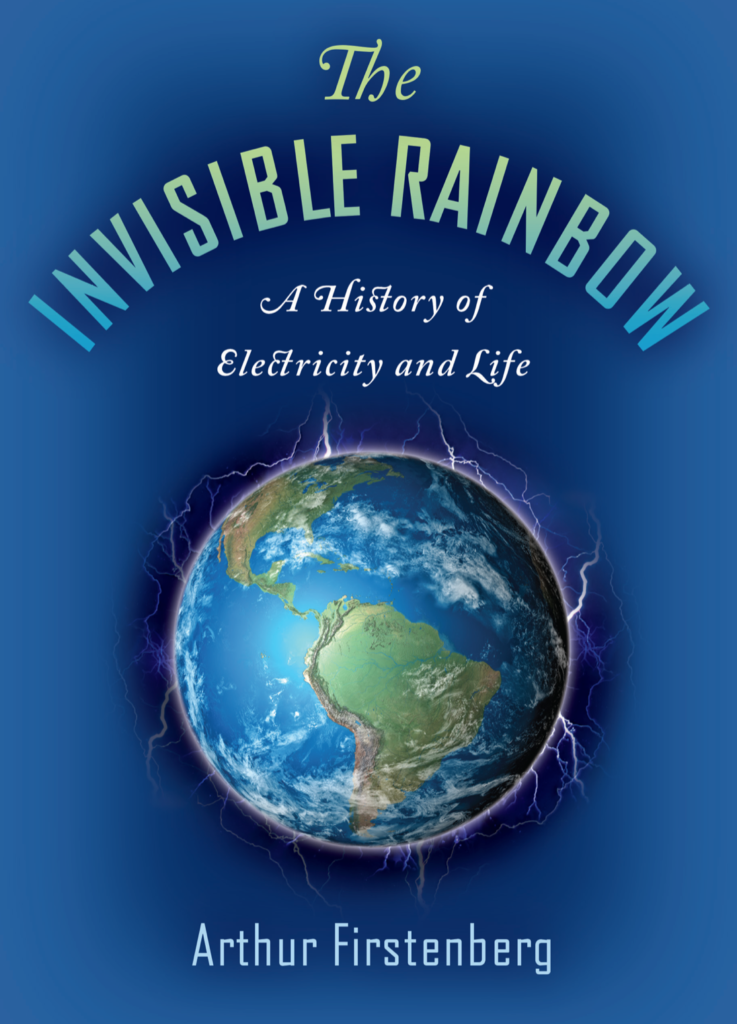 The Invisible Rainbow by Arthur Firstenberg
Now in Paperback!  Electricity is at once the spark of life and the undoing of it. To what extent is our present environmental crisis a result of this contradiction? Where, exactly, did the modern epidemics of cancer, diabetes, and heart disease come from, and why are they out of control? Just how dangerous are computers and cell phones? This groundbreaking book supplies the answers to these and other questions. It is a must-read that begins in the year 1746 and explains what has gone wrong and what must change if we are to survive. A breaker of taboos and an antidote to two centuries of denial, this book is uplifting. An entertaining tale and a resource for researchers, it is a road map to how we came to be where we are, and a window to a possible, necessary, more alive future. Highly Recommended!
"I found it to be a mystery unfolding and could not put it down. This book is very, very important."  – Sandy Ross, Ph.D. President, Health and Habitat, Inc.
"As a physician I found it hard to put down." – Bradley Johnson, MD Amen Center, SF
"The Invisible Rainbow is wonderful."– David O. Carpenter, MD University at Albany
$24.95 per paperback copy | Out of Stock
---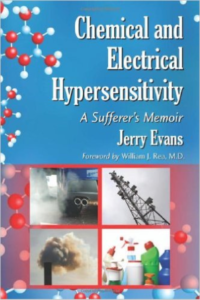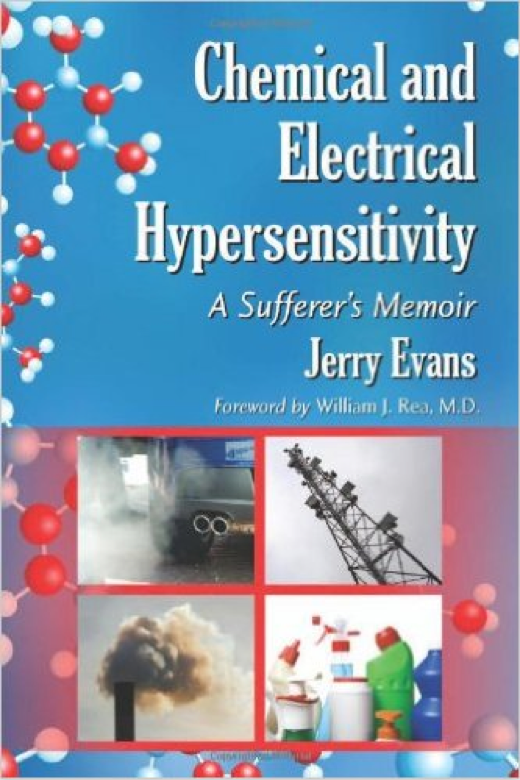 Chemical and Electrical Hypersensitivity: A Sufferer's Memoir By Jerry Evans  — This timely memoir recounts one man's affliction with MCS/ EHS and his struggle with the medical establishment, largely hostile to his diagnosis. When the symptoms became unbearable, he was forced to leave home and seek a more healthful environment where he could begin his recovery. This is an inspirational text for those living with electrical or multiple chemical sensitivity and an educational one for those learning about these conditions. $23 per copy |
---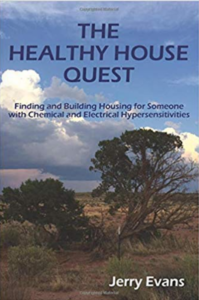 The Healthy House Quest: Finding and Building Housing for Someone with Chemical and Electrical Hypersensitivities By Jerry Evans —A True Story of Hope Jerry Evans details his adventures building a healthy house in the high desert of Northern Arizona near the town of Snowflake. Jerry has suffered years of devastating illness from Multiple Chemical Sensitivities (MCS) and Electrical Hypersensitivity (EHS). As the story of his quest for his own place in the world unfolds, he finds a community of fellow survivors, learns how to build healthy housing, and finally finds stability, peace, and a place to call home. $15 per paperback copy | In Stock

Error! You must specify a product name in the shortcode.



---
Stickers: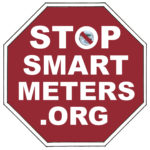 'StopSmartMeters.org' Stop Sign Logo Stickers, Octagon Shaped 1.5″ x 1.5″ discreet vinyl UV resistant, durable/easy peel, tells the message and where to get more info- in one sticker. Pack of 30 $12.95 | Out of Stock

---
Bargain Bin (Pre-Owned Meters and Accessories):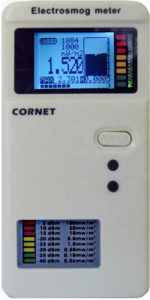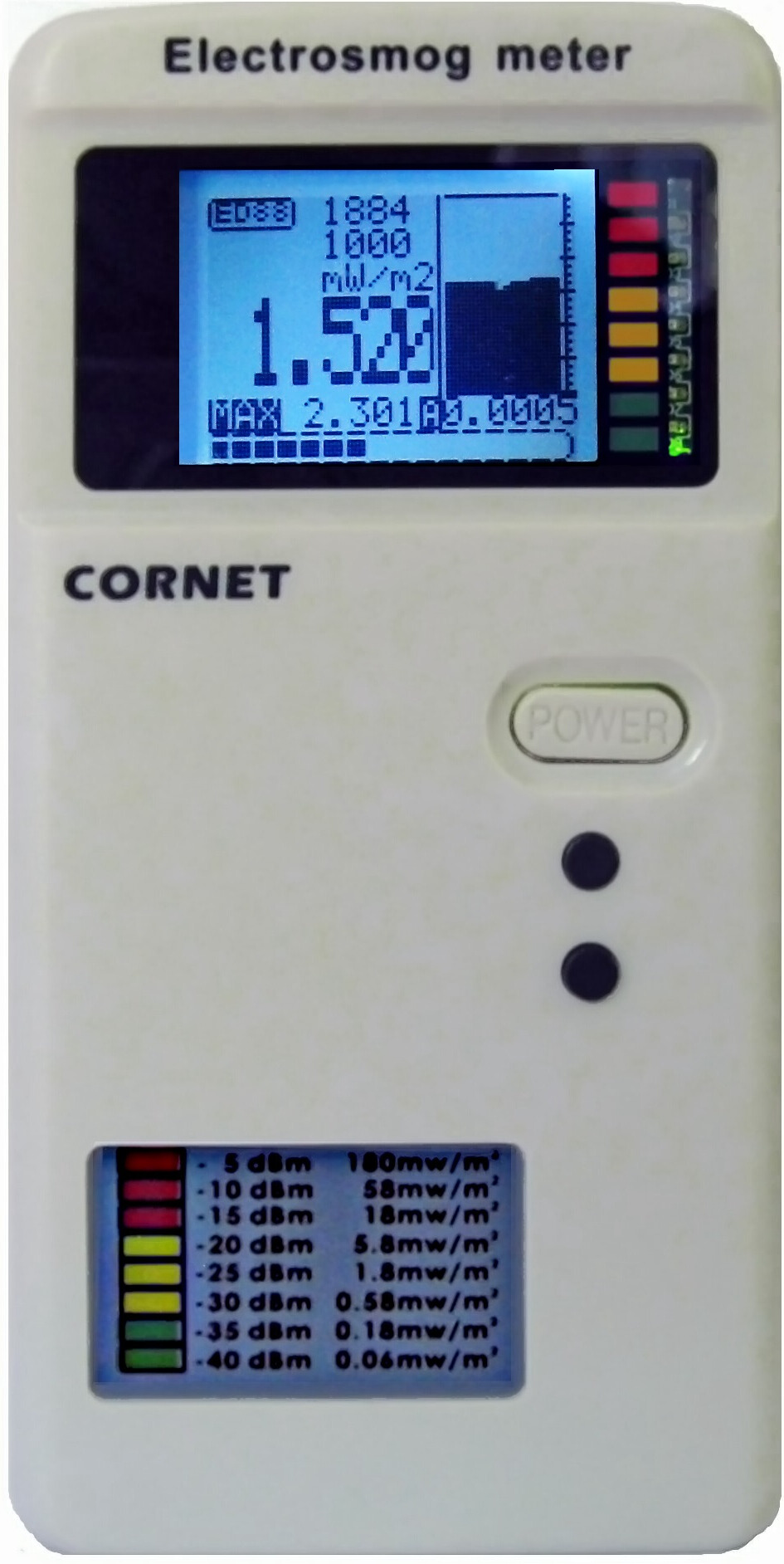 Cornet ED78S (excellent condition) $79.95
Kill-a-Watt Energy Monitoring Device (very good condition) $16.95
---
If you didn't find what you were looking for here, try Safe Living Technologies of Canada. Use code "SSM-5" when checking out and save 5% on any order!
---
You Can Also Pay By Check or Money Order Instead of PayPal:
1. Add up your order (CA residents please add 7.25% sales tax)
2.  Send a check or postal money order to:  Stop Smart Meters! PO Box 682 Portola, CA 96122.  Include your USPS shipping address, how many of each item you wish to order, and your e-mail address and/or phone number in case we have any questions. Thanks!