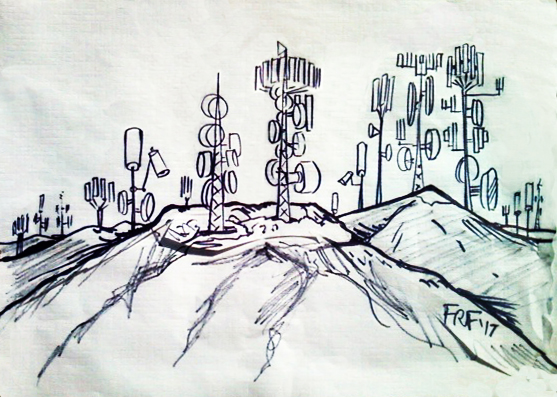 Thanks to Vicki Sievers of Marin County, CA for sending out this recent alert. Please take action today and let Washington & Sacramento know we will not tolerate this taking of our democracy by telecom giants!

📣📣 WE MUST CONTINUE TAKING ACTION TO FIGHT THE WORST BIG TELECOM GRAB WE'VE EVER SEEN !!
The industry seeks to kick local authority and public discussion out of their way so they can install antennas wherever they want. 
The most egregious of the federal bills is HR 3557. In combination, the bills make a formidable threat to the rights of local governments and citizens. Here's a key excerpt from a joint letter composed on behalf of the nation's counties, cities, towns and villages, the National League of Cities (NLC), United States Conference of Mayors (USCM), National Association of Counties (NACo) and the National Association of Telecommunications Officers and Advisors (NATOA) : "We fear the unintended consequence of some of these bills will be to impose costs on local governments, burdens on our taxpayers, interference with public safety and otherwise harm local protections that are the heart of localism without substantively improving broadband deployment."  
In California, AB 965 and 1065 have similar impacts. AB 965 allows automatic approval of batches of 25 or 50 antennas if applications are not approved in an unrealistic time period. AB 1065 allowswireless companies to access funds that were designated for superior wired, fiber broadband.
EVERY ACTION YOU TAKE HAS IMPACT. WHAT CAN YOU DO RIGHT NOW?
Re HR 3557:
1) Please call and/or email Congressman Jared Huffman and Senators Padilla and Feinstein to urge them to oppose HR 3557 and all federal telecom bills that put wireless industry profits ahead of critical local government decision-making and public safety
Senator Padilla: https://www.padilla.senate.gov/contact/
Senator Feinstein: https://www.feinstein.senate.gov/public/index.cfm/washington-dc
Congressman Huffman: https://huffman.house.gov/contact/    (Click on OFFICES for phone numbers)
To find your own U.S. Representative: https://www.house.gov/representatives/find-your-representative
2) If you have not already done so, please make sure your own city/town council knows about the bill(s). Ask your city/town to do what you did in #1— urge the three legislators to oppose HR 3557 and all telecom bills that take away rights of local government. Send your mayor and councilmembers the Municipal Resolution attached.
3) Ask at least three+ more people to do what you have done.
**More info/talking points: https://www.americansforresponsibletech.org/stop3557 or excellent attached FACT SHEET prepared by attorney Odette Wilkens, president of Wired Broadband, Inc.
Re CA AB 965 and 1065 – just one call right now
AB 965 (Carillo) is now in its final form after passage in the Assembly and assigned Senate committees. It could be up for a roll call vote on the Senate floor tomorrow, so please CALL Senator McGuire's capitol and local office today or early tomorrow morning. (If you live outside of McGuire's district, please contact your own state senator.)
Say you are calling to urge the senator to VOTE NO on AB 965 authored by Senator Carillo (include "Carillo") because the bill adds a significant and unnecessary administrative, legal and financial burden to local municipalities. Forcing local governments to make hasty decisions on wireless applications increases fire risk and jeopardizes public safety.
Office phone numbers for Mike McGuire:https://sd02.senate.ca.gov/contact