Stop Smart Meters is a grassroots-funded campaign.  Please donate and support our work today! Your contributions help educate  and organize the public against smart meter deployments in CA, around the US and internationally. If you wish to make a tax deductible donation, please e-mail us direct for instructions.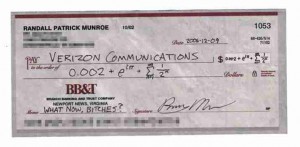 To donate by check or postal money order, and have 100% of your donation go to Stop Smart Meters! please make payable to "Stop Smart Meters!" and send to: SSM! PO Box 682 Portola, CA 96122

To donate by PayPal or using a credit or debit card, click here

Share your Amtrak points with Stop Smart Meters! Help us travel and support local groups around the country. E-mail for more info.
Thank You for helping to grow the movement!!