On Tuesday evening, the Berkeley, California City Council unanimously passed legislation requiring warnings be posted at cell phone retailers in the city, simply informing people of what is already in the manual regarding the health risks of cell phone radiation.
This comes the day after 190 scientists and medical researchers from 39 nations called upon the WHO, UN, and member states to begin taking health and environmental impacts from Electro-Magnetic Fields seriously.
Thanks to the Berkeley City Council for their leadership and to Harvard Law Professor Lawrence Lessig who has agreed to represent the city pro bono. More details can be found at the Safer EMR site.
You may remember that Stop Smart Meters! and the CA Brain Tumor Association were tired of waiting years for legislation while people got sick and died, so we labeled phones ourselves in this direct action at the Verizon store in San Francisco last January. Even the Verizon employees thought the warning labels were a good idea and installed one on their phone.
Now Available in the Stop Smart Meters! Online Store: Public Exposure: DNA, Democracy & the "Wireless Revolution"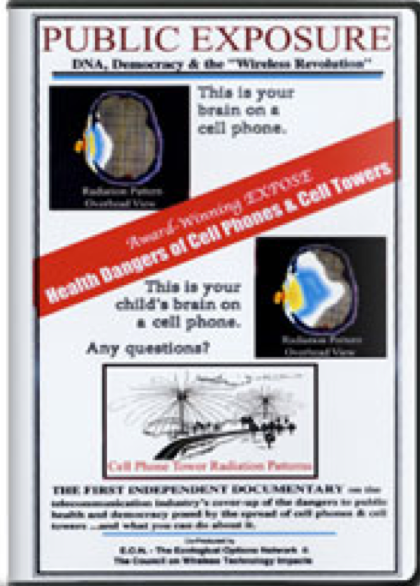 To celebrate these advances made by the EMF Safety movement, we've just added Public Exposure: DNA, Democracy & the "Wireless Revolution" to our online store which also features Mobilize: A Film About Cell Phone Radiation as well as other DVD's and resources to support your local campaign.