The California Coalition to Stop Smart Meters (CCSSM) is a non-partisan group of organizations and individuals helping to coordinate statewide efforts to inform residents about the risks of "smart" meters and the "smart" grid. 
The first project of the coalition has been to produce a professionally designed brochure presenting the truth about the "smart" meter rollout, available for free pdf download in either color or black and white (pages one and two). Color copies are available by mail (see below).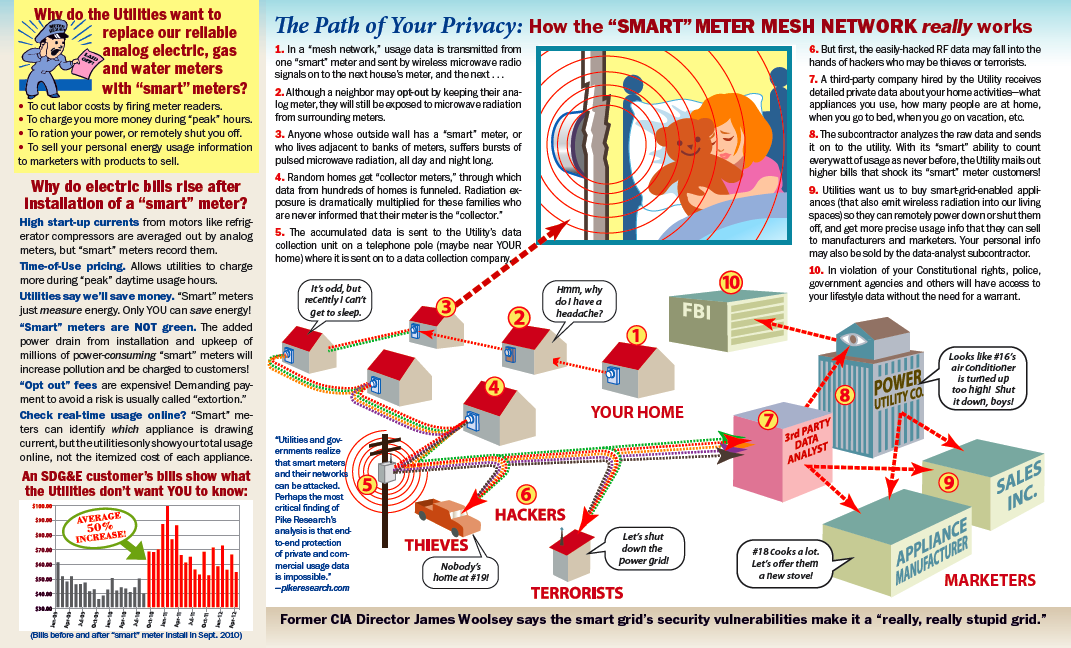 Brochure Order Information
You can download the Coalition's 8.5″ x 14″ brochure for free in pdf format, right here. It presents the truth about the "smart" meter deployment in graphic detail. Download in color or black and white (pages 1 and 2).  Legal size paper required for home printing, or send it to your local printer.
The brochures are specific to the three major California utilities- PG&E, SCE, and SDG&E.  If you live in an area with a municipal utility or in another state or country, you can print labels with local information to modify the printed flyers.  Let us know if you are interested in doing your own print run- with your state's specifics.
If you would like to order printed color copies of the Coalition's "Are They Smart for You?" brochure, they are being offered through Stop Smart Meters! at the following prices (which include priority shipping and handling). Minimum order 100 quantity.

Quantity                       Cost
100                                    $20
200                                   $35
250                                   $40
500                                  $75
1000                                $145
To order, please send an e-mail to info[at]stopsmartmeters[dot]org indicating:
1) your name and US Postal Service shipping address
2) how many brochures you would like (minimum 100)
3) Make check payable to "Stop Smart Meters!" & send to P.O. Box 30 Davenport CA 95017
4) If you have a low income and cannot afford to purchase these but would like to distribute them in your area anyway, please e-mail us with your situation, and we may be able to provide copies, thanks to a few generous donors.  Likewise if you are able to support flyers being made available to low income areas, please donate today.
5) Distribute the flyers in your local area!  Farmer's Markets and food stores are good places to hand them out.  You can also put a stack at friendly businesses, and knock on doors in your neighborhood (leaving one on their door if they do not answer).  Organize a "smart meter free zone" in your neighborhood.  Please do NOT put them in USPS post boxes as this is illegal!
Once we process your payment, we will ship your brochures.  Thanks for doing your part to get the word out and warn people what the utilities are up to!