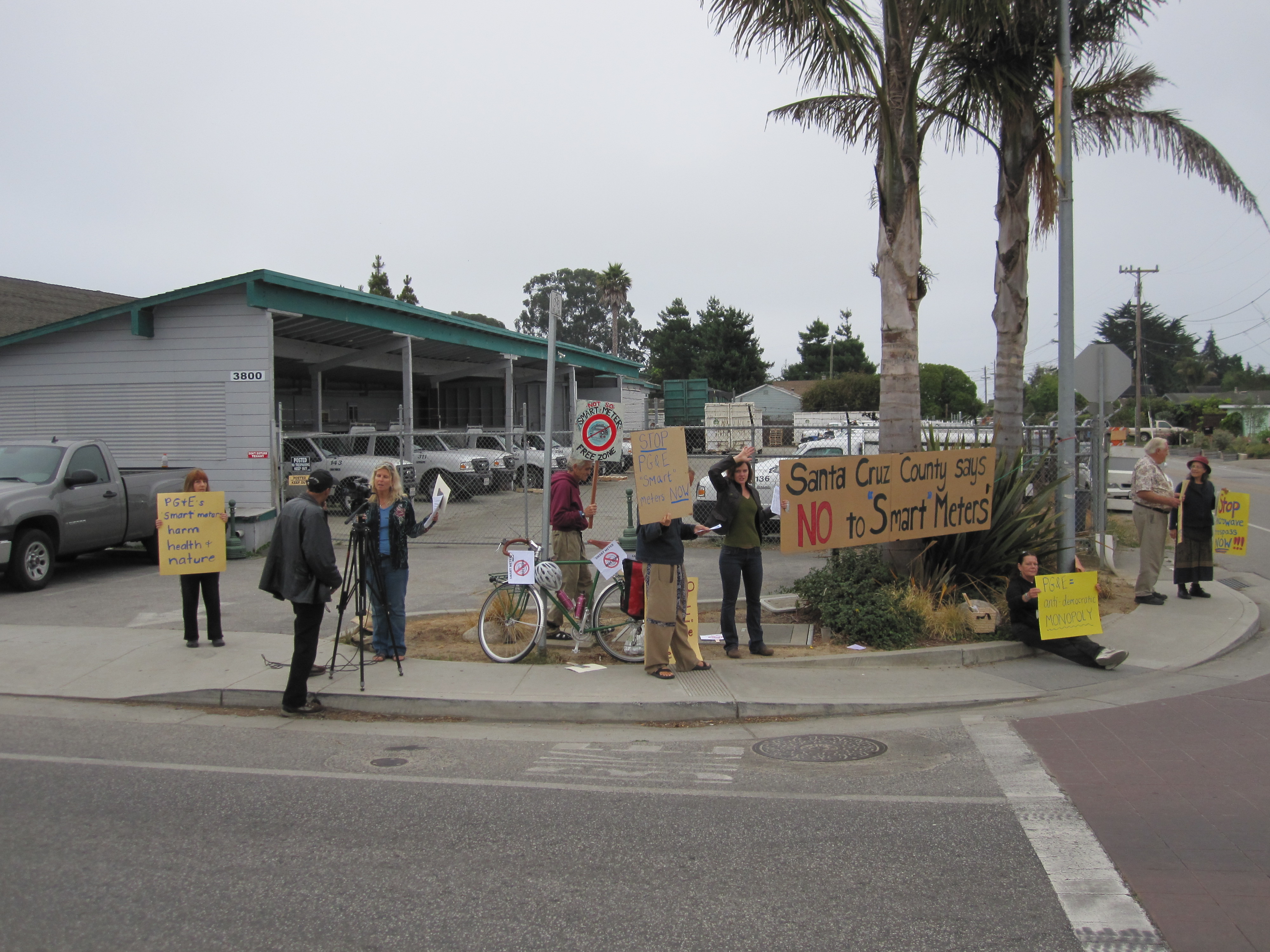 Come and join us tomorrow (Friday) morning and every morning until the County protects the citizens and passes an emergency ordinance banning 'smart' meters in Santa Cruz County.  Call your supervisor at (831) 454-2200 and demand that they act ASAP!
PROTESTERS HALT SMART METER INSTALLATION IN SANTA CRUZ COUNTY
PG&E Contractor Wellington Energy Backs Down as Local Governments Unite Against Meters
Early Thursday morning, outraged Santa Cruz County residents gathered at the gates of Wellington Energy at 38th and Portola in Capitola to protest what they say is a forced installation of radiating 'smart' meters against the will of residents and nearly two dozen local governments throughout the Greater Bay Area.  Despite the fact that the $2.2 billion program is being funded by ratepayers, and the new meters installed on people's homes, there has been virtually no public consultation in advance of what PG&E itself admits is one of the largest rollouts of technology in history.
PG&E's smart meter troubles have mounted significantly this week.  Tuesday night, the City of Novato demanded a halt to the program, and Watsonville unanimously passed the most stringent law in the state banning smart meters within city limits, following the lead of Fairfax in Marin County.  Santa Cruz County, Capitola and numerous other local governments throughout the state are planning to follow their lead, responding to inaction by PG&E and the CA Public Utilities Commission in the face of peer-reviewed scientific studies that suggest the meters may have serious unintended health consequences, similar to cell phones which have been linked with brain tumors in many recent studies.[1]
Heidi Bazzano, one of the protesters at 38th and Portola this morning, said, "there are so many problems with 'smart' meters. PG&E, the government, and any hacker worth his salt will know when you wake up, what appliances you use, when you go on vacation.  The meters overcharge people, increase carbon emissions, expose us to EMF which is a confirmed carcinogen, and worst of all, we're paying for them through hikes in our electric rates!"
Those who are electrically sensitive have reported that the intense bursts of radiation from 'smart' meters are amongst the worst they have ever experienced.  People throughout the state have been reporting headaches, nausea, dizziness, sleep disruption and other health impacts after smart meters are installed.   PG&E has declined to remove the new meters even though they are causing adverse health impacts, leading some local residents to flee the state and stay with relatives.  Some have even been forced into homelessness, living in their cars with the hope that their smart meter will be removed.
In addition, plans to charge customers more during peak times have been condemned by consumer groups.  The elderly, invalid, and people with small children are typically unable to avoid using energy during peak times, especially during winter and daylight savings time. These vulnerable populations will be penalized the most by being forced to pay dramatically increased rates during peak times.
Protesters vow to continue their protests at the former Big Creek lumber site at 38th and Portola in Capitola until the County of Santa Cruz passes an emergency ordinance banning smart meters in the County.
The following local governments, politicians, and organizations are calling for a moratorium, have enacted a ban, or are opposing Smart Meters:
The Utility Reform Network, State Senator Dean Florez, the City and County of San Francisco, Santa Cruz and Marin County Board of Supervisors, Sonoma County Supervisor Efren Carrillo, the cities of Sebastopol, Berkeley, Cotati, Fairfax, Santa Cruz, Piedmont, Scotts Valley, Capitola, Watsonville, Sausalito, Belvedere, Monte Sereno, Novato, Richmond, Ross, Bolinas, Camp Meeker, the Peace and Freedom Party, the Marin Association of Realtors and The EMF Safety Network.
Details of tomorrow's emergency protest:
Where: Corner of 38th and Portola, Capitola
When:  Friday, August 27th 7:30am- 9:30am or longer
---
[1]
http://www.sciencenews.org/view/generic/id/59296/title/Interphone_study_finds_hints_of_brain_cancer_risk_in_heavy_cell-phone_users