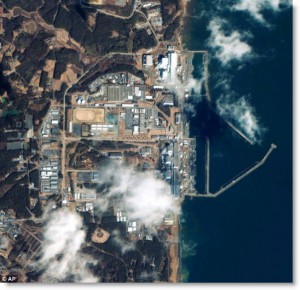 Our hearts go out to the people of Japan who are now struggling with the triple calamity of earthquake, tsunami, and now possible nuclear meltdown.   The extent of the insanity required of electric utilities to build nuclear reactors at sea level near major faultlines has now been revealed for all to see.   And of course our California utilities are not exempt from this insanity, with San Onofre and Diablo Canyon nuclear power plants built in the same vulnerable locations.
What the Japanese nuclear crisis means for the west coast of the US is still uncertain, but there is certainly the possibility of widespread contamination, given that the jetstream is blowing straight from Japan to California.  And detailed expert analysis indicates that this crisis is far from over and may get very much worse.  Worth keeping an eye on.
Is this ionizing radiation emergency the right time to shift focus away from the non-ionizing radiation emergency that PG&E and many other utilities are inflicting on us?  No!  Just the opposite.   Our growing calls for a moratorium on further installation are more pressing now than ever.   If California does suffer radiation impacts from the crisis in Japan, the last thing we need is for everyone to be doused by levels of microwave radiation that are violating FCC standards as we are dealing with fallout from across the ocean.
Energy companies are taking the same extreme risks with public safety and health the world over.  Nuclear power, unsafe gas transmission practices, wireless radiating meters on your home.  It's all part of a sick way of looking at the world that says your health is expendable, but powering an increasing number of meaningless electronic toys is not.   Maybe it's just me, but I'd rather live simply and reduce energy consumption than be subject to the horror of climate catastrophes, nuclear fallout and generations with damaged hereditary material.  When all is said and done, it's just not worth it.
Now is not the time to let PG&E or the other utilities off the hook.   Why not head out to neighborhoods where 'smart' meters are being installed, and pass out some flyers to warn residents (we can provide these).  In times of crisis, we need to stick together and offer mutual aid.  In the meantime, it's probably not a bad time to stock up on Miso soup, tinned food, water, potassium iodide tablets, and keep a close eye on Japan.