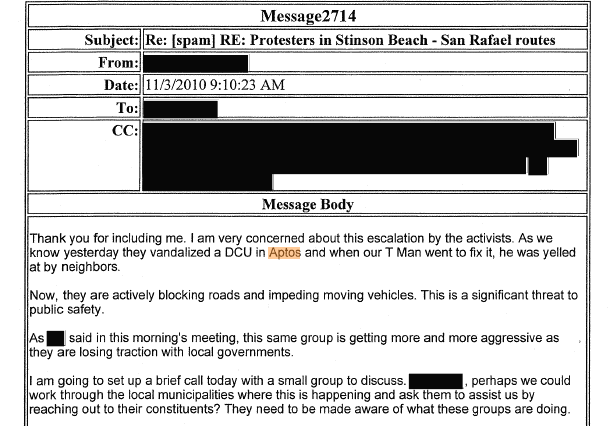 As part of the heavily censored internal e-mails released by PG&E to the Bay Area media late last year after their 'Smart' Meter Program Director William Devereaux was caught snooping on customers' e-mails, we discovered from the above correspondence that the utilities are not only dealing with widespread local government resistance and civil disobedience, they are apparently also facing a homegrown monkeywrenching campaign.  Some residents appear to be so fed up with the ongoing unsolicited intrusion of wireless into their neighborhoods that they are willing to risk going to prison to rid themselves of health- harming microwave radiation.  This is an indication of how desperate people have become while state government twiddles its thumbs.
"DCU" means 'data collector units' or antennae that have been illegally installed throughout California, violating franchise agreements that the utility has with local governments.  (See pic of gas DCU mounted on a utility pole below).  The DCU's collect data sent by the 'smart' meters and then relay this to a local Verizon cell tower.
It's hilarious that they would say that anti-smart meter activists are 'losing traction with local governments' when if anything the movement is stronger than ever.  Thirty-eight cities and counties in CA are now are demanding a halt to smart meter installations.  In addition, every single local government in Santa Cruz County is united in opposition to 'smart' meters.   The fact that the state legislature, governor, and impotent CPUC are failing to reflect public opinion is an indicator of how much they have become servants of industry and forgotten the people they are meant to represent.
One has to ask- who is the greater threat to public safety?  A utility that is exposing people to illegal levels of microwave radiation in their own homes- causing widespread health problems and fire safety risks– or people who are peacefully blocking trucks and those who are disabling unwanted health damaging infrastructure?