A message from our Director, Joshua Hart:
Here at Stop Smart Meters! we get a lot of e-mails from people all over the country who are suffering ill effects from the wireless 'smart' meters on their homes.  Some have symptoms like nausea, dizziness, headaches, insomnia, and tinnitus.  Others are just worried about the health of their families, given the strong evidence that the meters exceed FCC safety standards for human exposure to microwave radiation.   Some are so sick they are forced to leave their homes entirely, representing an unlawful 'taking' of private property.   Often the worst affected are vulnerable people, many elderly, suffering from conditions that make them more susceptible to powerful wireless bursts 24/7.   It's heartbreaking to hear hundreds of these reports, and to know that the state is allowing this to happen.
The other day someone mentioned that they had abandoned the room next to a bank of utility meters along their wall.  They just close the door and never use that room anymore.  People adapt to insult and injury and move on.  But there is a cost…
This kind of adaptation in the face of environmental harm reminded me of something.  In 2008, I ran a transportation research project at the University of the West of England in Bristol UK called Driven to Excess.  Our research team found that people living on streets with more car traffic had significantly fewer local friends. Many would withdraw from the front of their homes because of traffic noise and pollution and spend less time on the street.    Humans are extraordinarily adaptive in the face of environmental assault- it's something that allowed our species to survive through changing conditions over millions of years.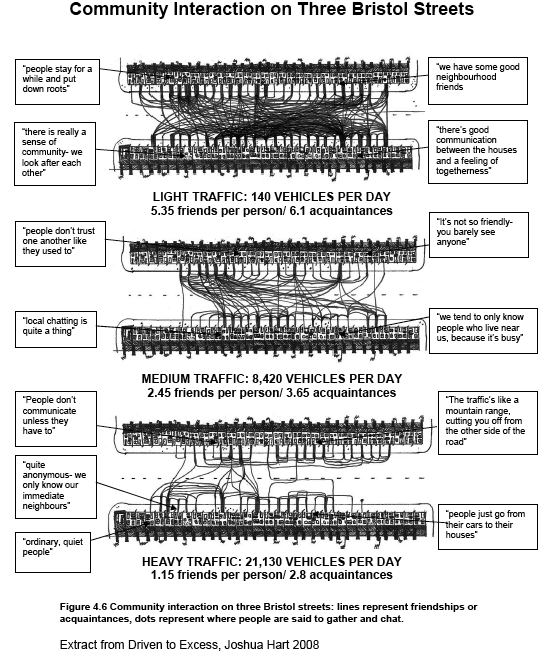 However, sometimes we need to not just accept things as they are and adapt to them.  Sometimes we need to react together- to have the body politic reject an unwanted technology just like a dangerous virus.   To stand together and say NO in one loud voice. We were never asked whether we wanted this and now we say NO!  Sorry if your shareholders are on the hook for 2 billion plus, but errr….no one ever asked us whether we wanted these things on our homes!  And they are OUR homes and businesses- NOT the utility's.
Don't just adapt to a utility company eroding the quality of your home environment.  Don't live with a smart meter just because 'they' say you have to.  You have a right to your health.  And you have a right to keep your analog meter– at no extra charge.  Stand up for your rights- not just alone, but as a community.
If there's a silver lining to the 'smart' meter madness, at least it's a good excuse to knock on the doors of your neighbors and introduce yourself!
-JH, SSM!