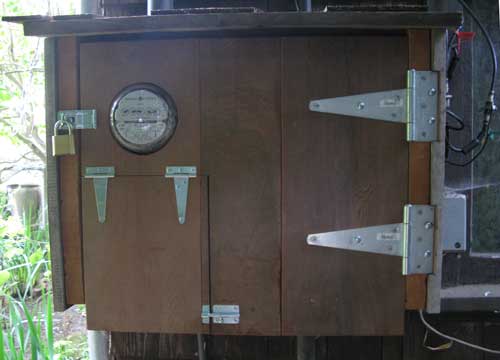 Successful meter defenses allow the meter to be read, but not removed.   The meter belongs to the utility, but the enclosure is – after all – your property.   If PG&E or another utility damages your property to force their incredibly stupid meters on to your home, they will be liable.
More ideas:  Page 1; Page 3; Page 4; Page 5
These are examples of enclosures built by residents to protect analog meters from theft by agents of the utility (such as Wellington Energy).  Electric meter above, gas below.   People have also used upside-down rubber coated dish drainers with brackets and locks and chains to defend their analogs.  When the installer comes, (unless you stop him) the electric meter is popped off and replaced and a small rectangular device is affixed to the front of your existing gas meter.
Of course if you control access to the meter and the reader doesn't have a key, you can refuse access entirely.  Make sure everyone knows to refuse access if you live in an apartment! They will hop over fences and sneak around, waiting for you to leave.  They especially like to intimidate elderly people, who (they think) won't stand up for their rights. They will try to blag their way in anyway they can.
Don't let them!
Remember, you have a right to refuse installation.  Don't believe the threats.  No one has had their electricity switched off for refusing a smart meter, and no one has had to pay one cent in fines.  Utilities have an easement to read the meter, but no one has a right to invade your privacy, risk your safety, and subject you to health damaging radiation against your will.  Especially not a corporation or compromised state regulatory agency.
Don't delay- build your meter shelter today- otherwise you might come home to find an unwelcome gift from (Or)Wellington!