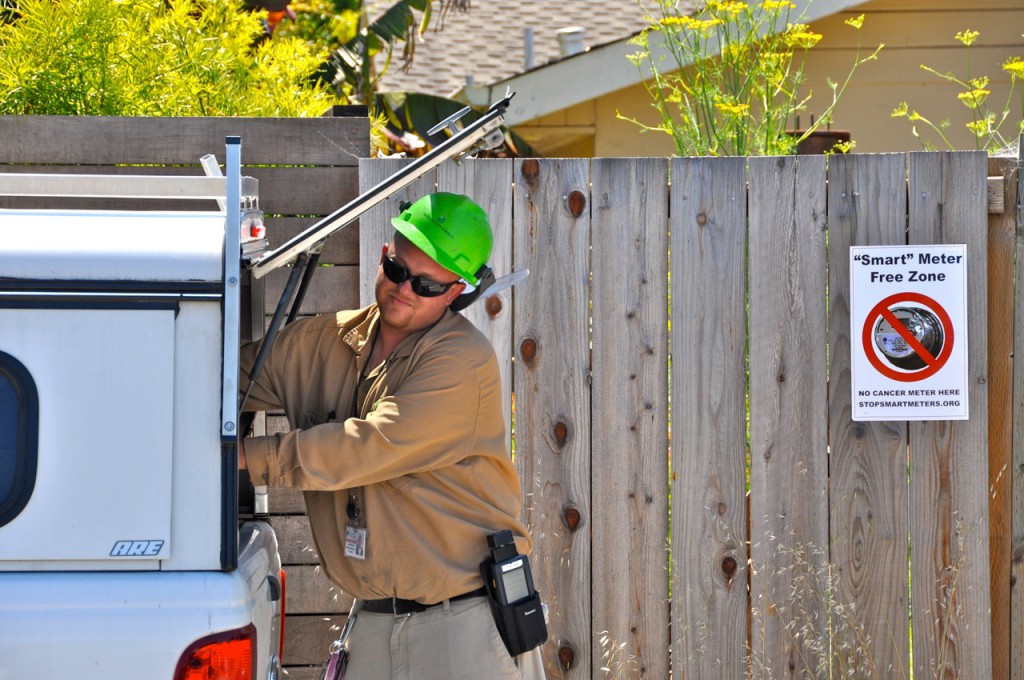 The following was submitted to us by a reader just like you- keep your submissions coming!  Keep them brief and to the point- less than 800 words- we love to publish local reports, videos, and photos of what is going on in your area. Get out there and interview your neighbors.  Be the media!

The fine points of "smart" meter technologies.
By Ken H.
The Energy Policy Act of 2005, section 1252, allows opting-IN to a "smart" system by customer request. The utilities however, and under an assumed color of right, are forcing this "smart" pill down our throats while trying to charge us if we spit it out, and the CPUC- against its own Code, State and Federal Law- is supporting them.
Energy savings and securing our infrastructure are not the goals here, it is the gathering of your personal information, controlling your energy usage and making money.     The World Bank reported in 2010 that US per capita electrical usage is below 2000 levels.
The "smart" system destroys your constitutional protection from unreasonable search and seizure while documenting your private habits within your home. California Constitution Article 1, Sections 1 and 13, U.S. Constitution Amendments 4, 9 and 14.  No group has the right to your personal information.
Extortion is defined as "the acquiring of anything through the use of force or threats". California Penal Code sections 518 & 519 and the United States Code section 1951.  "Your info or your money."
"Smart' technologies do not strengthen the infrastructure of our nation, they merely allow the fine manipulation of utility usage within the aging system. Fact: microelectronic systems are more sensitive to natural and manmade damage or manipulation that could cripple our way of life, than electromechanical (analog) systems.
The "smart" meter grid will also introduce an unregulated electromagnetic radiation source to our lives that is far greater than current cell phone or other wireless usage. Seeming lack of definitive evidence of harm from this radiation IS NOT proof of safety.     Consider the history of DDT.
The Public Utilities Code section 745(d) states, in part, "On and after January 1, 2014, the commission shall only approve an electrical corporation's use of default time-variant pricing in a manner consistent with the other provisions of this part, if all of the following conditions have been met:
(1) Residential customers have the option to not receive service pursuant to time-variant pricing and incur no additional charges as a result of the exercise of that option…."
"Service pursuant to…" is having a "smart" meter capable of supplying the information to run the "smart" system.
You have the rights and voice to deny extortionate demands and protect your privacy, health and finances.
Pay your bill, pay no extortion, defend your rights.
Say NO to "smart" meters every way you can.