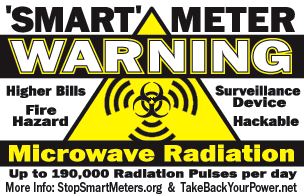 Due to popular demand, Stop Smart Meters! has created warning stickers to spread awareness about the hazards of 'smart' meters and other wireless technology.  Much appreciation goes out to Zavier Cabarga for the design work, and to Amy O'Hair, who helped develop the idea.
What you don't know CAN hurt you!  By raising awareness with these visible and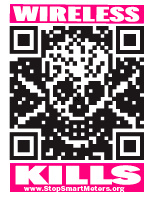 bold stickers, we hope to encourage people to take action to make their families and communities safer, and stand up for their rights.
The stickers are printed on high quality vinyl.  They are easy to peel, scratch-proof, weather-proof, sun-proof, and last outdoors for 3-5 years.
Disclaimer: It is your responsibility to ensure that you affix these stickers in a legal and safe manner.  Stop Smart Meters! is not liable for any misuse or mischief.
'Smart' Meter Warning Sticker
We're excited to be teaming up with Take Back Your Power to distribute the Smart Meter Warning sticker.  If you haven't yet seen (and shared!) this stunning film with your community, please spread the word: http://ykr.be/ukramryv4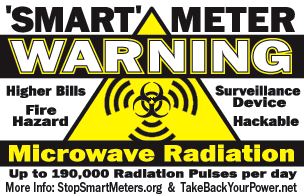 Dimensions: 4.25" x 2.75"
Colors:  yellow and black ink on white vinyl
'Wireless Kills' Sticker
(fits on smartphones!)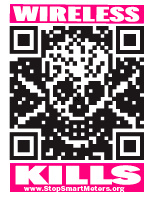 Dimensions: 2.13" x 2.75"
Colors: black and red ink on white vinyl
If you would like to order these stickers, Take Back Your Power DVD's, or smart meter awareness brochures, please visit Stop Smart Meters! new online store to purchase (discount for bulk orders available).
Thank you for sticking it to the smart grid!
-SSM!