———————————

Stop Smart Meters! Bulletin

Vol. 23- September 2014

StopSmartMeters.org

Contact: info@stopsmartmeters.org

PO Box 682 Portola, CA 96122 United States

———————————
QUOTE OF THE MONTH (Courtesy of the Cecils)
"Revolution is as unpredictable as an earthquake and as beautiful as spring. Its coming is always a surprise, but its nature should not be."
-Rebecca Solnit

CONTENTS
1.  CPUC Demonstration in SF This Thursday: Demand Peevey's Removal
2.  Smart Meter Fire Death in Reno Prompts PUC Inquiry
3.  Alamo Heights, Texas City Council Demands Moratorium
4.  PSREC (Our Electric Co.) Confused About The Law
5.  SSM! Bumper Stickers Now Available / Shop Our Online Store
6.  Support SSM! Please Donate or Volunteer to Widen the Campaign
1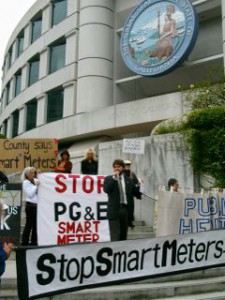 . Demonstration to Demand Michael Peevey's Removal from the CPUC Thursday, Oct. 2 8:30am
Speak at CPUC Meeting starting at 9:30am
505 Van Ness SF (at McAllister)
Rumor has it that the California Public Utilities Commission (CPUC) is preparing to make a decision in the smart meter opt out proceeding case, after delaying for more than a year.
Stop Smart Meters! is calling for people to demonstrate outside and speak inside at the CPUC's October 2nd regular business meeting to demand an end to the delay, and an end to the sleaze and corruption that line its halls.
Remember the public participation hearings in December of 2012 where more than 500 Californians spoke out against smart meters and the "opt out" fees that the utilities are using to prop up a hazardous and failing smart grid?
Now nearly two years later, and the CPUC has failed to rule on the issue and remained silent about the serious risks brought to its attention by the public, whistleblowers, and local politicians. Perhaps they are hoping that if they drag this out long enough, people (and their complaints) will just go away. Just the reverse is more likely. If you ignore a festering wound, it just gets worse.
The CPUC that has been roundly criticized by the media, the public, and even its own staff over inappropriate and illegal collusion between Commissioners and PG&E as part of the San Bruno case. This echoes our own experience of collusion between PG&E and the CPUC during the "Ralph" spy case in 2010, where it appeared that CPUC staff, paid by taxpayers, were actually working for PG&E rather than the public.
The house of cards is falling, all it needs is a little nudge from you, California. Read full article and make sure to spread the word! See you on Thursday!
2.  Smart Meter Fire Death in Reno Prompts PUC Inquiry
It was reported by the Reno Gazette two weeks ago that a 61 year old Reno woman and her two animals died from a fire apparently caused by a Nevada Energy smart meter on her home in late July. Our deepest condolences to her family and her friends and neighbors, and we declare our mutual outrage that this issue has been 'left to smoulder' for years by corrupt state and federal officials, even as people lose their lives…..
Apparently, having untrained workers install non-UL approved, flammable plastic meters stuffed with untested transmitters and electronics in them, carrying the full electrical load of a building, and left out in the elements may not have been such a great idea. Who knew? What we do know is that Larry Nikkel and Michelle Sherman (and how many others?) would be alive today if regulators had done their job and utilities obeyed the law.
Read full story.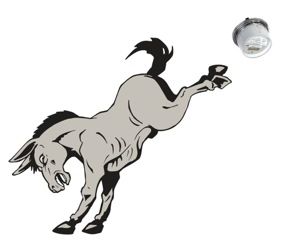 3. Residents of Alamo Heights in San Antonio, Texas Win Support of City Council in "Spark Meter" Battle
ALAMO HEIGHTS, TX— On September 22nd, more than 20 residents spoke out at the city council meeting of this San Antonio, TX suburb where municipal utility CPS Energy plans an imminent installation of smart meters. After hearing from dozens of residents, the city council voted during closed session to send a letter to CPS asking for a 1 year moratorium on any smart meter installations within the city. It remains to be seen to what extent the utility will respect this request.
Opposition is being organized and led by the fledgling but fast growing Stop Smart Meters! San Antonio. We have been working closely with the group over the past few weeks, providing technical and strategic assistance as they launch their local campaign.
Read full article.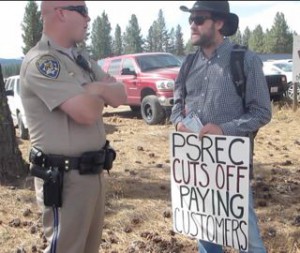 4. PSREC Confused About The Law (Again)
While Reno, NV Fire Chief Tom Garrison was holding a press conference on Saturday about the series of fires likely caused by "smart" meters that have led to at least one death, an hour's drive to the northwest, Plumas Sierra Rural Electric "Co-op(ted)" (PSREC) were desperately attempting to quash any discussion of the safety problems with their own smart meters.
PSREC cut off our electricity on Feb. 19th for refusing to pay smart meter "opt out fees." We thought that was rather rude. And we didn't think much of the intimidation tactics, coercion, yelling or lying that followed it. But sadly it is what we have come to expect from the electric utility industry in 2014. On Saturday, rather than ensuring the safety of their grid, it seemed that PSREC's staff were far busier monitoring and attempting to suppress our demonstration, filming us and walkie-talkie-ing with each other.
Read full article here.

5. New SSM! Bumper Stickers Available – Shop Our Online Store
Stop Smart Meters! has released a new large and visible bumper sticker to add to the supplies available in our online store. You can pick up a 10-pack for a special discounted price of $6.95 including shipping- why not get a pack and share stickers with your friends?  The new version of our brochure is also going fast, with more than 15,000 distributed nationally over the past month. Thank you to those helping us get the word out!
Click here to browse the outreach materials available in our online store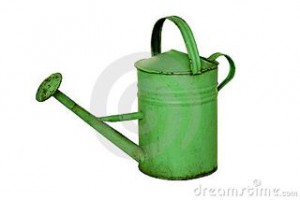 6. Support SSM! Please Donate or Volunteer to Widen the Campaign

If you support what we do, please donate to Stop Smart Meters! today. We are very grateful for anything you can contribute. If you don't have money to give, how about volunteering? Donate here or make checks payable to: Stop Smart Meters! and send to: PO Box 682 Portola, CA 96122 — THANK YOU
Follow Stop Smart Meters! on Twitter! For the latest campaign updates and links to breaking news stories, follow us on Twitter! We are "stopsmeters." Please retweet and encourage your friends to follow us!! Our latest tweets also appear on the upper right hand side of our website. Click here to follow us on twitter.
"Our lives begin to end the day we become silent about things that matter."
-Martin Luther King Jr.