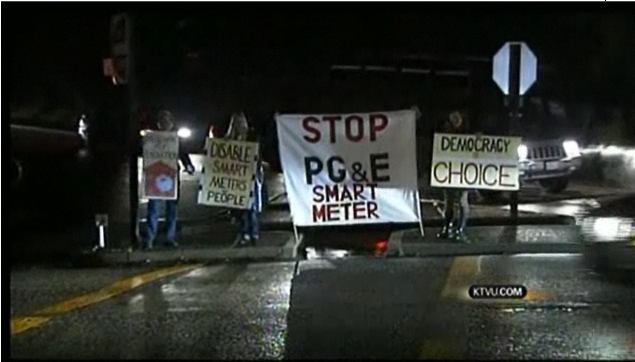 President Obama visited the Bay Area last night for a meeting with leaders of  the nation's top tech firms at the Woodside home of John Doerr, a venture capitalist with links to Silver Spring Networks, one of the companies behind the 'smart' meter.   The president got a taste of the widening protests against his ill-fated smart grid plans when his motorcade came upon protesters demanding a halt to forced wireless meter installation.
While the promise of the 'smart grid' gained many supporters in the business and environmental arenas as a concept, it has become clear as smart meters have been installed that the meters do not deliver the energy savings promised- even generating additional carbon emissions.  The benefits appear to be flowing almost exclusively  to wealthy corporations while ratepayers and residents pick up the tab for the whole debacle, with many faced with skyrocketing bills and health impacts from the powerful wireless pulses.
Kudos to the intrepid protesters who tracked down the president on a dar and rainy night to deliver their important message.  Video coverage of Obama's visit and the anti-smart meter protests is available on KTVU Channel 2's site.