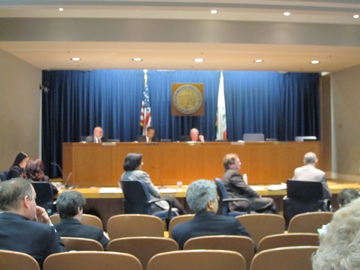 Yesterday morning nearly 40 people addressed the California Public Utilities Commission, demanding an immediate halt to the 'smart' meter rollout and telling of widespread health impacts from the new wireless meters.
Here is what our Director, Joshua Hart, told the commission yesterday, before he was hauled away by CHP officers for exceeding the one minute time limit.
"My name is Joshua Hart with Stopsmartmeters.org.  I have a list that grows by more than a dozen people every week- people who are suffering health damage from 'smart' meters.  What do I tell these people- these engineers, nurses, teachers suffering insomnia, tinnitus, headaches, and heart arrhythmias? What do I tell them when they ask how they can get this device removed from their house?   Sorry the CPUC and PG&E think you are crazy?

I have another list that also grows longer every day.   It is a list of people willing to take personal direct action to stop this insanity.   And right now, Mr. Peevey, I can tell you that it requires all the self-restraint I can muster to not chain myself to your chair in protest of this madness.

The 'smart' meter rollout has been a half-baked debacle that is hurting California families, draining their bank accounts, and violating their privacy.  The CPUC's handling of the 'smart' meter program has been– at best– schizophrenic.  You knew back in the 1990′s that EMF's are harmful- you even issued inserts in electric bills advising people how to reduce their exposure.

Yet you authorized a wireless program that has inflicted powerful radiation and incalculable harm to California.   To make a mistake is understandable- it happens even with $2.2 billion projects.

To deny that harm is taking place.  To continue to inflict that harm, despite all the evidence.  To refuse to hold public hearings in the face of nearly 30 cities and counties lining up against the program.

That is criminal.

With the new make up of the commission, you have a chance to chart a new course.   If you fail, may the justice system, civil society, and history judge you and hold you responsible for the harm you have done."
Video of yesterday's testimony, and questions raised at the press conference following the meeting will be posted shortly.