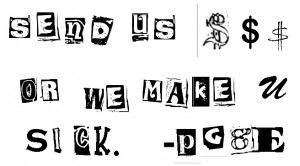 We have been getting emails from people around the state who have received automated calls from PG&E, telling them to contact the utility–even people who are not on the "delay" list. Apparently they think this fight is over, and the slightly-altered version of their proposed "smart" meter opt-out is a done deal.
Well, it's not a done deal. Don't call PG&E back, and thereby demonstrate a degree of tacit agreement to this extortion (with no provision for keeping an analog).
Instead…..
TAKE ACTION
1) ATTEND AND SPEAK OUT at this Thursday's CPUC meeting in San Francisco–  Thursday December 1st 9am 505 Van Ness Avenue (at McAllister) in SF. 
The CPUC typically allows public comment of 1-2 minutes, but you must arrive by 9am to sign up.  If you arrive before the end of public comment (possibly 9:15- 10am) you can raise your hand to speak and they must give you 1 min.  Take a minute and spread the word to friends and family- let's pack the chambers and remind this commission (and the utilities) who they're working for and who pays their salaries- the 99%!!!

2) CALL AND E-MAIL CPUC COMMISSIONERS, STATE LEGISLATORS AND THE GOVERNOR
The commission as a whole has the power to vote down this extortionate opt out proposal, and they need to know how much we object to it. Comments should be submitted asap, but latest by December 12th. You should also contact your legislators and Gov. Brown at (916) 445-2841.
CPUC Public Advisor, San Francisco:
Telephone: 866-849-8390 or 415-703-2074
Email: public.advisor@cpuc.ca.gov
Postal Service: CPUC Public Advisor, 505 Van Ness Avenue, Room 2103, San Francisco, CA 94102
CPUC Public Advisor, Los Angeles:
Telephone: 866-849-8391 or 213-576-7055
Email: public.advisor.la@cpuc.ca.gov
Postal Service: CPUC Public Advisor, 320 West 4th Street Suite 500, Los Angeles, CA 90013
TTY 866-836-7825
Phone numbers for CPUC Commissioners:
Mike Florio 415-703-1840,
Catharine Sandoval 415-703-2593,
President Michael Peevey 415-703-3703,
Timothy Simon 415-703-1407,
Mark Ferron 415-703-2782

Tell them to reject the extortionate 'opt out' plan, open a full and independent investigation into 'smart' meter health damage being linked to wireless radiation, and to pull the plug on the 'smart' meter mesh network NOW.
Thank you for taking action to protect our unalienable rights to health, safety, and privacy.