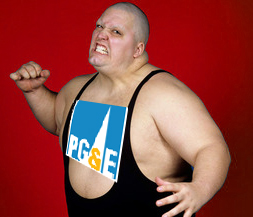 Tired of being bullied by utility corporations that are supposed to provide critical services for the public good but instead have metastasized into arrogant, bullying behemoths?  Apparently no one told these guys that threatening old ladies with freezing cold houses in mid-winter for refusing forced radiation on their homes (or for that matter forcing people to pay simply to protect their safety) simply is not a nice thing to do.
Well, the time has come to stand up to the bully.  DC-based Center for Safer Wireless has organized a "Bullying Stops Here Rally" for Feb. 29th and the idea is spreading across the Country, with dozens of events already planned.
Why not plan your own event for Wednesday (or any day soon)?  Call your friends, neighbors and family, make some signs and invite the media.  How are people going to know there is something terribly wrong with the 'smart grid' unless we all work hard to get the word out.
The utility/telecom industry has whole marketing firms and multi-million dollar budgets dedicated to shielding the truth from the public.  We have grassroots people power, and believe it or not individuals like you pounding the pavement knocking on doors with informative flyers strikes fear into the hearts of the bullies because they can't control or prevent it.  And as we know, control is the name of the smart meter game.
So why not plan your own event? No one is going to do it for you- we must do it ourselves!! Make your own flyer using the graphics on this post or down load the Bullying Stops Here Day flyer and modify it.
Whatever you want to call your utility- the bully, the grinch, the greedy sons of bitches.  It's time to stand up to them.   Working together, we can band together and defeat the bully- it was true back in the schoolyard at recess and it's true now.