Yesterday, we learned from the Chronicle that PG&E plans to disconnect residents who refuse to pay their extortionate opt out fees.   No consultation with the public about our energy system, no hearings to get to the bottom of why tens of thousands of Californians have suffered (in some cases devastating) medical conditions when the smart meter was installed.  No investigation into widespread reports of smart meter fires.  No delay in the fees pending resolution of unresolved procedural issues.   Just an arrogant ultimatum from one of the largest investor owned utilities in the country.
PG&E warns that people who opt out but don't pay the fees will be treated like any other customers who owe the company money – they could see their power shut off if they don't eventually pay up.

"It is a part of what they owe, and at some time in the future, it'll be an unpaid bill that'll be subject to collection and possibly subject to cut off," Burt said, adding, "That is absolutely the last thing we want to do."
Actually, we're pretty sure that the thought of disconnecting rebellious customers is something that executives within PG&E relish the thought of.  These are the same executives who cheered William Devereaux on as he used a false identity to obtain information on the campaigning and legal strategy of smart meter opponents in 2010, calling us "insurgents."  While their public statements are designed to sound reasonable, from what we can glean, the internal dialogue within the company resembles something like a football locker room where all the players have lost their moral scruples, and just want to kick some ass.
We tend to assume that PG&E hatches radical punitive schemes to extract as much money as possible from their customers and that the CPUC reigns them in (that is their job after all, to look after the public interest).   But according to new documents obtained by Edward Hasbrouck under a CA Public Records Act Request, it appears that CPUC Business and Community Outreach Supervisor Marzia Zafar- after viewing photos of analog meters locked up- encouraged PG&E to add language to their opt out advice letter indicating that customers who did not respond to PG&E's opt out letter would be "deemed to have elected" the fee.  This is precisely the language that Hasbrouck is challenging as illegal.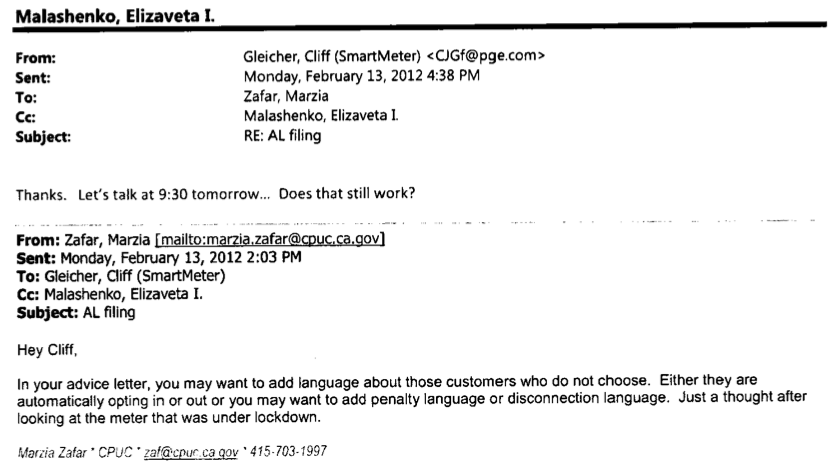 You can read the full set of documents (pdf) released by the CPUC at Edward's site.  Little by little, we're beginning to understand how the PUC is scheming with the utilities to force an unpopular program into our communities and onto our homes.
More reasons every day to resist the "smart grid."