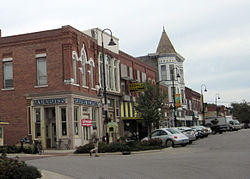 More bad news for the smart meter industry and good news for public health and democracy:
Victory!! The small Midwest city of Fairfield, Iowa- in a stunning reversal brought about by ordinary residents organizing and bringing the evidence of the risks of smart meters to local officials, has decided to abandon wireless smart water meters, as well as punitive unreasonable 'opt out' fees, after a review of testimony from medical professionals and locals who started to notice health effects as soon as the meters went in.
If any of the Fairfield Water Dept.'s board of directors are looking for a new position, we're in need of some CPUC Commissioners who are in touch with reality!  Please apply here.
The local coverage states:
"Fairfield water department superintendent Carl Chandler shared a proposal to halt implementation of radio-read water meters and to reimburse citizens for opt-out fees for the meters Wednesday night during a Water & Sewer Utilities Committee meeting at city hall.

In addition, Chandler proposed the one-third of residents with radio-read water meters have the right to have them removed by the water department at no cost."
Stop Smart Meters! has been advising and providing technical assistance to the local group, Fairfield Safe Meters, and we congratulate them on their hard fought victory.  It IS possible to organize, fight, and win!!