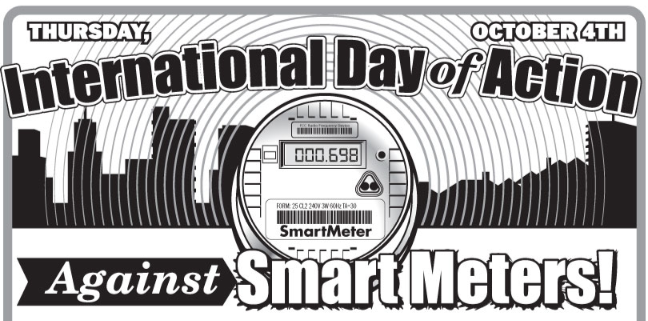 People are fed up. Fed up with being forced to have an unwanted, intrusive device attached to their home. Fed up with utility company threats, coercion, and lies. Fed up with having their essential services disconnected or being charged a hefty fee if they don't want to subject their families to fire risk, higher bills, privacy invasion, and health damage.
"Smart" meters are not "progress" "cost saving" or "green."  They are ruining lives, reducing service reliability and costing us dearly.  The "smart grid" and its "mesh networks" are a madman's greedy vision gone horribly wrong.
Remember- these are the same guys who brought us the Enron scandal.
"Smart" Meters are cheaply made but highly profitable plastic fire hazards, spying on, radiating, and gouging utility customers.  Hundreds of smart meter fires and electrical hazards have destroyed people's homes and livelihoods and risked their lives.
It's time to take action.
ON OCTOBER 4th– THIS THURSDAY- People around the world are wising up- rising up- and saying NO to this dystopian "smart" future.
The International Day of Action to Stop Smart Meters! is being organized by the National Campaign to Stop Smart Meters! and the Wireless Radiation Protection Coalition.  More than twenty events are planned in a dozen states and Canada, including Sacramento, CA, Eureka, CA, Kelowna BC, Naperville, IL, Maui, HI, Reno NV, and Detroit MI!  All events are listed at: http://actiondaytostopsmartmeters.org/?page_id=20
• If you don't see your local area listed, why not plan your own event?  This is a grassroots effort and people are planning a variety of gatherings, such as leafleting, going door to door, attending public meetings, holding signs at busy intersections, and vocal protests at utility offices. October 4th (or anytime next week) people all around the world are taking action together to defend our right to health, safety and privacy in our own home!  More on planning your own event: http://actiondaytostopsmartmeters.org/?page_id=18
• Materials to promote next Thursday's event are available on the Action Day website- including posters, leaflets, and sample press releases. It's easy to modify these with local information.  Materials here: http://actiondaytostopsmartmeters.org/?page_id=22
• US press release: http://actiondaytostopsmartmeters.org/?page_id=25
TELL OBAMA TO STOP SMART METERS!  Whether or not you are participating in an event, call the White House on Oct. 4th at 202-456-1111 and demand that President Obama take responsibility for the smart grid mess- and immediately enforce a recall on 'smart' metering systems.  For our health, safety, and privacy.  For our families.
Thank you all for spreading the word via social media, by phone, and in person.
Together we will take back our power!