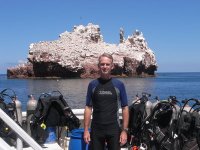 This is Raymond Blatter, Senior Regulatory Specialist at Pacific Gas and Electric Company.  Ray lives a pretty good life, and makes a fat salary that allows him to jet off on scuba diving vacations, courtesy of PG&E's record profits. We borrowed this photo from his public Facebook profile. (Lack of privacy is one reason we do not use Facebook) Ray had an interesting exchange last week with Sandi Maurer of the EMF Safety Network, as part of hearings for Phase 2 of the opt out proceeding at the California Public Utilities Commission.  Sandi reports on her website:
I asked Raymond Blatter, a PG&E witness the following question, "Do you consider it reasonable that if a SmartMeter is installed on someone's home and they're experiencing headaches or sleep problems or ringing in the ears, that that person should have to pay not to have that device on their home?"

Mr. Blatter answered, "I think that if that customer receives a benefit of not having that meter on their home, that they should pay for that benefit or at least partially pay for it."
So there you have it ladies and gentlemen. PG&E's official position is that not only are there "benefits" to avoiding a smart meter, but that you should be required to pay for these benefits- in this case the "benefit" of not having headaches, ringing in the ears, or other health problems associated with their "smart" meters.  If this isn't a blatant admission of extortion we don't know what is.  It's right there in black and white in the transcript.
Maybe it's time Mr. Blatter reviewed PG&E's tightly controlled talking points a bit better before taking the stand.   Perhaps he's still suffering from a lack of oxygen after one of his diving trips…