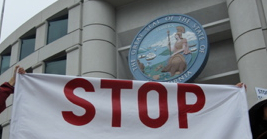 After asking EMF Safety Network head Sandi Maurer to determine the specific dates and times of public hearings as part of the "Phase 2 smart meter opt out proceeding" the Public Utilities Commission – in typical fashion- has ignored her dates, and planned a series of five hearings smack dab in the middle of the holiday season, directly conflicting with the Jewish holiday of Hanukah.   The only Northern California hearing (where the most vociferous smart meter opposition has been centered) will take place on Thursday, December 20th at 2pm (in the middle of a workday, five days from Christmas) in Santa Rosa.
Despite numerous complaints from the public about the timing, the CPUC is apparently sticking to its guns and scheduling public hearings on one of its most controversial issues in the middle of the holiday season when turnout will likely be suppressed.   This callous disregard for the public interest earns the CPUC the Grinch award this holiday season.  Don't worry PG&E you're still the biggest Grinch of all.
Remember that the current 'opt out' fees are just interim.  There is a very real possibility that the CPUC will try to INCREASE the opt out fees, and possibly even eliminate the right to retain or replace analog meter altogether- instead forcing a "radio off" meter that has also been linked with health problems. Even groups like the Utility Reform Network (TURN) who have been opposed to smart meters are in fact now advocating for a higher opt out fee. (more to come on how TURN has turned against the public…)
That is why it is so important that you attend these meetings and join the growing outcry against these outrageous policies.
Following are the scheduled hearings in December- plan to attend and speak out, grab your friends and family, and your elected officials.  In your comments be sure to address 'cost allocation': Do you think it's unfair that individuals should have to pay to protect themselves from Smart Meter radiation? Should shareholders, everyone, or individuals pay?
BAKERSFIELD (PG&E and SoCalGas territories) December 13, 2012 at 6:00 p.m. Bakersfield City Hall Council Chambers 1501 Truxtun Avenue Bakersfield, CA 93301
SANTA BARBARA (PG&E, SCE and SoCalGas territories) December 14, 2012 at 3:00 p.m. County Administration Building Board Hearing Room, 4th Floor 105 East Anapamu Street Santa Barbara, CA 93101
LOS ANGELES (SCE and SoCalGas territories) December 17, 2012 at 6:00 p.m. Junipero Serra State Office Building Carmel Room – Auditorium, 1st Floor 320 West 4th Street Los Angeles, CA 90013
SAN CLEMENTE (SCE, SoCalGas and SDG&E territories) December 18, 2012 at 6:00 p.m.San Clemente Community Center – Ole Hanson Fireside Room 100 N. Calle Seville San Clemente, CA 92672
SANTA ROSA (PG&E territory) December 20, 2012 at 2:00 p.m. Steel Lane Community Center – Dohn Room 415 Steele Lane Santa Rosa, CA 95403
More information about what to expect at public participation hearings on the CPUC site.