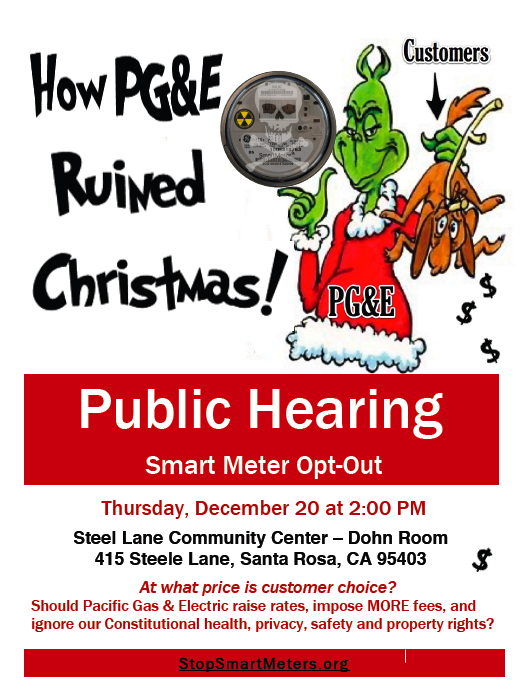 As bad as the extortionate and punitive smart meter 'opt-out' fee policy seems at the moment, utilities in California are pressuring the CPUC to increase the fees, and take away the choice of an analog meter, forcing us to pay hundreds of dollars/ year for a digital 'radio off' meter with many of the same problems as the 'smart' meter.  It's been revealed that utilities like PG&E have scrapped millions of perfectly functional analog meters– now they want to charge us for purchasing new ones.
We refuse to be charged for the mistakes of corporate utilities.
Yes ladies and gentlemen it's that time of year again- when the Grinch raises his ugly head and tries to destroy your holiday season.   Of course the Grinch is a sweet, cute and cuddly cartoon character, whereas the utility company executives forcing smart meters despite clear evidence of harm are thugs and criminals who don't think twice about hurting your family for a few extra bucks.
Time to show up in force at the CPUC 'opt out' hearings happening December 13th-20th in Bakersfield, Santa Barbara, LA, San Clemente, and Santa Rosa. Here's the info (with flyers to download in pdf):
BAKERSFIELD Dec 13 at 6:00 p.m. Bakersfield City Hall Council Chambers 1501 Truxtun Avenue  Download Bakersfield Flyer
SANTA BARBARA Dec. 14 3:00 pm County Administration Building Board Hearing Room, 4th Floor 105 East Anapamu Street Download Santa Barbara Flyer
LOS ANGELES Dec 17, 2012 at 6:00 p.m. Junipero Serra State Office Building Carmel Room – Auditorium, 1st Floor 320 West 4th Street Download Los Angeles Flyer
SAN CLEMENTE Dec. 18, 2012 at 6:00 p.m.San Clemente Community Center – Ole Hanson Fireside Room 100 N. Calle Seville Download San Clemente Flyer
SANTA ROSA Dec 20, 2012 at 2:00 p.m. Steel Lane Community Center – Dohn Room 415 Steele Lane Download Santa Rosa Flyer
Great, legally based talking points for the hearings have been developed by San Diego's Electrosmogprevention.org and you can download them here.
Big thanks to Stop OC Smart Meters for creating the above flyer.  Download the version for the hearing that is closest to you, print, and post it everywhere you can.  You can print 4 to a page and hand them out.
Bay Area "Analog Express" to the Santa Rosa Hearing
Hey Bay Area! Meet people.  Have fun!  Sing 'smart' meter themed christmas carols!  Tell the CPUC what's up!
Stop Smart Meters! is chartering a coach to take people from Santa Cruz to the Santa Rosa 'smart' meter 'opt out' hearing on Thursday December 20th.  The bus will leave Santa Cruz County in the morning and stop on the Peninsula, in San Francisco and Marin County on the way to the Santa Rosa hearing at 2pm on Dec. 20th.  It will return to Santa Cruz, making all stops along the way by approximately 8pm.
Tickets on the Stop Smart Meters! Analog Express are $25 return.  Subsidized seats available. Please e-mail info[at]stopsmartmeters[dot]org to reserve your seat today.
If you cannot attend the hearings:
If you  are  unable  to  attend  these  hearings,  you  may  submit  written  comments  to  the to the CPUC's Public Advisor's Office at the address noted below.  Please refer to the application  filing  number,  A.11-­03-­014  et  al,  when  writing.    Please  state  if  you  would   like  a  response,  otherwise  no  response  will  be  sent.  Your  comments  will  become  a  part of the formal file for public comment in this proceeding.  The Public Advisor's Office will circulate  your  comments  to  the  five  Commissioners,  the  ALJ,  the  Division  of  Ratepayer   Advocates  (DRA),  and  to  CPUC  staff  assigned  to  this  proceeding (and then use it as toilet paper -ed.).  You  may  also  write  to   the  CPUC  if  you  need  advice  on  how  to  participate  in  this  proceeding,  or  would  like  to   receive  further  notices  regarding  the  date,  time,  and  place  of  any  future  hearing  in  this   proceeding:      
 
The  Public  Advisor   California  Public  Utilities  Commission   505  Van  Ness  Avenue,  Room  2103   San  Francisco,  CA    94102   E-­Mail:  Public.Advisor@cpuc.ca.gov