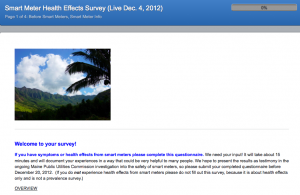 Have you been injured by smart meter radiation?  Unexplained symptoms start after a new meter was installed by your utility?  Take this new survey and help to document the circumstances around such injuries, and protect others.  Thanks to Conradbiologic.com and the Maine Coalition to Stop Smart Meters for spearheading this project. Their announcement:
Brand new SMART METER HEALTH EFFECTS SURVEY:  If you feel your health has been affected  by smart meters, we request your immediate help in studying these effects.  Follow the link below for more information and to participate in our 15 minute confidential survey on this subject.  If you submit your survey by January 15th 2013, we will be able to use your data in the precedent-setting Maine, USA investigation into the safety of smart meters.  (Note deadline has been moved back) Later submissions may be useful in other legal and regulatory proceedings.  We welcome responses from all over the world.
Link to get to survey:   http://www.conradbiologic.com/smartmetersurvey.html
Meanwhile, according to the results of another study from a university in Chile, 76% of students surveyed reported experiencing health symptoms after a powerful Wi-Fi system was installed.  After experiencing intolerable symptoms, a language professor undertook a survey of his students, who also reported effects from the radiation.
One of the students surveyed says:
"If taking away the router is the reason why a good teacher is staying or leaving, I would prefer the router to be removed."
We couldn't say it better ourselves.   Hopefully the administration will wake up and protect their staff and students rather than injurious and inappropriate technology.  Download pdf of the report here.