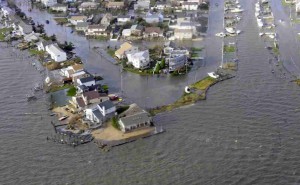 Massachusetts Utilities Continue Widespread Implementation of Smart/Wireless Meters Despite Poor Response to Recent Storm Power Outages & Continued Warnings By Medical Experts
BOSTON, Nov. 1, 2012 /PRNewswire/ — Corporate and municipal utilities in Massachusetts continue building the wireless utility grid with new meters, distributed wireless antennae, (DAS), relay boxes, remotely operated transformers and other communications components amid increasing warnings from the medical community and despite lackluster performance in responding to power outages statewide.
Many utilities, including NStar and National Grid, have touted improved response times to outages as a key consumer benefit to smart meters and automated wireless meters. However, following Hurricane Sandy's recent course through the Bay State, many residents were without power for more than twelve hours.  For some, the power went out before the storm had even started. "There was barely any wind at all and no rain when we lost power," said one resident of Bedford, "It was very strange – out for 12 hours, then
the next evening, it went out again." Another resident in Andover, spoke of a losing power for more than 24 hours.
Ongoing Expert Medical Warnings
Additionally disconcerting is the utilities' refusal to consider or accommodate customer's legitimate health concerns given the myriad medical warnings about the pulsed, high frequency radiation that smart meters emit into resident's homes:
1. The WHO's (World Health Organization) classification as possibly cancer causing;
2. An open letter * signed recently by 54 Doctors (MDs, Medical Professors and PhDs, Oncologists, Radiation Engineers, and research professionals around the world) warning of the dangers;
3. The AAEM's (American Academy of Environmental Medicine) warnings & statements;
4. Reports by Australian Associate Professor of neurosurgery Vini G. Khurana of adverse neurological effects at under 10 feet from the meters, the "safe" distance according to utilities;
5. The Austrian Medical Foundation has recommended a halt, pending further research;
6. The Texas Senate Committee's recent acknowledged of health concerns after autistic children began to have seizures once a meter was installed.
"Patients are reporting the development of symptoms and adverse health effects after new wireless digital meters are installed on their homes," says Dr. Amy Dean, President Elect of the American Academy of Environmental Medicine.
More and more people are complaining of ringing in the ears, headaches, agitation, heart palpitations, and insomnia after wireless meters have been installed.  "Immediate action is necessary – Our research shows chronic RF and EMF exposure to be very harmful," continued Dr. Dean. In some areas, ambient radiation levels in homes with meters was magnified 100,000 times.** The meters have also caused a spate of fires on homes throughout the US leading to investigations and legal battles, most recently in Pennsylvania and Chicago.
Lack of Savings in Results
Numerous new meters have appeared all over the state regardless of evidence emerging of lack of savings or positive cost benefit in this type of electricity load balancing.  In the Crain's Chicago Business article: 'Smart grid test underwhelms', it was stated that "In pilot, few power down to save money", indicating that fewer that 9% of customers exhibited any amount of peak usage reduction and that the overall amount of reduction was "statistically insignificant." The data came from a report by the Electric Power Research Institute. The report shows zero statistically different results compared to business as usual.
* Source:    Joel M. Moskowitz, Ph.D.. Director, Center for Family and Community Health, School of Public Health, University of California; for full article and list of professional signatories .
**Source:  Peter Sierck, Baubiologist, Industrial Hygienist and Principal of Environmental Testing & Technology, Inc.
SOURCE American Academy of Environmental Medicine.  Link to this story here.
RELATED LINKS
http://www.aaemonline.org
PR Newswire (http://s.tt/1rxZj)