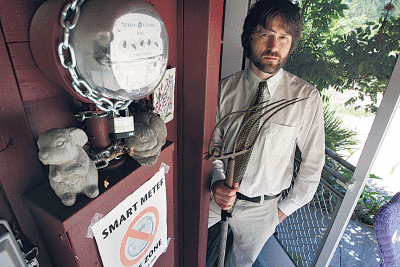 We've been hearing a ton of reports from around California of people refusing to pay the smart meter extortion fees.  If you believe these fees are illegal, unfair, and discriminatory and are refusing to pay something for nothing- you are not alone!
Many families who are paying their full bill on time, but refusing to pay the extortion fees have been receiving their "15 day shut off notices" from PG&E.  Some people have caved and coughed up the fee, while others- like Tom DeMarchi of Willits– have dug their heels in, risking power cuts or whatever comes their way.
Whatever PG&E threatens, the reality is that (as far as we are aware) no one who has simply refused to pay their "opt out" fees has had their power cut.  A week after we covered Tom's stand for justice, and a week after he was told his power would be cut off, his electricity remains on.
It appears that PG&E has strategically been adding the opt out fee to people's bills at different times over the past several months, possibly to avoid a single wave of public outrage.  I guess that's called "time-averaging the resistance."  Nevertheless it appears PG&E has little appetite for a re-run of last year, when they disconnected power to more than a dozen families for "tampering" while they ended up just looking like the Grinch, cutting power to people who they had sickened with their stupid meters right before Christmas in the name of "safety."  (The families were quickly re-connected.)
Our advice- as always- is to sit tight, refuse to allow installers access to your property, and refuse to pay any extortion fees.  Send the utility a letter with the words "I do not consent."  If the utility threatens disconnection or fines, take the issue up with the CPUC Consumer Affairs Branch (see below) which will buy you some time and at least inform the regulator about the extent of opposition to the smart meter program in general and the fees in particular.  There are very specific circumstances in which a utility can legally disconnect your power.  We do not believe that refusal to pay the proposed "opt out fee" is one of them.
The CPUC Division of Ratepayer Advocates Recommends:
If you are refusing "opt out" fees, contact Consumers Affairs Branch- CAB (Call first, follow up with a formal complaint) This will start the clock running for them NOT to shut off your power while the compliant is in resolution process.
CA Consumer Affairs Branch 1-800-649-7570  https://ia.cpuc.ca.gov/cimsapp/?key=39949189
Talking points for refusing Smart Meter fees: The fees were never legally evaluated and are therefore arbitrary and unreasonable, which is a violation of Public utilities Code 451. Smart Meters emit RF radiation, and you need to avoid RF for medical reasons, so to pay to avoid them is a violation of PUC code 453(b)
From "The Utility Reform Network"
Rules Governing Utility Shut-Offs
If you fail to make payments and are at risk of shut-off, keep in mind:
Your power cannot be shut off for nonpayment on Saturdays, Sundays, legal holidays other days when the utility's public offices are closed.
Medical baseline or life support customers will not be disconnected without an in-person visit from a utility representative.
You must be notified before your power is shut-off. PG&E and SDG&E customers are entitled to a 15-day notice of termination followed by a 48-hour notice. SCE customers must receive a 15-day notice followed by a 5 day notice. You should also receive an explanation for the proposed shut-off and the options you have to prevent termination, such as payment arrangements and appeals to your utility or the California Public Utilities Commission (CPUC).
Avoiding A Shut Off During a Billing Dispute
Failure to follow the proper procedures while disputing a bill can result in a shut-off. If you think your bill is incorrect you should first try to negotiate with the utility by requesting to speak with a manager or supervisor. If that fails, you should file a complaint with the CPUC immediately. If you file a complaint within 5 days of receiving the disputed bill, your power cannot be shut off until the CPUC has issued a decision and the case has been closed. (Even if more than 5 days have passed, however, appealing to your utility and/or the CPUC in an attempt to work something out may buy you some time and is always worth a try).
Don't wait for a shut off notice to contact the CPUC if you want to dispute your bill. Protect yourself by notifying your utility as soon as possible of your intent to dispute your bill and your reasons for doing so. You should also make sure that any bills you receive after the disputed one are paid in full (minus any disputed amount) and on time.