Originally posted on SmartGridAwareness.Org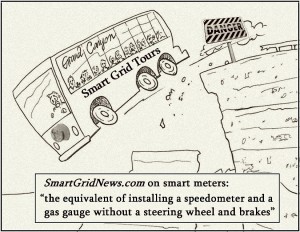 There have been a number of articles appearing in the national media over the past few weeks outlining the dangers and risks of so-called "smart" utility meters.  The smart grid mouthpiece website SmartGridNews.com even ran an article called, "Smart meters trapped between benefits and dangers, claims Forbes."   In quoting the Forbes article, SmartGridNews.com stated:
"Despite the promise of empowering people through enhanced consumption data… some people are scared and resist the idea of smart metering, citing concerns about meter accuracy, data security, and health," wrote Forbes contributor Federico Guerrini.  "Privacy is probably the most sensitive issue:  similarly to what happens with phone calls metadata, information about the energy consumption of a family or of an individual, can reveal a lot of details about the life of the persons monitored."
Beyond issues over meter accuracy, data security, health, and privacy mentioned above, components of the smart grid (including smart meters) dramatically increase the cyber threat to the electrical grid.  This threat is not limited to personal health and security risks but also poses a serious threat to our national security as well.
Just last month, an article was featured on this website about the nightmare scenario posed by smart meters when they get hacked.
Now, in July, a new article was featured at Bloomberg.com regarding hackers finding an open back door to the power grid.  According to the Bloomberg.com article:
"Making the electricity grid greener is boosting its vulnerability to computer hacking, increasing the risk that spies or criminals can cause blackouts."

"Adding wind farms, solar panels and smart meters to the power distribution system opens additional portals through which hackers can attack the grid, according to computer security experts advising governments and utilities."

"The communication networks and software that link green energy sources to the grid as well as the electronic meters that send real time power usage to consumers and utilities are providing new back-door entry paths for computer hackers to raise havoc with the grid.  The disclosure this week that hackers known as 'Dragonfly' and 'Energetic Bear' gained access to power networks across the U.S. and Europe in the past 15 months is a reminder of how vulnerable the system has become."

"In the past, all power use was measured by mechanical meters, which required a utility worker to inspect and read them.  Now, utilities are turning to smart meters that communicate data on flows minute by minute both to customers and utilities."

"'Anytime you introduce more software, you introduce more complexity and inevitably more potential holes to the system,' said Gavin O'Gorman, a threat intelligence analyst at Symantec Corp. (SYMC), the security company based in Mountain View, California, that identified the 'Dragonfly' threat."  [See post entitled "Dragonfly: Western Energy Companies Under Sabotage Threat."]
For example, smart meters contain a relay that can disconnect a household from the power supply.  As explained by Nick Hunn, chief technology officer at WiFore, a U.K.-based wireless technology consultant: "This is controlled by the utility from a computer keyboard.  Since the same code goes into all meters, it would take just one small piece of code inserted by a rogue programmer to disconnect the power from millions of meters and disable the remote connection to the utility."
As reported by Bloomberg.com, the energy industry is currently the most targeted sector in the United States, "accounting for 59 percent of the 256 attacks recorded last year by the U.S. Department of Homeland Security."
Also reported is that "almost all the specifics of the incidents are kept quiet to prevent damage to the companies victimized."  In other words, information related to risks and actual attacks on our power grid is being deliberately suppressed and withheld from the public.  This policy of suppressing risk related information regarding the smart grid and smart meters completely contradicts the recommendations from a U.S. General Accounting Office report released in 2011 which stated:
"Consumers are not adequately informed about the benefits, costs, and risks associated with smart grid systems.  …  As a result, until consumers are more informed about the benefits, costs, and risks of smart grid systems, utilities may not invest in, or get approval for, comprehensive security for smart grid systems, which may increase the risk of attacks succeeding."
Despite the risks and the almost daily revelations of danger and harm, the utilities blindly move forward deploying smart meters like mindless robots sowing the seeds of our own destruction.  That may sound a bit melodramatic but yet one needs to ask:  "What would it take to stop this ill-fated and  irrational   exercise in wasted resources?"
Furthermore, SmartGridNews.com in another story on July 1st acknowledged that smart meters are effectively of no value to our electrical grid when it stated:
"… thus far, spending on the smart grid has been dominated by smart meters that allow more granular and frequent readings and the transmission of that data to the utility, eliminating the old-fashioned meter reader.  But just adding a communications feature to the meters is not deeply game-changing; it is the equivalent of installing a speedometer and gas gauge without a steering wheel and brakes."
When and how will the insanity on smart meters end?   Since in the words of SmartGridNews.com we are currently traveling "without a steering wheel and brakes," the chances of this journey ending safely without a catastrophic event are not good. 
Consumers need to work together on a massive scale to first "apply the brakes" on this fiasco and then turn us in a different direction before it is too late.
Addendum:  Latest News from the U.K.
As was stated above, there appears to be daily revelations about the risks related to smart meters, yet the governments and utilities continue to install them as if they are mindless robots. Current news reports out of the U.K. drive this point home.  As reported this week by The Telegraph, "'Smart Meters' to Be Put in Every British Home Despite Fears They May Not Work," and:
"The £11 billion Government plan to put 'smart meters' into every British home will be launched this week despite fears they may not work and could open the national grid up to cyber -terrorists."

"A risk assessment carried out by the energy watchdog, Ofgem, has … identified 'a range of threats such as cyber, viruses and malicious software.'"

"Margaret Hodge, the chairman of the Public Accounts Committee, said:  'This is a typical Government project – they set up a big scheme but don't think about the costs to the consumer because it's being driven by the energy companies.  This expensive equipment is already out-of-date, because we could get the information on our smartphones.  The Government should really think about the technology they are using and make sure that the consumer benefits.'"
In addition, the CBR technical blog reports that:
"… official documents found that the meters will not work in a third of British homes, including high-rise flats, basements and rural houses.  This is because the meters use wireless communication method ZigBee to transfer the information, which does not work in building[s] with thick walls or multi-story flats."
The meters won't work in a third of British homes?  What more can we say?  There is nothing "smart" about this "insanity," and it must end now.
About the Author
K. T. Weaver is a health physicist who was employed in the nuclear division of a leading electric utility for over 25 years.  He served in various positions, including Station Health Physicist, Senior Health Physicist, corporate Health Physics Supervisor, and corporate Senior Technical Expert for Radiobiological Effects.  K.T. Weaver has earned a B.S. in Engineering Physics and an M.S. in Nuclear Engineering with a specialty in radiation protection.
Links Referenced in this Blog Article: