On Monday, August 14, 2017, people from across Michigan participated in a community defense mass action to stop unauthorized "smart" meter installation and to show the utility company that they will not submit to the utility's coercive tactics. Since then, Michigan residents have continued to stand up to DTE Energy's bullying tactics and have refused to cave in to shut-off threats. These folks are taking action and putting their money where their mouth is, in the truest form of activism!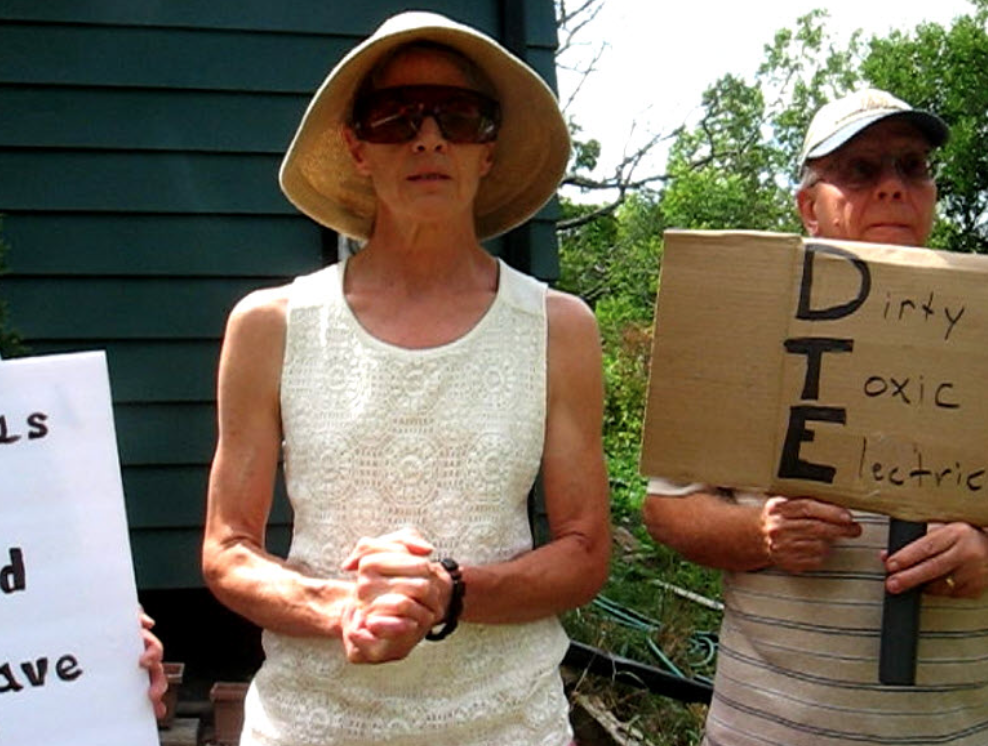 In early August, at least eleven Ann Arbor residents received shut-off notices from DTE, their electricity provider, stating that if they did not call DTE to accept a smart meter on their home, the electric service to their home would be shut off.
Linda Kurtz, 55, Director of Michigan's Smart Meter Education Network, who received one of the shut-off notices, organized a protest at her home to demonstrate public outrage over these illegal tactics. Kurtz cannot have any type of smart or digital meter on her home because she is severely affected by both wireless radiation and the "dirty electricity" that digital meters generate. Her symptoms, when exposed for more than 20 minutes at a time, include unremitting insomnia, heart palpitations, tinnitus, and extreme fatigue. She has what is known as "electrosensitivity."
Kurtz was not the only one whose life and health was threatened by her electricity provider. Eleven others in the community also received notices that they would have their power shut off that day as well. Of the eight who resisted DTE's extortion tactics, six had their power shut off, including women and men in their 80s and 90s. As Kurtz and others said, "DTE may cut off their electric service to my home, but they cannot shut off my power!"
Kurtz did not have her power shut off on the 14th. That may be due to the fact that DTE was afraid to disconnect her when dozens of people were standing witness, in solidarity and protesting DTE's tactics at her house. Kurtz still has her power (and her electricity) and has a generator as a backup if it is cut off at a later date.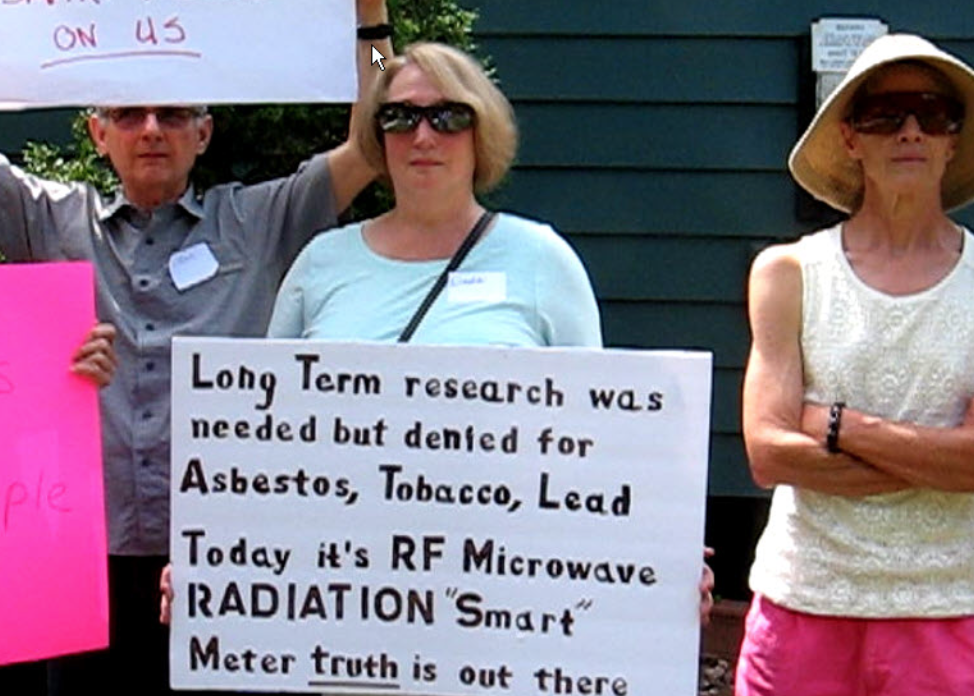 DTE is adamant that "smart" meters are completely safe, even though there are thousands of people who have contacted the Smart Meter Education Network, Stop Smart Meters! and similar groups to report that their health has been affected since smart meter installation. Literally thousands of peer-reviewed studies document harm from smart meters and other wireless devices. Like public policy in the United States and other "developed" countries, DTE is behind the times when it comes to the health and well-being of their customers. The company apparently does not think twice about coercively disconnecting power to the elderly- including those who have been paying their bills faithfully and on time for decades.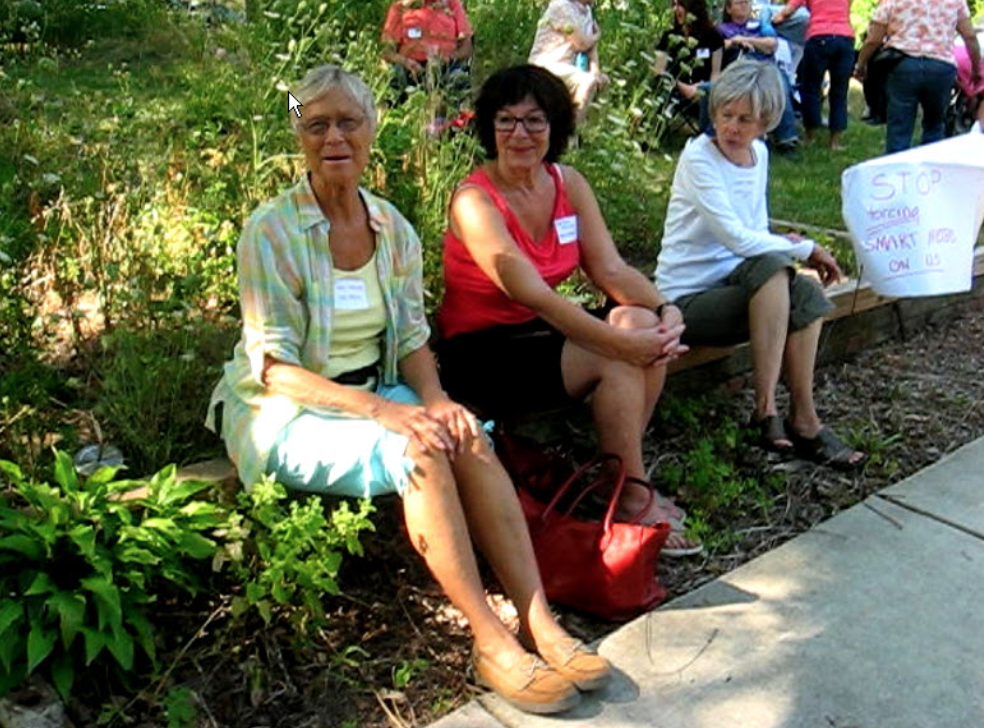 Community direct actions such as this are what *really* work to stop smart meters- not online petitions, fake EMF charms or "orgonite."  This is in fact what the utility companies are most afraid of- the spectacle of community solidarity and the resulting media coverage. Don't stand for your neighbors being abused, and they won't stand it when you are abused- it's quite simple.

An injury to one is an injury to all.
Local news stations showed up to cover the event. Several videos and articles about the protests can be found below:
Michigan activists hope to bring attention to the brutality of DTE's actions and also gain support for House Bill 4220, currently in limbo, which would allow any resident in the State of Michigan to opt for an analog meter without paying an extortionate "opt-out" fee or being threatened with power disconnection, a state of affairs that prompted the events of the 14th.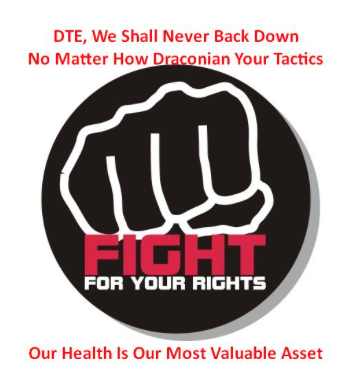 As utilities like DTE continue to threaten the health and safety of customers everywhere, this will definitely not be the last smart meter protest to make headlines. Unless utilities change their policies to get with the times – both in terms of health and what their customers want – they will face a massive loss in revenue from customers who move off-grid as well as people organizing and protecting their communities against utility injustice.
Join the effort today by volunteering and donating to Smart Meter Education Network, Stop Smart Meters! and other local groups actively organizing.  Walk door to door in your neighborhood to raise awareness with brochures, public health warning cards, and EMF Meters — all available in our online store.