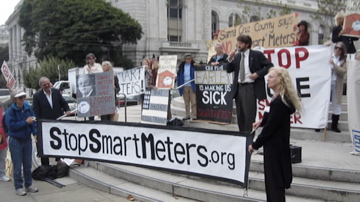 What is Stop Smart Meters!?
Growing out of the grassroots group Scotts Valley Neighbors Against Smart Meters, which was started in June 2010, Stop Smart Meters! has now evolved into an advocacy, media outreach, and direct action network providing activism consultation and advice to dozens of local groups sprouting up who are fighting the wireless 'smart' meter assault.
The smart meter debacle is a huge threat to our health, safety, privacy, and wallet.   But it is also an opportunity and a teachable moment about the dangers of wireless technology, corporate control, and false solutions to a looming climate catastrophe.   With your help, we can work toward a truly sustainable, equitable and democratic energy system, and new wireless standards that will put human and environmental health before profit.  The 'smart' meter fight has brought about new, unlikely political alliances.   We plan on strengthening these new ties for the battles to come.
To join Stop Smart Meters! and receive our monthly e-mail bulletin, please contact us.
Volunteer and media inquiries, please contact us.
Donations are gratefully received and will contribute to our work toward EMF and climate justice.
About the Director
J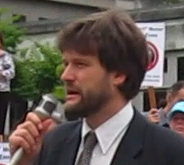 osh Hart is Director of Stop Smart Meters! He has worked in the energy industry, as a transportation planner, environmental advocate, and freelance journalist. He obtained his MSc in Transport Planning in the UK at UWE Bristol in 2008, and completed research entitled Driven to Excess, presenting the social and quality of life impacts of automobile traffic on local residents.  The research was covered in over 100 international media outlets including the BBC, the Guardian, Tehran Times, and the Daily Mail.
His writing has appeared in Surveyor, Walk, and Make magazines, the Wall Street Journal and Lonely Planet's Flightless: Incredible Journeys without Leaving the Ground.  He has been interviewed on PBS Newshour and countless other TV and radio stations.  He has been Director of the California based Stop Smart Meters! for more than 4 years, fighting the forced deployment of 'smart' meters in the US and abroad.