Welcome to the Stop Smart Meters! Store. Proceeds support our work to raise awareness and organize against smart meters. Thank you for your support.
---
**BACK TO SCHOOL SALE**
**10% OFF REGULAR PRICE ON ALL EMF METERS**
AUGUST 24TH- AUGUST 30TH ONLY
---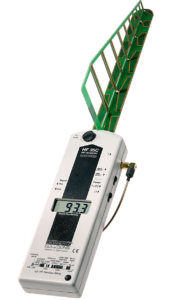 Part of our mission is to provide EMF testing meters to the public at an affordable cost.  All meters are fully guaranteed, calibrated by the manufacturer, and ship from StopSmartMeters.org (not via 3rd party).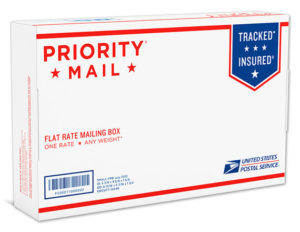 Free 1-3 day Priority Mail Shipping within US / free 1st class international shipping on EMF meters. Orders ship next business day.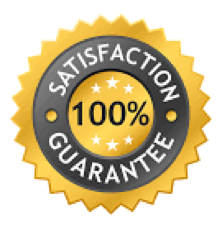 30-day Money Back Guarantee: We provide support with all purchases, and will issue a refund within a month if for any reason you are not satisfied.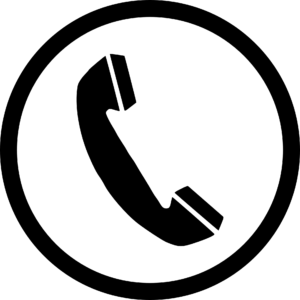 Contact Us: If you have any questions, feel free to call us toll-free at (888) 965-6435 or e-mail info@stopsmartmeters.org
---
EMF Meters: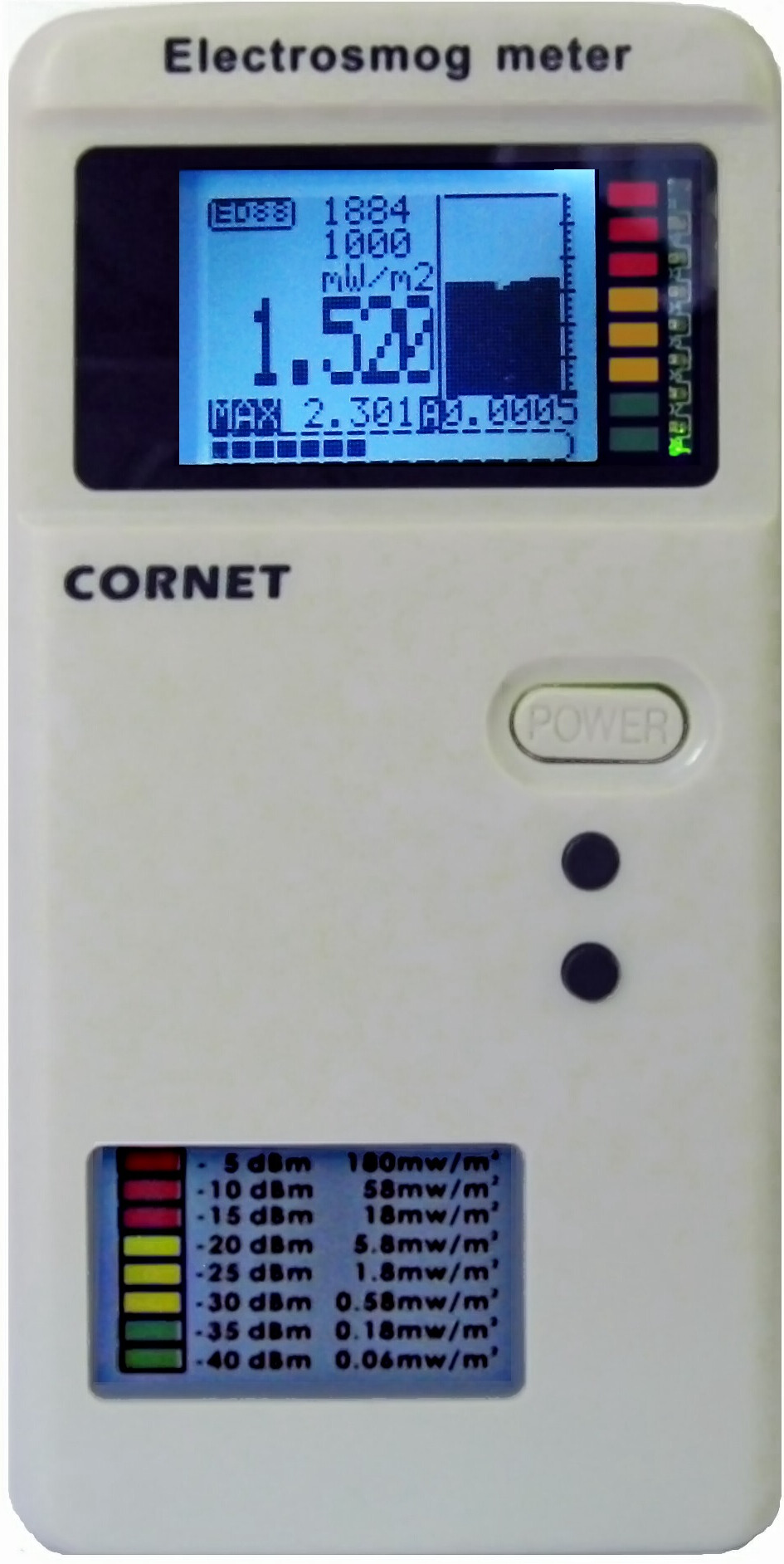 Cornet ED88T Electrosmog Meter (RF/LF/ E-Field)

The ED88T is a basic, compact EMF meter that covers the most common "electrosmog" frequencies. An easy and affordable way to identify and measure EMF sources in your environment.  This is a great all around "starter meter." Read our full review of the Cornet ED88T.  You can download the full Cornet ED88T manual and tech specs here.
Regular Price: $189.50 Sale Price: $169.95  |  In Stock

*We recommend use of rechargeable batteries (not included) — see below.
Features:
Detects RF from smart meters, wi-fi, cell phones, cell towers etc. (100 mhz-8 ghz)
Detects LF from power lines, household wiring, appliances etc. (50 hz-10khz)
Detects E-Fields from power lines, electric wiring, hybrid cars, etc (50 hz- 50 khz)
Detects Primary Broadcast Frequency (between 100Mhz and 2.4Ghz)
Sound function helps identify source of RF pollution, even at low levels
Faster sampling rate (10,000/ sec.) to capture brief pulses
Back-lit data display and rolling power density graph

Pre-set to Building Biology-based precautionary guideline LED settings
Cornet Instruction Manual / SSM! Guide to Using Your Cornet ED88T
Basic user e-mail/ phone technical support/ advocacy support

Manufacturer 1-year limited warranty/ Stickers and other extras
9V Energizer Battery/ Designed and manufactured in Santa Clara, CA
---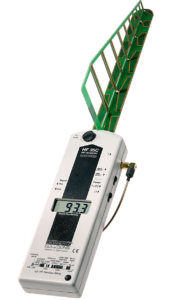 Gigahertz Solutions HF35C Radio Frequency Meter
The GS HF35C RF Meter provides more precise information about RF radiation between 800 MHz to 2.7 GHz. Know for sure what RF levels are present in your environment. You can download the full Gigahertz Solutions HF35C manual and specifications here. 
Regular Price: $346 On Sale: $311.40 | In Stock 
Features:
Detects RF from smart meters, wi-fi, cell phones, cell towers etc. (800 mhz-2.7 ghz)
Logarithmic Periodic Antenna 800 MHz – 2.7 GHz vertically polarized
LCD Display (3.5 digits): Easy to read 3.5 digit display
Audible Tone: The meter's audio tone replicates measured RF emissions (gets loud!)
Max. display resolution 199,900 µW/m² requires DG20 Attenuator ( below)
Gigahertz Solutions HF35C Users' Guide/ 2 Year Warranty Certificate 
Basic user e-mail/ phone technical support/ campaign advice

Includes professional alkaline 9V battery
---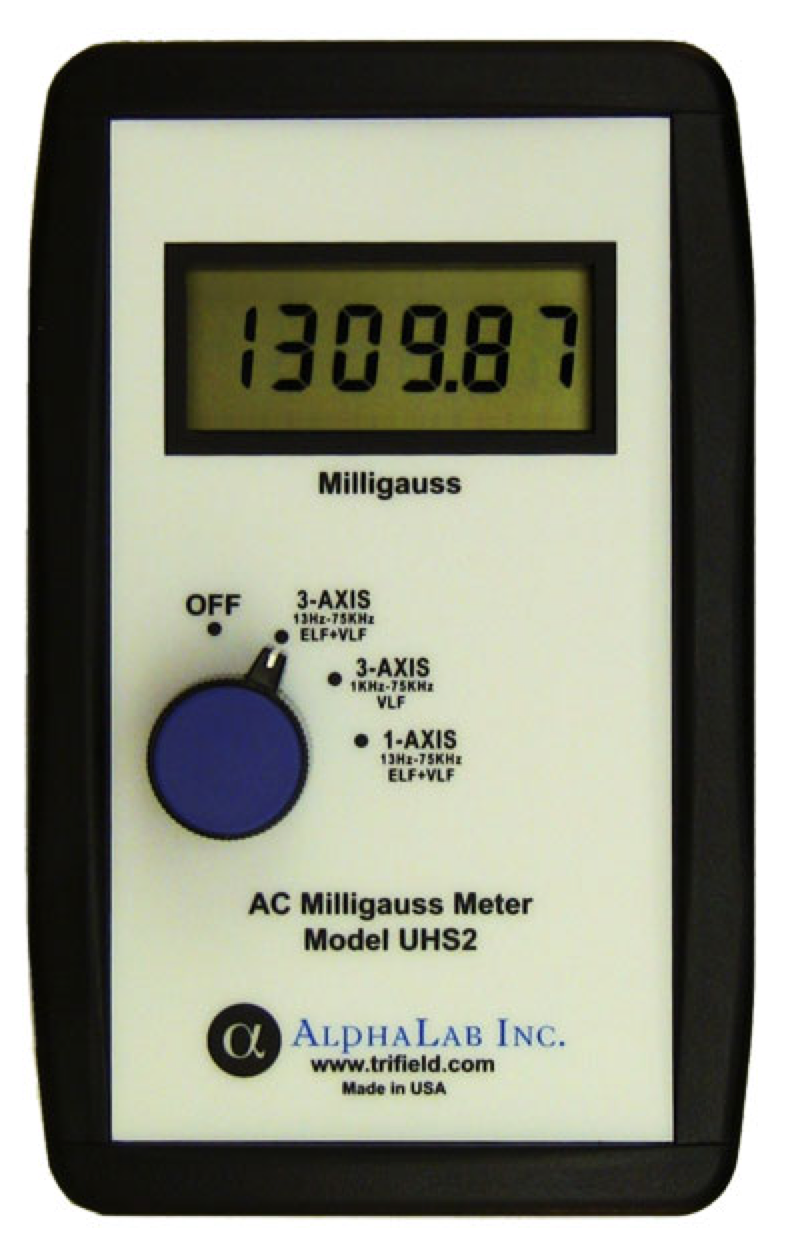 Alphalab UHS2 Digital AC Low Frequency Gaussmeter
The Alphalab UHS2 is a 3-axis Gauss meter, intended for precise measurement of magnetic fields from power lines, appliances, wall wiring, etc. This meter is recommended for detecting Gauss readings up to very high levels and also down to "no concern" levels recommended by Building Biology experts. See video review and instructions here.

Regular Price: $299.50  In Stock | Sale Price: $259.95
Features:
Measures AC magnetic fields in a wide frequency range: 13 Hz to 75 kHz
Frequencies include most ELF (frequencies below 1 kHz) and VLF (above 1 kHz)
Measures the true 3-axis magnitude of the AC field
Two other more specialized measurements can also be performed:

3-axis VLF-only (1kHz – 75 kHz) to measure higher-frequency fields
1-axis full bandwidth (13 Hz – 75 kHz) to find direction of AC magnetic field.
---
Power Consumption Monitors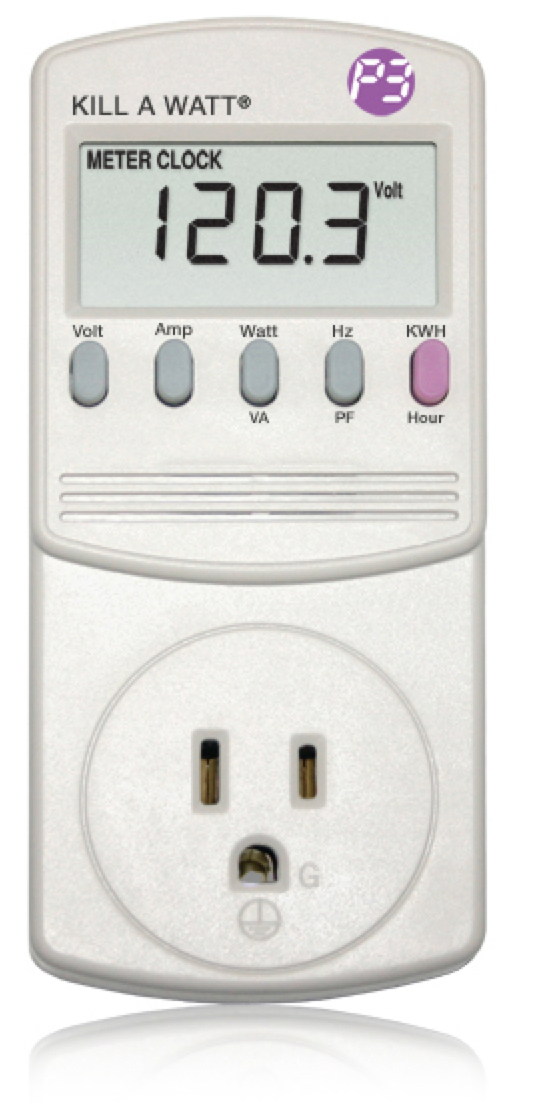 Kill-a Watt Energy Usage Monitor
"Smart" electric meters are notoriously inaccurate, and routinely overcharge people by hundreds or even thousands of dollars.  Now you can verify your actual appliance-by-appliance usage, and at the same time cut down on costs. Connect any appliance to the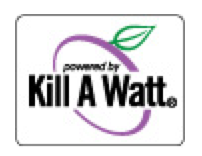 Kill A Watt, and it will assess how much energy is being consumed. Counts consumption by the Kilowatt-hour, same as your local utility. You can calculate your electrical expenses by the day, week, month, even an entire year. Also check the quality of your power by monitoring Voltage, Line Frequency, and Power Factor. Now you´ll know what you are actually consuming without relying on inaccurate utility meters. Model:P4400 In Stock | On Sale: $20.50
Features:
Large LCD display that displays KwH, Volts, Amps, Watts, Hz, VA
0.2% Accuracy Operating Voltage: 115 VAC
Max Voltage: 125 VAC — Max Current: 15 A< — Max Power: 1875 VA
Weight: 5 oz. Dimensions: 5 1/8″ H x 2 3/8″ W x 1 5/8″ D
---
Accessories: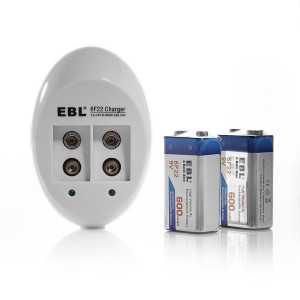 2 x EBL Lithium-ion Rechargeable 9V Batteries/ Charger Pack (U.S. residents only) These batteries and compact wall charger provide plenty of power to your Electrosmog testing devices. In Stock | $17.50
---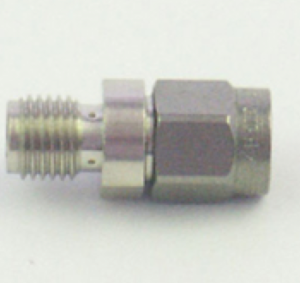 Attenuator DG20 for Gigahertz Solutions HF35C– 100x Range  The DG20 allows the HF35C  Meter to accurately display higher signal strength measurements and extend its range by 100x. $59.50 | In Stock
---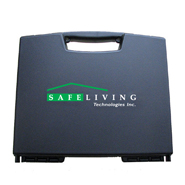 Hardshell, Padded Case for Gigahertz Solutions HF35C      Ensure your HF35C meter is protected during transport.   $19.50 | In Stock
---
Printed Material: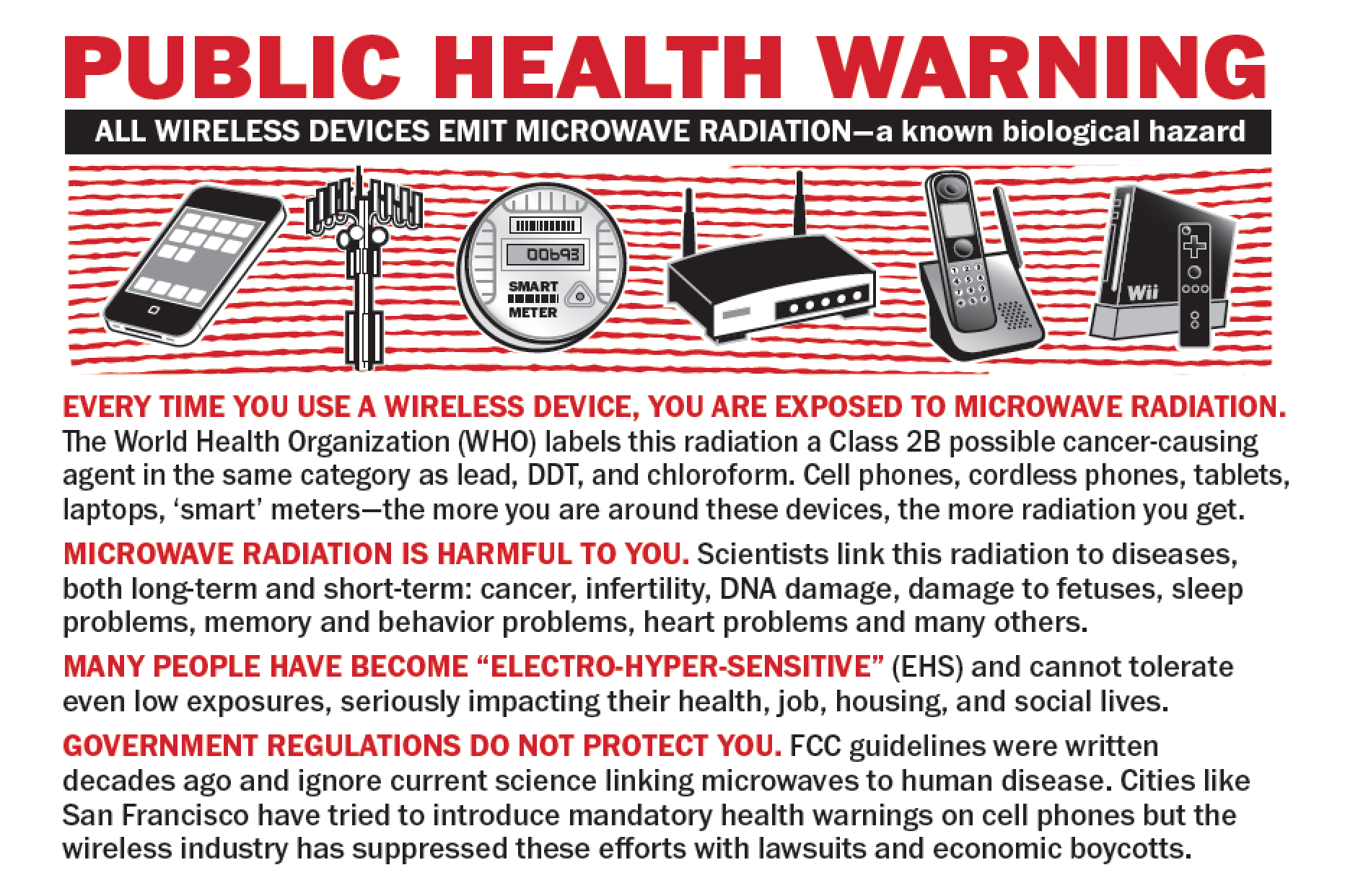 Public Health Warning Cards Printed on 4×6″ 100% recycled card stock.  Keep with you and hand out to your neighbors, etc.  Click here to see the full card. 50-pack $8.50 | In Stock 
---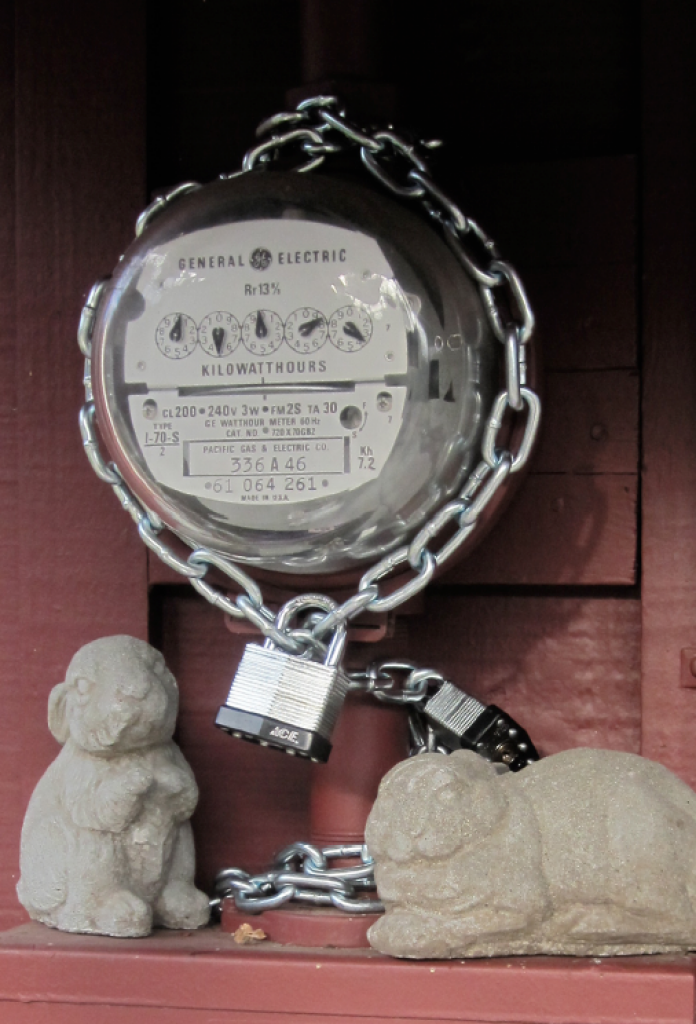 Stop Smart Meters! Greeting Cards Features our original Scotts Valley PG&E analog meter, chained up and defended by guard bunnies.  Blank inside, recycled, SSM! Logo & info on back, includes 10 brown "greengrocer" envelopes 5″ x 3.5″ 10-pack $8.50| In Stock
---

Smart Meter Awareness Brochures– 4th Global Edition. Includes smart meter radiation comparison chart, types of smart meters, revised action items, plus space to add your local info with a label or stamp. Dimensions: 8.5 x 14″ 2 sided, double parallel fold brochure.  More info and download pdf on our brochure page.  Includes local labels for your area upon request.
50-pack $12.50| In Stock
---
Books: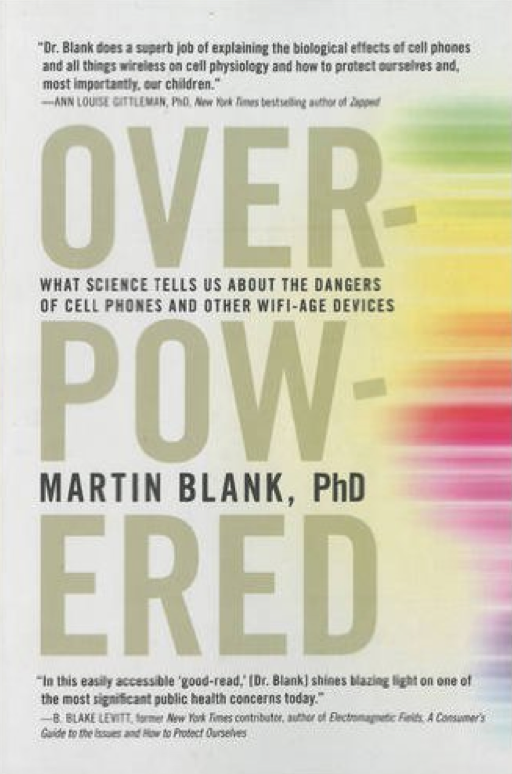 Overpowered by Martin Blank, PhD Dr. Martin Blank is an expert on the health-related effects of electromagnetic fields, having studied the issue for more than 30 years.  In his groundbreaking book Overpowered (now in paperback edition), Blank lays out the argument for precautionary steps that can be taken to reduce the risk of microwave pollution on public health. Excellent, basic factual resource on wireless and health for people new to this field.
"In this easily accessible 'good-read' [Dr. Blank] shines a blazing light on one of the most significant public health concerns today."  – B. Blake Levitt
$17.50 per copy | In Stock
---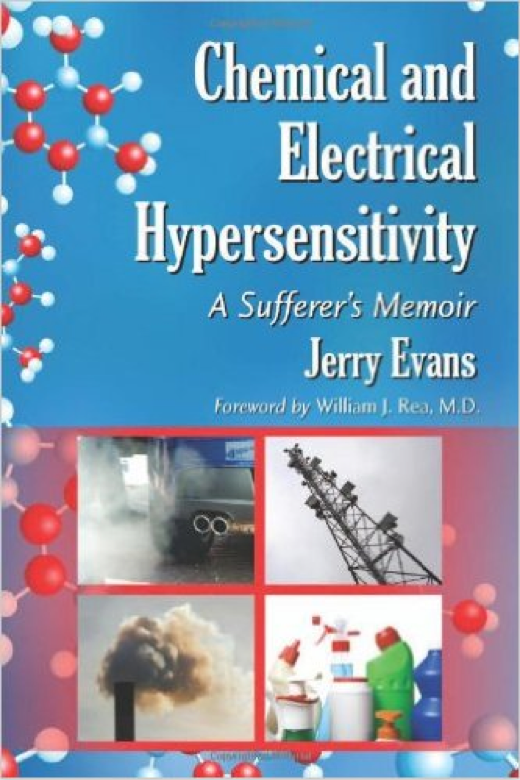 Chemical and Electrical Hypersensitivity: A Sufferer's Memoir By Jerry Evans  — This timely memoir recounts one man's affliction with MCS/ EHS and his struggle with the medical establishment, largely hostile to his diagnosis. When the symptoms became unbearable, he was forced to leave home and seek a more healthful environment where he could begin his recovery. This is an inspirational text for those living with electrical or multiple chemical sensitivity and an educational one for those learning about these conditions. $22.50 per copy | In Stock
---
DVD Documentaries: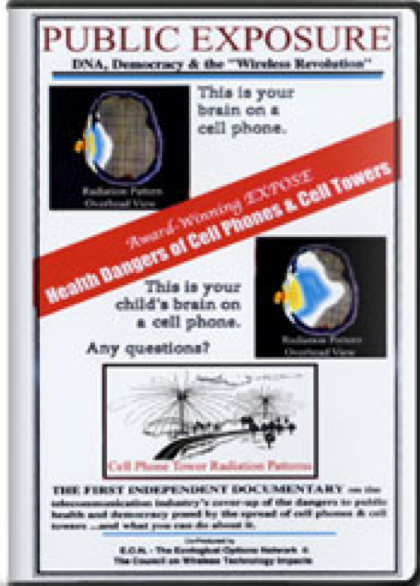 Public Exposure: DNA, Democracy and the Wireless Revolution  The first film to explore the health risks and social concerns triggered by the proliferation of transmitting antennas and rapid consumer adoption of wireless communications technology.  Highly recommended! $19.50 per DVD | In Stock
---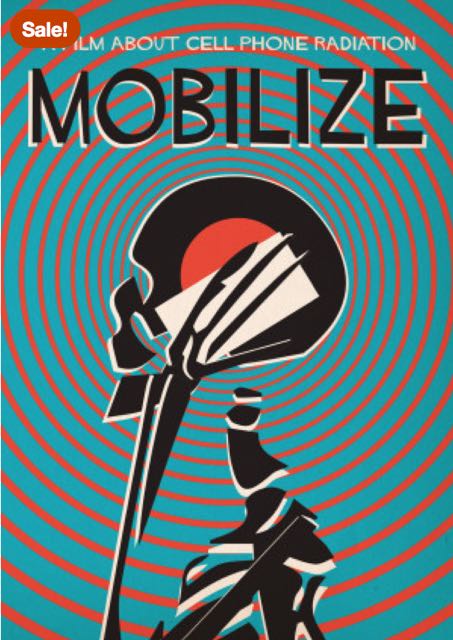 Mobilize- A Film on Cell Phone Radiation: an explosive investigative documentary on health effects from cell phone radiation, including brain cancer and infertility.  When you hear your utility say that "your smart meter is as safe as a cell phone" it will take on a whole new meaning after  you watch this film. Winner, Best Documentary  at the 2014 CA Indie Film Fest. $19.50 per DVD | In Stock
---
Stickers:

Stop Smart Meters! Bumper Stickers  –  4″ x 11″ UV resistant, vinyl sticker- Pack of 10 $8.50 | In Stock

---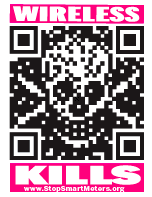 'Wireless Kills' Stickers 2.13″ x 2.75″ vinyl outdoor sticker

Pack of 10 $6.50 | In Stock

---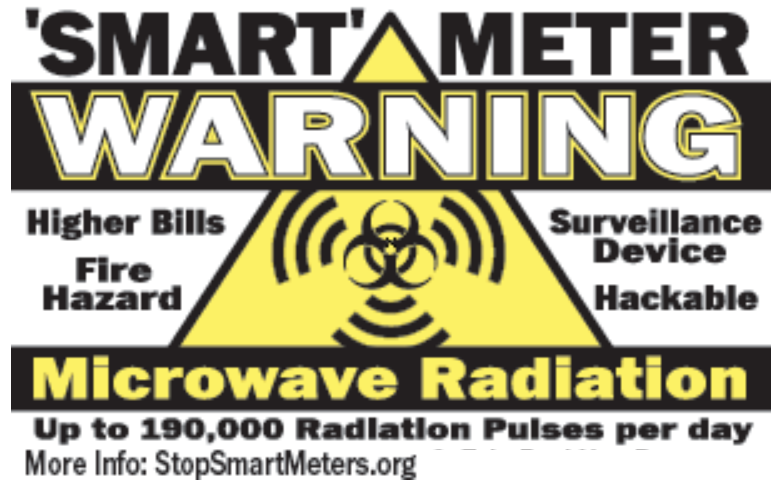 'Smart' Meter Warning Stickers 2.75″ x 4.25″ vinyl outdoor sticker Pack of 10 $6.50 | In Stock

---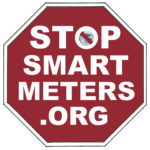 'StopSmartMeters.org' Stop Sign Logo Stickers, Octagon Shaped 1.5″ x 1.5″ discreet vinyl UV resistant, durable/easy peel, tells the message and where to get more info- in one sticker. Pack of 25 $8.50 | In Stock

---
If You Prefer to Pay By Check/MO and Postal Mail Instead of PayPal:
1. Add up your order (CA residents please add 7.5% sales tax)
2.  Send a check or postal money order to:  Stop Smart Meters! PO Box 682 Portola, CA 96122.  Include your USPS shipping address, how many of each item you wish to order, and your e-mail address and/or land line number in case we have any questions.
---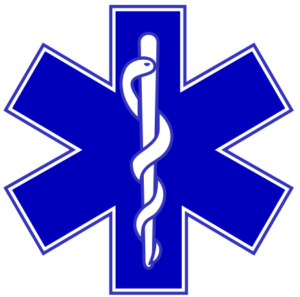 EI/ Low Income Discount: If you have documentation of an environmental illness and/or low-income status, please ask about a store discount.
---
If you are looking for analog electric meters, Stetzer meters and filters (for dirty electricity) or shielding products, try Electrahealth.com