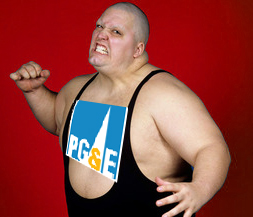 Monise Sheehan of Aptos CA did everything an honest woman could have to try to protect herself from the harm that PG&E has imposed on her by installing a 'smart' meter on her home. She has explained, asked, pleaded, begged—until finally being forced into the only route open to her, changing her own meter. Even then, she tried valiantly to cooperate with PG&E, documenting everything, telling them what she had done, asking them to synch the readings between old and new meters and place one of their rings on the new one.
She is not a thief, she is a person desperate for the return of her health. After suffering with tingling in her arms and legs, ringing in her ears, uncontrolled body heating at night, and sleep disruption, she has had enough. She's been up front, every step of the way. And these are the rewards from PG&E: false promises of help, bogus accusations of criminal intent and law-breaking, threats of sneaky night-time meter changes and federal lawsuits—lies and intimidation, start to finish. The "tampering" they accuse her of requires intent to defraud or steal energy from the utility, and this, most clearly, Monise is not guilty of.
In addition, the CPUC has done nothing to support her earnest efforts, refusing to return phone calls, or telling her to "Make nice with PG&E and let them put a 'smart' meter back on her house."
The CPUC knows this device is making people sick, and this is their solution? To "make nice" with the company who is ruining your health and well-being, and allow them to reinstall the source of the poison??
There is a crime that has been committed, and is still being committed, but it is not Monise Sheehan who committed it. It is PG&E's criminal disregard for human health and safety, and the CPUC's criminal neglect in their duty to oversee the utilities in this state, and keep them from harming innocent people in the course of delivering two of the most basic human needs, heat and light.
Here is the whole narrative of Monise's experiences to date:
"My meter was changed to a 'smart' meter on July 26, 2011, when I wasn't home. I wasn't really opposed to the program at first, but then I got sick. I saw my doctor in August, who check my vital signs and gave me an osteopathic treatment to see if it would help. Unfortunately it didn't help, and I continued to get sick.
Early September 2011
"My first contact with PG&E customer service representative was Regina James at 877-743-7378. She listened to my problem, as I described the tingling sensations in my limbs, and sleeping problems, and strange overheating at night. She told me that she would put me on an "emergency list" for persons having health complaints, and that someone from PG&E would contact me within 48 hours.
"PG&E did not contact me as promised after that 48 hours.
"I called PG&E back after several days to ask what was happening, and that I was still waiting to hear from someone I was told that I should wait for the call.
"A few days later I called PG&E again. However this time I got a very angry man on the phone. By then my ears had started ringing in certain rooms in my home. If I went outside away from the house it stopped. I told him my symptoms. He said he hadn't heard about any of that. I told him from what I had heard these were common complaints with the "smart" meter, and my guess was that there were hundreds perhaps thousands with similar complaints. He blew up at me, saying "So you're privy to what people report to us? How could you know how many people have called in health complaints?!"
"I answered "They formed a customer complaint department [so Regina James said in my previous call to PG&E] and I don't think they would have done that if it were just a few or even a hundred complaints."  At that point I asked to speak to someone above him. A woman got on the phone who was very nice and said that they were trying to get the complaints answered and for me to wait for the call. It would be coming. Needless to say, they never called back.
September 13, 2011
"I went to Representative Bill Monning's Town Hall Meeting. I had questions about my 'smart' meter. There were two other women speaking on that, so his aid said I couldn't also speak. I had never attended a meeting like that before. I went in desperation—not sleeping, agitation, and a sense of hopelessness drove me there. Although I did not get a chance to speak with Rep. Monning, I felt like it was a start.
September 23, 2011
"I watched the video [link] of CPUC President Michael Peevey giving Mr. Chandu Vyas permission to have his 'smart' meter switched back to an analog. That same morning I called PG&E again and said that I also want to have an analog meter. The answer was "We do not have analog meters any more, nor will we install them."
"I called Sidney Bob Dietz of PG&E at 415-973-5921. He answered his own phone and was very pleasant. He said he was "surprised" by Peevey's statement. He told me they were working on an opt-out proposal, but that "it takes time." When I asked about all the others who have had health complaints he had no answer. He said that there were no new analog meters in North American but I could find one in China.
September 24, 2011
"Well, I decided that was not enough. I needed help, and so I made some phone calls, and went to an electrical supply outlet to buy my own refurbished analog meter. I contacted someone to help me, and we switched the 'smart' meter with the analog I had bought. I made sure to photograph all the readings that the 'smart' meter showed and then we unplugged it and plugged in the new analog. Then we ran a load test at 12:00 p.m. All fine.
"I took a photo of the dials on the new meter and I have been doing readings almost daily: Sept 24, 48397; Sept 26, 48414; Sept 28, 48434; Sept 29, 48442; Sept 30, 48450, Oct 1, 48477, Oct 2, 48489.
"At about 1:00 p.m. that day, I brought the 'smart' meter to the Santa Cruz Sheriff's office, but it was closed for the weekend. I went back on Monday, Sept 26, and attempted to turn it over to the sheriff for safe keeping. I did not want PG&E to think that I was attempting to steal power. The sheriff's office refused to take the meter and told me I could file a civil complaint.
September 28, 2011, noon
"I contacted PG&E at 800-743-5000 to notify them that I had purchased my own analog and installed it on my house. I spoke with a man named James. I told him that after watching the video of President Peevey ordering PG&E to give a sick man an analog meter, and calling PG&E only to be told I couldn't have the same, I decided to be proactive. I told them that I was sick, and that what I had done actually saved them money, because I paid for the meter and the installation myself.
" James got very angry with me, telling me "You had no right to do that," and "You are going to be disconnected," and "You are stealing electricity" and "You have broken the law."
"He said he was sending the case over to Revenue Assurance, and that an 'emergency work order' would be issued to put a 'smart' meter back on my house.
"I asked when I could expect this to happen, and he said sometime today. I waited all day and night, anxious and afraid that strangers would show up in the middle of the night and do I don't know what. I even called that evening, same number, and spoke with 'David Wilson' who was nice but told me he had no way of contacting a crew in the field and could not do anything 'from where he was stationed.'
September 29, 2011
"I received a call from Lonnie Wilson in the Revenue Assurance Dept. in Sacramento, 209-938-0367. He told me "You have broken a federal law and most likely you will be disconnected." He also said I would incur costs of the investigator who would be coming to see me, and charged for the disconnect, and so on.
"I asked him what federal law I had violated. He said "Tampering." He said when PG&E put back on the 'smart' meter, it would have to be a new one, because he said I might have done something to the other one, tampered with it. He also said that all the meters go back to a plant in Fremont CA, whether analog or 'smart' where they are refurbished. So much for not having any analog meters!
September 29-30, 2011
"I called PG&E several times to try to be put on their 'delay' list to protect my analog. I spoke with Andrea Diaz in Sacramento. She said I could not be put on the 'delay' list because I already had a 'smart' meter installed. At that point I didn't, but I didn't argue with her.
"I called PG&E again to ask where I could see the laws I had supposedly violated. The rep sent me to the PG&E website, www.pge.com, where I was instructed to look under 'tariffs'  The woman said "It's all there."
"I could not find it anywhere in the webpages. The people helping me could not find it. I don't think this person knew of any such particular part of the tariff section or she would have directed me there. The tag on the meter doesn't not say anywhere on it "Do not remove, under penalty of law," or such.
September 30, 2011
"I called the Consumer Complaint line at CPUC and put on hold for "the PG&E executive office." I was disconnected and so called back. I left a message for Harold Williams, head of consumer complains at CPUC. As of Oct 2, I have not heard back from him
"I left voicemail for Carol Brown, President Peevey's chief of staff, and she did call me back. She was very nice and suggested I call the tech that had the emergency work order to see it if it was still active—and try to get them to put "smart" meter back on my house. She also said, Yes, they would probably cut off my power. She told me I should "try to make nice with PG&E."
"She also stated: "If we [the CPUC] knew then [when the program was initiated in 2006] what we know now, this would be a very different conversation." That is an interesting comment, but not very helpful to me in my situation right now! It certainly doesn't make right this whole mess.

"I want to know: Why are these meters being allowed to be deployed with lightning speed when the CPUC KNOWS they are unhealthy and insecure??"
So do we want to know, Monise, so do we.
UPDATE, Oct 4, 2011: Monise was featured on KION: http://www.kionrightnow.com/story/15618252/woman-changes-smartmeter-back-to-analog-meter-on-her-own