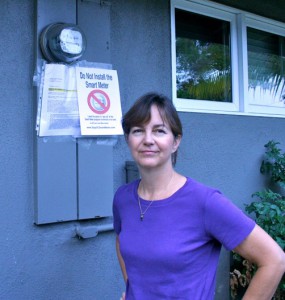 Maureen Homan is a "sleeping mamma" who's just woken up to the "smart" meter invasion where she and her family live, in Orange County CA. But she's got herself and others organized the way only a mamma can do! She's just started up a website: www.StopOCSmartMeters.com. And she's found out what many of us know—you have to get out and talk to your neighbors and friends.
"I've never did any of this sort of thing before.  But when you tick off the sleeping mamma…. We have a core group of a few people who are spreading the word quickly.  SCE is deploying (am I in a war?) at a rate of 3000 per day.  I think everyone senses the urgency to get the word out.
"My mother put a book about "smart" meters on my desk about 6 months ago and I thought it was just another one of her crazy causes.  Then I got the notice in the mail from SCE saying that they were coming here in the next few weeks.  Concern turned to panic when I started reading what you folks were going through and realizing the validity behind the protests.
"Monday morning I drafted a flyer and grabbed the Do Not Install sign from Turn.org's website and blasted out an email to everyone in my address book, and neighbors, too.  I printed a few out flyers and signs, walked up and down my street, talking to a few folks. Only a few people responded to the email, but I think it started to resonate with them when trucks rolled into the neighborhood.
"On Tuesday, the Corix truck arrived in my mother's neighborhood.  She courageously used that sign that I had emailed her from Turn.org and walked around talking to her neighbors on arthritic 77-year-old feet.  That evening she decided to speak about the dangers of "smart" meters in front of Tustin City Council and I begrudgingly went along.  And I spoke too…note to self, plan and write out what you want to say before speaking in front of a televised City Council (!).  Behind me I heard the tapping of laptop computer which happened to belong to an Orange County Reporter.
"Wednesday I am back on my street after dropping off the kids—and there is the installer, talking to my neighbor.  "Tom?" I asked him, "You didn't install the Smart Meter, did you?" Too late, it's on his house.  Corix man doesn't look happy and asks me, "Are you the one passing out these flyers?".  "Sure am." "Well, you're making my job very difficult today."  "Great!" I reply.
"The rest of the day we played cat and mouse as I would print off flyers from my home computer, drive to where the Corix truck was parked and start knocking on doors.  I hit every house in my neighborhood that day; all 170 of them.  About half of them were home and I talked to them all.  I met just the nicest folks.  Most were not only receptive to my information, but also VERY thankful for the information and that I took the time to tell them about it. That night I slept well knowing that I did all I could for those that I care about.
"On the other side of town, a woman named Cindy H. was also outraged by what she had discovered about "smart" meters.  She was passing out flyers and trying to figure out how to inform the public.  She called a reporter.  Well, the reporter asks, "Are you the lady who spoke in front of City Council last night?" By this she found out she wasn't alone in the fight here. The reporter connected us up, and Stop OC Smart Meters was born! Watch out for mammas!
"Friday morning we had started our group, prepped for a newspaper interview that afternoon and had collected nearly a dozen folks that were ready to do some business.  Hopefully, the OC Register won't put tin foil hats on us, but will kindly present both sides of this story.  However, I realize it's more fun to laugh at the loonies than it is to hurt the pocketbook of an advertiser.
"By Saturday afternoon we had 1,500 flyers/signs ready to go.  One of our volunteers generously printed them out in color in two-sided form—people get a sign for their meter and all the info on how to "defer" installation on the back. I used 1-and-1 Software for web hosting and domain name and spent the weekend getting it up and running.  Luckily, I have a little experience running the website for my son's Boy Scout Troop.
"With the website mostly up, flyers printed, and research solid enough, we hope to present a "reasonable doubt" to folks who may perhaps choose to do as we did, and err on the side of caution (perhaps our government should have done that as well).
"Next steps: try to get on the agenda at City Council, organize a forum for people to ask questions and hear our side, write letters, walk neighborhoods, call television stations maybe? We are not much for protesting down here. However, people do want this information.  They don't even know their meter is getting changed out, for crying out loud."