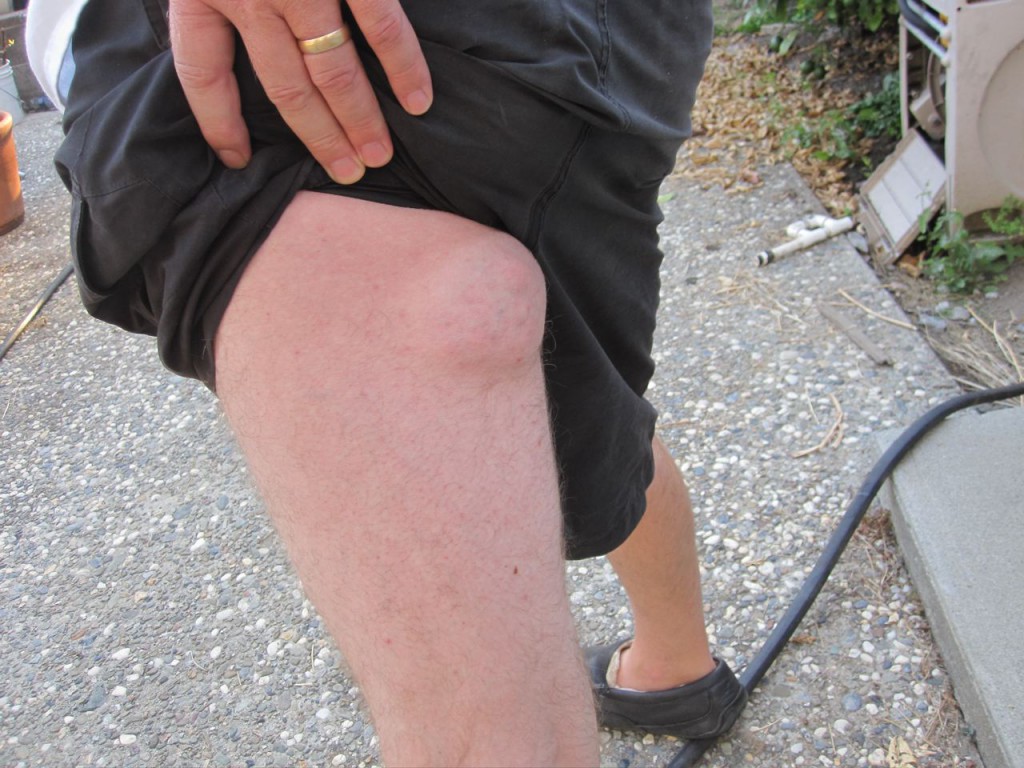 By the way did we mention we're not joking when we say wireless radiation from cell phones, wi-fi, and "smart" meters can injure–even kill you?
Above is a photo of our neighbor in Scotts Valley, a man we interviewed in September. He worked at a tech firm for ten years. During that time, he kept his cell phone in his left back pocket–switched on and sending signals.  The other day he showed us his tumor that he says he is 99% sure is from his cell phone.  He also has a tumor on his left ear–the side he used to speak on his phone.
For this man, and the thousands of others reporting health effects from smart meters and other wireless devices, injury brought about by wireless non-ionizing radiation is not "theoretical," "possible", or "imaginary."  It is a devastating reality that far too many people are being forced to live with because of industry greed and corrupt regulatory agencies turning a blind eye.
It's time to stop debating whether wireless is causing health effects–and time to start discussing what we should do about it.  The first, most minimal and basic step is to pull the plug on the wireless smart meter mesh network–an involuntary and senseless radiation exposure on with an unprecedented penetration and scale.
We're sorry if this photo shocks you- but maybe that is what it takes to shake people out of their denial.  Wireless meters and phones are not smart, sexy or fun.   As The Smiths sang in 1985, "it is death for no reason and death for no reason is murder."
[Update: nearly 50 people spoke out during the public comment period of the CPUC meeting Thursday, an excellent showing. People spoke repeatedly and from a diverse set of backgrounds about the extortionate nature of the opt-out cost, need for an analog option–and many simply called for the whole misguided, dangerous program to be scrapped. Good job, all! More on this to come.]
Show up and speak at the CA Public Utilities Commission Thursday, December 1st 9am 505 Van Ness in San Francisco — demand that they pull the plug on the wireless smart meter program.  As a cancer survivor himself, CPUC President Michael Peevey should know better.  Since he apparently has a hard time putting health and safety first when industry profits are at stake, the man needs to be removed by Gov. Jerry Brown.  Yesterday.
Submit your smart meter complaint at SmartMeterHelp.Com