Part Five of a series. Click for Part One, Part Two, Part Three, and Part Four.
Jameson Simpson (his real name) is an illustrator who lives and works in a rural area north of Sacramento. He's in his late thirties. Like almost everybody in his field, he works on a computer.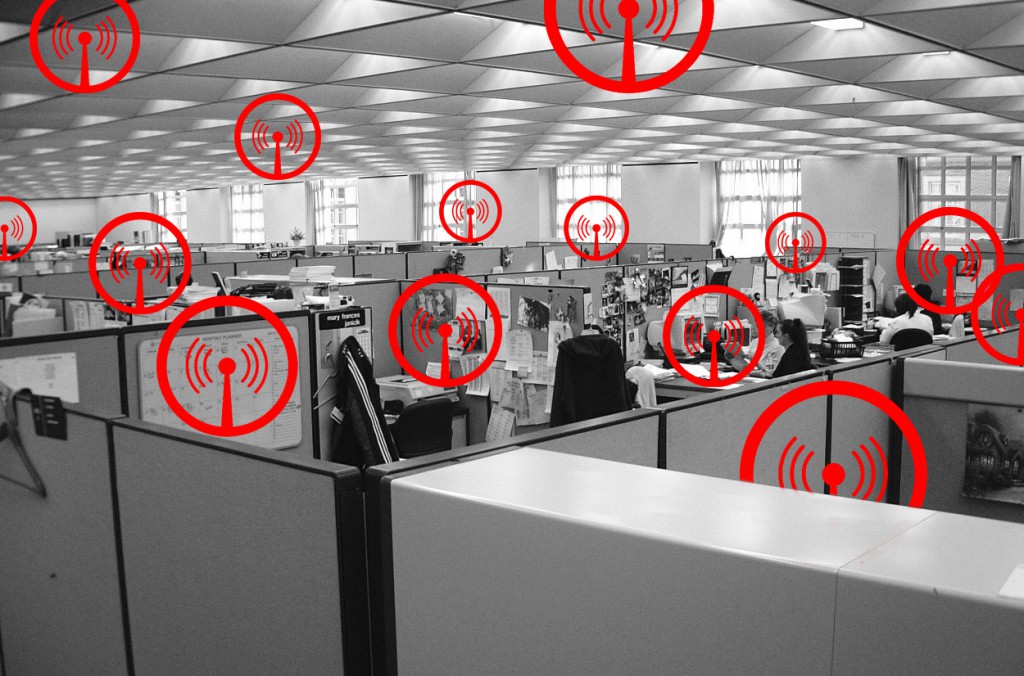 But a few years back, he became sensitive to electrical and radio-frequency fields. "Now, I don't think I could work ever in an office with the fluorescent lights and WiFi. I'd probably last a week!" Fortunately, he can work from home. "My heart goes out to those who are sensitive and have to work in conventional work environments."
But it was just that computer work that made him ill in the first place. Several years ago he worked long days on the old-style CRT computer monitors, and got a classic case of "screen dermatitis,"—though Jameson didn't call it this, it's clearly recognizable by his symptoms—red-splotched, inflamed, pustulent skin, with sensations of itching, heat, and tingling. Here's some research about this particular computer-induced disease. After five years, he was in a more or less permanent state of discomfort.
"It took me that long to really get that these symptoms weren't going away but getting worse. But I still hadn't connected the dots with regards to the cause. I just couldn't imagine that technology could cause this."
He was forced to figure out how to manage his symptoms and help himself get better. Staying out of EMF fields as much as possible was a big part of that healing, especially good, solid bouts of sleep in an RF-"quiet" place. Life has become a balancing act. "If I go in a coffee shop with wireless, I know I have about a half hour before my symptoms start up, so I always approach these places with caution. There's nothing worse than the feeling of something bearing down on you that you can't do anything about."
He still works on the computer and has some problems associated with that. He trys hard to stay well. All that effort seems to be helping, because Jameson says, "I'm fairly stable at the moment. I can't help but feel like a bubble boy at times, though."
Then two things happened, complicating matters for him. A "smart" meter was installed on his house, and a neighbor in this rural area installed a cell phone booster antenna on the roof. "When a smart meter was first installed, my symptoms flared up within a week. Especially the tingling head and skin rashes. I moved my bedroom to the room furthest from the meter and that enabled me to get sleep and for the symptoms to subside." Then came the booster antenna nearby. "I had to move to a friend's house—but his 'smart' meter was near all the bedrooms, and I suspect the old electrical wiring is also affecting me, so I ended up sleeping outdoors."
"I'm okay during the day, mostly. I just need breaks from [the 'smart' meter]. It's being in these fields all the time that really gets to me. But my friend has ordered an analog meter, and we're going to change it out soon!"
He is trying to figure out how to shield his living space from his neighbor's booster cell antenna. "I tried to negotiate with the neighbor but they were not very willing to work with me. I purchased an RF-proof bed canopy (the fabric is called Swiss Shield Naturell). I'm going to try to shield the windows and walls facing the neighbor. I was living in a tent for a couple of weeks but it got pretty lonely and cold," he says. That's a hell of a way to live, we say.
Jameson doesn't talk much about his condition with others in his work field. "Electrical sensitivity feels like a personal issue. Unless you've had this experience, you can't imagine what it's like. The tendency for most people is to figure that it's largely psychosomatic. I suppose that's a natural conclusion—except for the fact is this is entirely too real, and not the result of some underlying mental or emotional issue." Indeed, why would anyone voluntarily go to such lengths to find relief from their symptoms?
What can he recommend for others who are facing this condition? Part of his solution was moving to a rural area— there is more control over your environment in areas with less population-density—though that didn't prevent 'smart' meters from intruding on his idyll. "Get rid of fluorescent lighting," Jameson says, "especially those compact 'energy-saving' light bulbs! Stay the hell away from WiFi."
He also uses some unusual items for maintaining his health. He swears by hot and cold baths: "This is also really powerful stuff. Basically my understanding is that it hyper-oxygenates the blood and moves the lymph. Works great for inflammation. But the water needs to be as hot and as cold as you can stand without hurting yourself. Four minutes hot, two minutes cold." He also eats a special fruit called noni, which he gets at health-food stores. "This stuff is really powerful, so don't be surprised if you start healing from other chronic health conditions as a side effect. Really strong taste though. And it smells like rotting garbage." These are the extreme lengths Jameson and other injured by EM fields are pushed to, to recover their health.
Jameson is hopeful for the future of understanding electrical sensitivity. "One of these days, there may be conclusive evidence of the underlying cause of extreme electrical sensitivity—but that's going to take an acknowledgment from official sources that this is a real, physiological condition. Sweden seems to be leading the way on that front. Until then, limit exposure and keep your body as strong as possible."
"Good luck—it's a dirty electrical world out there."
——————-

Links related to "screen dermatitis":
Computer-related skin diseases
Review of the literature of computer-related dermatoses
Excellent interview with Olle Johansson, 2001
Two studies by Johansson and others:
http://www.ncbi.nlm.nih.gov/pubmed/9412815
http://www.ncbi.nlm.nih.gov/pubmed/7881769