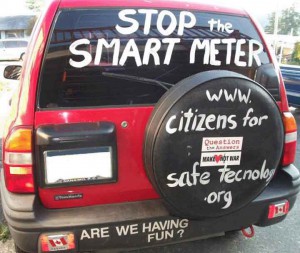 The British Columbia-based group, Citizens for Safe Technology, filed a complaint recently against BC Hydro's 'smart' meter program there, stating that the regulatory body that should be exercising oversight and review isn't doing its job. This is a familiar story to us in California, as we have watched our own utility commission repeatedly accept utility priorities as their own, rather than acting to protect the consumer. Press release:
Citizens' Group Seeks Injunction
Against Smart Meter Program
A complaint has been filed under Section 47 of the Utilities Commission Act requesting an injunctive freeze on the wireless component of the Smart Meter Program without delay. This action is being taken to engage the Commission's administrative function as a regulator of BC Hydro in accordance with the rule of law; only by operation of the rule of law can the public interest in health, security, privacy and safety be factored into Smart Meter Program decisions.
Up until now, the Commission as a regulator has been left out and, with that, any consideration of the public interest has been eliminated from BC Hydro's decision. The action taken is about preserving the regulatory oversight and democratic process we uphold under the rule of law in British Columbia. BC Hydro cannot be allowed to act with impunity, without regard to the public interest, on a matter that raises serious concerns with respect to human health, environmental integrity, individual privacy and civil liberties.
The Clean Energy Act purports to excuse BC Hydro from having to obtain a BCUC issued Certificate of "public convenience and necessity" but not with respect to the wireless and snooping components of the Smart Meter Program. The Commission is requested to issue relief on an urgent and interim basis, without hearing and without delay, so as to effectively freeze any and all activity being carried out by BC Hydro in contravention of section 45(1) of the Utilities Commission Act.  Any delay in the issuance of the relief sought will allow BC Hydro to continue with unauthorized expenditures associated with the Unauthorized Extensions. This Action is taken to preserve and give weight to the public interest with regard to the deployment of the Smart Meter Program in British Columbia.
Media Contacts
David M. Aaron, Barrister & Solicitor
Tel: 250.551.6840  Fax: 866.685.7376
Sharon Noble, CST Legal Liaison,  – dsnoble@shaw.ca, Tel: (619)628-1947
Una St.Clair, CST Executive Director,  – una@citizensforsafetechnology.org
Industry Media on this: http://www.smartmeters.com/the-news/2915-canadian-advocacy-group-follows-injunction-suit.html