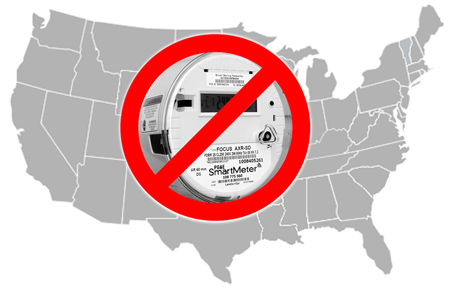 In Michigan the Public Service Commission opened a new investigation into smart meters, thanks in part to work from the folks with michiganstopsmartmeters.com. Press links below.
It only took NINE Michigan cities objecting to the program to get their commissioners to respond to public outcry. California commissioners, take a lesson! We are up to FORTY-NINE cities and counties with official objections. Mt Shasta is the latest. We deserve a proper investigation too.
Maine smart meter opponents filed an appeal in the ongoing lawsuit against the program in their state: Maine-Appeal-Brief-Filed-PressReleaseJan-11-2012. More press links below. This Maine woman blames her expensive appliance-blow-out nightmare on a smart meter, which she had removed herself and replaced with an analog.
Meanwhile, in Nevada, the fight is hotting up. An investigation was begun in October, but opt-out fees are now on their way. Angel De Fazio, founder of NV Energy Stop Smart Meters has been working hard to fight the opt-out costs, which the state regulators are making disproportionately higher for analogs. We're pleased to see OccupyLV is on it. Here's some analysis of the process from the RightFace.us. NVE apparently is stooping to full-out trespass to get the meters on.
In Illinois, Naperville smart meter foes had their proposed referendum rejected, due to being short by 100+ signatures on the petition. This was looking like a promising tactic in the fight–but we're sure there will be similar referendums in future, there and elsewhere. Naperville opponents were able in December to go straight to federal court to file for an injunction, because their utility is independent and not connected to their public utility commission.
In Texas, this family posted notice they don't want the smart meter installation (video). They were threatened with the police. "The installer went away mad."
==========
Michigan Press: HuffPost: http://www.huffingtonpost.com/2012/01/13/smart-meter-technology-michigan-utilities_n_1205193.html
Oakland Press http://www.theoaklandpress.com/articles/2012/01/14/news/local_news/doc4f121be67e4a7257929825.txt?viewmode=default
Detroit News http://www.detroitnews.com/article/20120114/METRO/201140370/1409/Smart-utility-meters-dial-up-backlash
Detroit Free Press http://www.freep.com/article/20120112/NEWS05/120112036/State-panel-to-probe-smart-meter-deployment
 Maine press: The Forecaster  http://www.theforecaster.net/content/pnms-smart-meter-appeal-supreme-court-011812