The following is a list of local governments within California who are opposed to the mandatory wireless  'smart' meter program.  Names of cities and counties are linked to news coverage or official council minutes that substantiate each city or county's inclusion.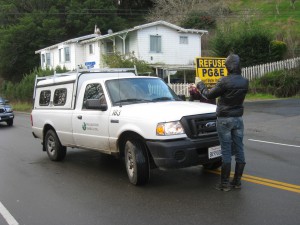 Those local governments in red have passed ordinances that have made 'smart' meter installations illegal within their jurisdictions. 
Note that these areas may still have smart meters installed, as utilities are widely ignoring and violating local laws.  Therefore do not use this list as a guide to finding low RF housing.

Counties (11)
Humboldt County (pdf)
Lake County
Mendocino County
City and County of San Francisco
Santa Barbara County
Sonoma County — AB 37 Support Letter (pdf)
Ventura County
Cities and Towns (45)
Arcata
Berkeley (pdf)
Blue Lake
Bolinas
Buellton
Calabasas
Camp Meeker (pdf)
Capitola
Carpinteria
Clearlake
Cotati (pdf)
Fairfax (pdf)
Fillmore
Fort Bragg
Grover Beach
Lakeport
Marina
Monterey (pdf)
Monte Sereno (pdf)
Morro Bay (pdf)
Mount Shasta
Novato
Piedmont (pdf)
Richmond (pdf)
San Rafael (pdf)
Santa Cruz
Seaside
Sebastopol (pdf)
Solvang
Simi Valley
Thousand Oaks
Watsonville
Other Jurisdictions (1)
Big Valley Rancheria/Tribal Community of Pomo Indians
Total Number Local Governments Opposed: 57
Total CA population represented:  3,831,272
The law is on our side and its time to give PG&E the facts:
*  California cities (480) and counties (58) have the right to protect the health, safety and welfare of their residents, period. PG&E touts this pre-emption line but cities and counties are legal jurisdictions with constitutional rights.
*  Every city and county has an approved Franchise Agreement with PG&E. Fairfax's first franchise agreement with PG&E allowing them to operate in Town was 1938 and it was amended in 1954. Check with your city or county and ask for a copy of their PG&E Franchise Agreement. This is just one of supporting documents that gives your city or county some control over PG&E separate from the California Public Utilities Commission.
*  If your city or county has a Telecommunications Ordinance that governs antennas and either wireless or wired transmitters in your community, they have another legal means of authority over PG&E.