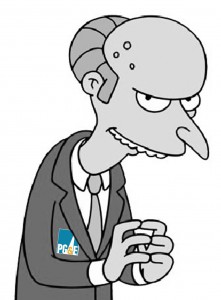 Anyone using online sites to manage or pay bills, or transact business of any sort, is familiar with "signing" one of those long detailed legal agreements usually called "Term and Conditions"–merely by checking a box.
Watch out.
On PG&E's website for residential accounts, you may be signing away your right to any compensation over the paltry sum of five hundred dollars. This news comes to us from the San Jose Mercury News Action Line. A reader wrote in with this story:
I was surprised to find on page three of a four-page document that if I signed up online, I would be agreeing to the sum of $500 as damages against PG&E under any theory of liability. I called PG&E and asked about this language and was told that this is limited to my account. But my account is my home!
Well put: our utility accounts affect us where we live. For those of us who have been harmed by PG&E's smart meter roll-out–either from harm due to RF pulses or doubled or quadrupled bills they are themselves blamed for and forced to pay–or fires and appliance damage–or who have seen the devastation that their negligence in San Bruno brought–it is hardly surprising that this corporation would sneakily slip in such a limit on their liability.
Many website users won't catch the fact that they have just agreed to this outrageous clause. Yet someday soon PG&E may go the way of many corporations, and charge you money if you pay by mail and don't agree to online billing–essentially forcing you as a customer to consent to this legal agreement.
We will be monitoring this, and post an update when we get further information.