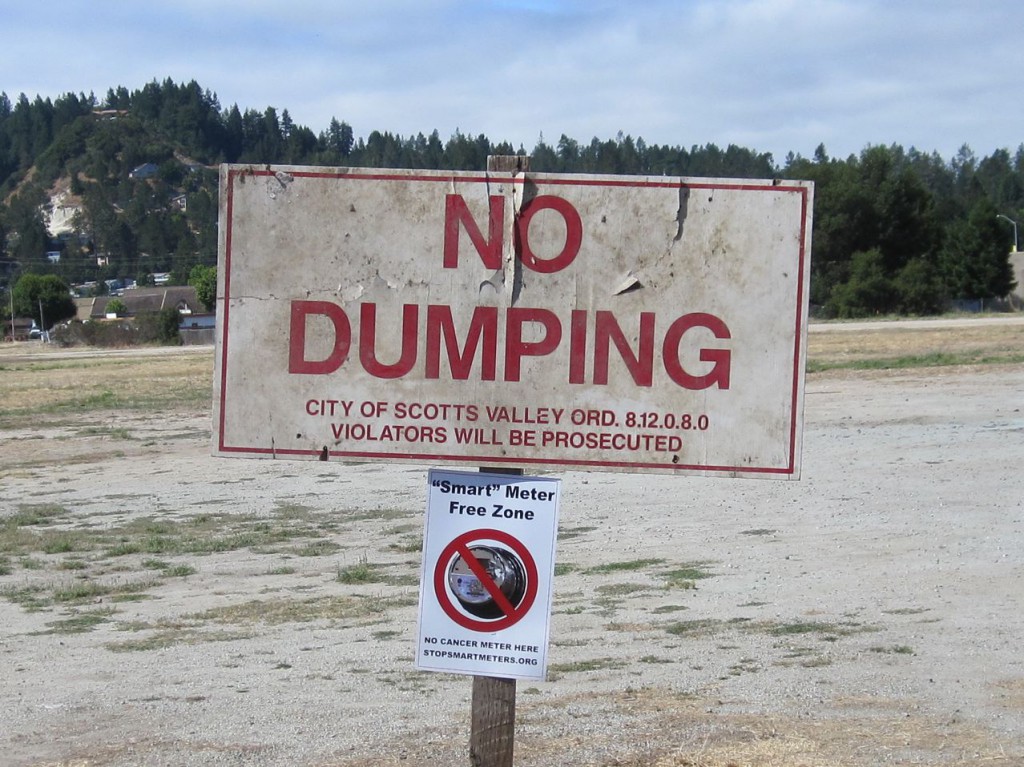 Lately there have been a series of newspaper articles–from Marin, Bakersfield, San Francisco, and elsewhere–covering breathless press releases from PG&E claiming that hardly anyone is signing up for their "opt-out" program.  Of course, PG&E is delighted with these articles, as it makes those opposed to smart meters seem like a tiny minority, a depiction that PG&E and the CPUC have repeatedly sought to promote- despite tens of thousands of complaints pouring in to the Utilities Commission, and more than fifty cities and counties in CA (representing millions of people) on record as opposed.  If you'll notice, there is very rarely any room in the corporate media for positive coverage of ordinary people–particularly in large numbers–rebelling against authority.

The assumption is that if very few people are signing up for PG&E's opt-out scheme, then most are happy with their smart meters.  No matter how outrageous the policy is, that's our government, and most of the media assumes that people will just go along with it.
That storyline could not be farther from the truth.  Instead of asking how many people are signed up to pay hundreds of dollars to keep their analogs, what the media should be asking instead is, "How many analogs remain out in the field?"
The answer–at least as far as PG&E territory in Northern California goes–is more than a million (out of roughly ten million customers).  Millions more analogs remain in perfect working order in areas of Southern California and beyond.
According to PG&E's own report to the CPUC in January:
"[I]ncreasing number of installations affected by access refusals.  Increased costs, increase in unable to complete (UTC) back-log, customer change management."
In other words, there are likely more than a million households holding out against the evil smart meter throughout Northern California, and most of these people are not signing up for PG&E's extortionate opt out program.  They're also not going to allow a smart meter on their home or business anytime soon.
The media coverage would seem to suggest that the furor over smart meters has subsided and that the CPUC approved a "compromise" opt-out program that only a few Californians seem to be taking advantage of.  But the reality is that there is a conflict simmering, ready to explode into full boil, if PG&E tries to start disconnecting people's power again, or sending fully paid bills to collection agencies.
Whatever PG&E's intended rationale for the smart meter "opt out" program, the real result is that a whole lot of people who had been ignoring the issue–somehow thinking that good sense would prevail eventually–are now engaging in it, reading the health reports, and connecting the dots.  And these mainstream, ordinary people are mad as hell, and joining the fight, which has now gone international.

In response to the increase in "access refusals," PG&E is cranking up the propaganda machine into overtime, or as they say in PG&Ese, "engaging with the customer."
"Pursuing operational improvements to increase efficiency of (Unable to Complete) resolution. Ongoing engagement with customers across multiple communication channels to enhance customer understanding of SmartMeterTM program and benefits."
But as we know, there is very little that PG&E or anyone else can do to make people "understand the benefits" of a device that is causing headaches and nausea, that emits radiation that the WHO and NIH have found to have serious biological impacts, that invades your privacy and ignites your home on fire.  It's sort of like a rapist trying to get his victim to "understand the benefits" of having sex with him (and then charging a fee to avoid it!)
From the same report we also learn that removal of smart meters from one's home has become common enough throughout PG&E's service territory to warrant a whole section in their smart meter report:
"January 2012. Customer removal of SmartMeters. Negative impact to public safety, increased costs and delays in benefits.

"Resolved – following established policy whereby PG&E attempts to contact such customers to address the risk their actions pose to public safety and ensure continued service while awaiting the Commission's opt-out decision."
Another nugget of information confirms that the wireless mesh network is rife with basic operational problems. Despite widespread installation of smart meters, many meter readers are being retained to read wireless meters where the signal isn't being received, in areas that are remote or hilly–just as we've heard about in Marin and elsewhere.

"Pursuing resolution of network coverage in 'hard-to-reach' areas with technology supplier, including potential alternate network solutions."
Translation: the choice of a wireless mesh network has been a huge debacle, not only inflicting health harm and raising security issues, but also failing fundamental operational tests.
The real story here–if the mainstream media would take the time to report the story accurately–is that charging such a hefty fee in economically challenged times, to get more expensive, less reliable, and more dangerous service, is getting a lot of people (justifiably) very angry.
Most people we speak with are angry about the fee, and are refusing to pay it.  Their analog meters are locked up or inside, and the guard dog growls behind the locked fence at anyone resembling a PG&E or Wellington employee.
Sadly, the corporate media machine is unable to wrap its head around the idea that there could be such widespread–albeit quiet–rebellion. People are simply refusing to go along with a corrupt program. Policies to charge people to keep dangerous devices off their homes are out of touch with reality. Truly, this qualifies as extortion–yet mainstream media is missing the corruption and injustice at the core of the story.
And–as if anyone could forget–after you pay your hundreds of dollars for the right to keep the safe meter on your home, you are still being assaulted from thousands of other dangerous wireless meters–on your way to work, at work, at play, and at home. You can pay the extortionate price they ask to get it off your home, but you still can't opt out of being irradiated everywhere else.
Moral of the story: If you still have your analog meters, secure them from utility company tampering, and refuse to pay illegitimate fees cooked up by devious executives in a desperate attempt to salvage their DumbMeter program.
You'd be in good company.
___________________________________________________
Hear people's smart meter stories: http://www.SmartMeterHealthAlert.org/videos.html
Sign the Petition against smart meter fees (there is noting legally binding about signing this petition). http://www.thepetitionsite.com/2/we-refuse-to-pay-extortionate-smart-meter-opt-out-fees/
Submit your smart meter complaint here: http://SmartMeterHelp.com