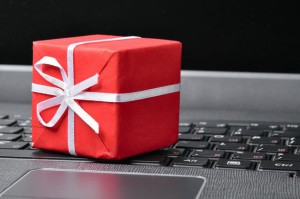 We're all familiar with bad technology that causes harm.  But what about good tech?   Stop Smart Meters! is not anti-technology- as our detractors like to claim.  We're just opposed to inappropriate technology that causes more harm than good.  This holiday season, bypass wireless gadgets that can cause developmental and reproductive harm and instead choose gifts that protect the ones you love.  Plus, StopSmartMeters.Org benefits when you purchase these products through our website (at a discount), helping to fund our public outreach and educational programs.
Cornet ED 178S RF/ LF meter
You can't beat this little gadget in terms of cost, convenience and its ability to measure a variety of different frequencies and sources of electromagnetic fields (EMF).
It is powered by a single 9V battery, and detects RF (microwave radiation) from 100 MHz to 8 GHz, which encompasses most cordless phones, smart meters, cell phones, and wi-fi.  It also detects low frequencies from electrical wiring and power lines. (50 Hz to 10 KHz) Why wait until you develop a headache or other symptoms to tell you when you are in a hazardous 'hotspot'?  The ED78S detects the brief spikes of radiation emitted by smart meters, and other wireless devices.  For those on a budget, this is a great little device (it's what we use!).  Plus it has a nifty moving graph that displays levels from the past few seconds.
The Cornet ED178S is on sale from our online store (including free shipping within the U.S.)
Gigahertz Solutions HF35C High Frequency Meter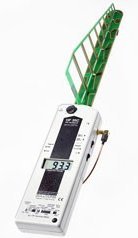 If you are looking for an RF measuring device that makes a statement in public with a large green antenna and an audio speaker that turns invisible RF waves into sound, then the HF35C is for you.
After you use this device for a while, it becomes easy to differentiate between the high whine of a cell tower and the clicks of a smart meter.  See it in action here.  As the intensity of the radiation source increases, so does the volume, making it easy to identify strong sources of radiation (and making the invisible audible).
Buy the HF35C at a discount in the Stop Smart Meters! store.
AlphaSmart 3000
A few years ago, after spending hours on my Macbook (updating this website and fighting 'smart' meters) I started to develop a very uncomfortable tingling sensation in my wrists and hands.  I realized that the powerful EMF from the processors in the laptop were affecting me, and not in a good way.  I bought a separate keyboard and mouse and put some distance between the laptop and my body.   Still, after hours typing in front of the computer I found that I was developing headaches and just felt run down.   I said to my girlfriend, "I wish there was a device that was just a keyboard and a small LCD screen without any of the unwanted EMF and distractions of the internet.  Why doesn't someone make that?"  Lo and behold, a few weeks later, my friend Adam told me about the Alphasmart, a device used primarily in an educational context in the late 1990's/ early 2000's, but now growing in popularity amongst those who find that they are increasingly "electromagnetically aware."  The Alphasmart 3000 contains 8 files with a 12.5 page capacity each, and runs for hundreds of hours on 3 AA batteries.  I have not been able to detect any EMF at all from the Alphasmart (using my Cornet meter above) and I can happily type on it all day.  When you are finished typing, simply connect the Alphasmart to any computer with a USB printer cable, open up Word (or your e-mail program), press the send button on the Alphasmart and the device 'types' your words onto the screen.
It's a basic- but sturdy- technology that has come to the rescue of a growing number of EHS people. For those who have been so seriously injured that they can no longer use a computer, the Alphasmart can restore communication and creative expression with no EMF hangover.  For those who spend a lot of time in front of the computer and wish to reduce their exposure, the Alphasmart is the perfect gift.  Note: Alphasmart models other than the 3000 model reviewed here may include wi-fi.  Buyer beware!  June '17 update: The Alphasmart 3000 will be coming soon to the Stop Smart Meters! store– stay tuned.