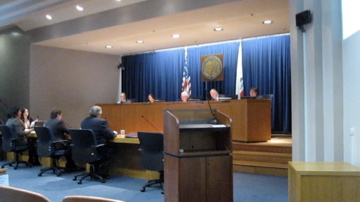 CA-wide alert via the grassroots wire:
Thursday, February 28, 2013 – 9am
California Public Utilities Commission
505 Van Ness Avenue – Auditorium
San Francisco, CA 94102
A decision on Phase 2 (cost/fees and community-wide opt-out) of the SmartMeter opt-out provision is on the horizon.  Administrative Law Judge YIp-Kikugawa, who presided over the Dec. 20 Santa Rosa public participation hearing and the four hearings in Southern California, will soon be making her recommendation to the Commission.
In the meantime, Commissioner Timothy Simon's term expired and Governor Brown appointed Carla J. Peterman, previously on the California Energy Commission and TURN Board of Directors.
Ms. Peterman, seated just last month, has not experienced the SmartMeter drama that began with skyrocketing bills in Bakersfield in 2008, followed shortly by health complaints, privacy issues, security questions, and protests statewide.  She has not encountered people sickened and disabled after SmartMeter installation.  We need to welcome her and make sure she sees faces and hears voices of PG&E customers who have been adversely affected by SmartMeters and meets other customers with serious concerns.  Once a Phase 2 decision is agendized, commissioners' minds will already have been made up and a vote will be a mere formality.
Feb. 28 IS THE LAST CPUC BUSINESS MEETING IN SAN FRANCISCO UNTIL APRIL.  The one March meeting (3/21) is in San Diego.
The minimum the public should tolerate:
no-cost individual and community rights to keep analog meters
residential and business "opt-outs"
'safe zones' around homes of those suffering from electro-sensitivity
full, open investigations and hearings into health, privacy, and fire risks from smart meters
recall of hazardous meter systems
We know that personal appearances and personal stories delivered in the open time at the start of public meetings do get attention and  DO MAKE A DIFFERENCE.  Such appearances were effective in achieving the critical PG&E analog meter option last year.
Let's not surrender to waiting and hoping.  If you've spoken before, be proud, know you have contributed, and come again now.  Bring someone new if you can.  If every previous voice recruits a yet unheard one, what a showing we'll make!
 And what a lot of topics to choose from:  RF health impacts, fire safety, commission staff and PG&E execs' spying, privacy violations, overcharging, property rights violations, etc. etc.  You pay their salaries- now take up some of their time!