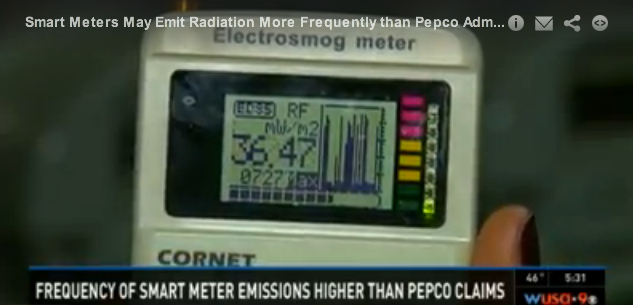 WASHINGTON DC– Thanks to the investigative efforts of Desiree Jaworski of the Center for Safer Wireless who demonstrated to WUSA 9 news on Tuesday that Pepco has in fact been lying to its customers about the number of smart meter wireless pulses in a day.
This deception is not an isolated incident, but part of a pattern of deceit by utilities, as evidenced by our recent coverage of the Sacramento Municipal Utility District's lies and the invasion of privacy and identity fraud committed by top executives at Pacific Gas and Electric Company in California, who also misrepresented emissions frequency from their meters, saying they broadcast 45 seconds per day, while they were forced to admit that the meters pulse up to 190,000 times per day.  What are they trying to hide?
Note that many of the smart meter pulses in this screenshot are into the red zone, which corresponds to levels which would be illegal in Russia, according to the user manual for the Cornet EMF meter (pdf). You can purchase the Cornet meter used in this investigation from our friends at Radmeters so you too can expose the local utility's lies.