SACRAMENTO, CA– Resistance to smart meter deployments can vary tremendously, depending on local circumstances.  Sometimes a local population is informed, organized and resistant to a smart meter deployment before the men in uniforms and white trucks arrive like some old episode from the Twilight Zone, barging into people's backyards and installing devices that make people sick.
Other times, little attention is given to the quiet, but pervasive 'meter upgrade' until problems start cropping up.
That's the case in Sacramento, California where 99.9995% of households have now been installed with smart meters by the local municipal utility SMUD.  Only when people started connecting the dots between a variety of sudden health problems and the recently installed metering mesh networks did a local group get organized and start applying pressure, attending meetings and speaking out.
According to Eric Windheim, Director of Stop Smart Meters! Sacramento, and an owner of an environmental health business who founded the group in May 2012:
"At first it was only a couple of us. But every meeting more people are coming out of the woodwork who have been hurt by smart meters and want them off their homes.  All we want is safe, clean electricity delivered through a proven safe analog meter from a utility that tells the truth.  Is that too much to ask?"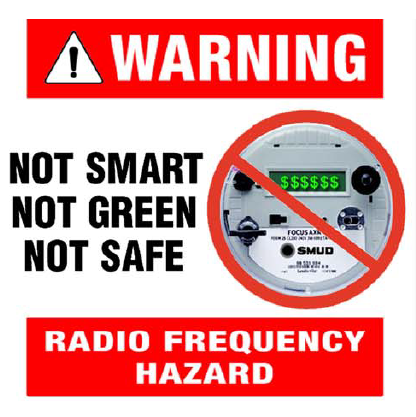 Apparently it is.  SMUD has lied about the number of daily smart meter pulses, and ridiculed those with serious, doctor verified health damage from smart meters. SMUD published statements that "smart meters send radio transmissions only once every four hours" but Stop Smart Meters! Sacramento forced them to admit the truth- that SMUD Smart Meters in fact emit 13,381 transmissions per day on the average, according to industry documents.
The SMUD lie was off by over 2,230%.
It tells you something when a utility has to lie about the facts in order to get people to believe that something is safe.
Now SMUD is being bombarded by thousands of angry residents who want their smart meters off and analog meters back.  SMUD has been forced to schedule a workshop this Thursday, February 21st (5:45-9pm 6201 S Street if you want to go) to deal with growing smart meter complaints from the public. Two outside national "experts" will speak for SMUD for the first hour.  The public has 90 minutes- 3 people who sign up on SMUD's website in advance will have up to 10 minutes each and everyone else gets 5 minutes- or 3 minutes if its crowded.
Sources familiar with SMUD on the smart meter issue say, "expect professional discourtesy."  They don't like to hear that they are killing your grandma.   SMUD is also doing everything possible to make it difficult, including the installation of new "crowd control"  measures in the Board Room (see below).
The escalating smart meter drama at SMUD meetings reached a new level in October when a woman named Rosa P. came and spoke directly to SMUD's board about her suffering from the bank of dozens of smart meters installed on the wall of her apartment. She told the Directors about her constant bloody noses whenever she was at home, near the smart meters. Though many had described their symptoms, the board members just didn't seem to get it. So Rosa brought her blood-soaked nightgown to the meeting in a plastic bag, and placed it on the overhead projector, to show SMUD directors what effect smart meter radiation is having on her life.  The macabre show and tell had its desired effect.  As Rosa's bloodied nightgown filled the screen, the blood drained from the faces of the board members.
Are they starting to realize what they are responsible for?
One Director- Genevieve Shiroma- was particularly shocked, and said to Eric after the meeting:
"Mr. Windheim, No more bloody rags!"
Eric Windheim  replied:
"Those are not rags.  This is Rosa's nightgown and she's standing right there."
Director Shiroma just said:
"Take her to a doctor…"
For 2013, SMUD has changed its policy- not to allow no-cost 'opt outs' – but to prohibit members of the public from using the overhead projector at meetings.  Though the directors seem to have been shaken by the sight of blood, it hasn't seemed to soften their smart meter policies, or make it any easier to get the devices off your home.  Twilight Zone indeed.
SMUD claims authority to examine and censor any visual material the public will present 48 hours before Thursday's workshop but they have not offered to share their visual images in advance with the public.
Remember, this is the same utility whose director was caught on tape joking that "these people" could afford to buy 'tin foil hats' to protect them from the radiation.
Despite the challenges, Eric and his group have been persistent advocates for those harmed by smart meters in Sacramento.  It has not always been easy.  Just this month a promising newspaper article authorized by the owner of the paper with interviews of Eric and several others was to be published but as soon as the reporter contacted SMUD for some clarifications the article was canned.  Last year a local TV station agreed to run a series of reports on Smart Meter Problems but SMUD threatened the station according to the person who was going to be interviewed.
Is SMUD violating the First Amendment to the Constitution? "Infringing upon the freedom of the press"? "Abridging the freedom of speech"?
Eric has been "body blocked" by SMUD staffers as he was trying to speak with the General Manager about a legal issue, and the group has been threatened that if they spread the word, and a lot more people 'opt out' the fee will rise for everyone.  In other words, be grateful for what you have and shut up.
SSM! Sacramento is not shutting up.  In the last several months they have distributed more than a thousand flyers, attended dozens of events, and recently packed Eric's house with 23 people on short notice to hear from an RF expert coming through town and talk about what to do about SMUD.
The 'opt out' fees and punitive policies have been particularly harsh.  SMUD initially tried to charge people $127 and $39.40/month for a "non-transmitting" digital smart meter (the kind that has been associated with dirty-electricity related health impacts). Now- trying to defuse a growing public revolt- they've lowered their digital "non-transmitting" meter fee to $14/ month, but are refusing to allow people to retain their analog meters, threatening several- including Eric- with electricity disconnection.
Nationally, it's shaping up that municipal utilities seem to be some of the worst perpetrators. Perhaps because local government authority combined with control of utility services concentrates power and invites corruption.  We have certainly seen this in places like the City of Naperville (CON).  Though SMUD has not used police escort to force smart meters on homes yet, they have deployed half a dozen armed officers at meetings- some say to intimidate the increasing number of sickened SMUD customers coming forward.
Lesson learned is that localization of public services is a worthwhile goal, but make sure you don't go from the frying pan into the fire:  your local government board may be worse than the company shareholders they are intended to replace.
In advance of Thursday's meeting, a 2.5′ steel barrier has been installed to keep the public behind the second row of seats in the boardroom and away from the SMUD directors and staff.  SSM! Sacramento includes members with hearing disabilities, and so has typically been sitting in the front row in order to hear what is said.  Now SMUD has decided to move everyone back to the third row, behind the new heavy steel barrier.  An apt symbol for the soured, increasingly entrenched relations between utilities and the public.
According to SMUD:
"Because this is a workshop and not a Board meeting, speakers will be allowed to use the overhead projector if requested 48 hours in advance of the workshop. All slides must be submitted to SMUD 48 hours in advance of the workshop. Requests to use the overhead projector and materials should be provided by email to Erik.Krause@smud.org"
Afraid of the sight of a little blood, SMUD?
Important Upcoming Meetings to Speak Out and Stop Smart Meters!:
1)    Sacramento Smart Meter Meeting:
       Thurs. Feb. 21  5:45-9pm 6201 S Street, Sacramento (SMUD)
2)    California Public Utilities Commission Meeting:
       Thurs. Feb. 28 8:45am 505 Van Ness, SF (PG$E, SDG$E, $SCE$)
Download pdf of SSM! Sacramento's Flyer here: Smart Meter Workshop Flyer
If you want to come and speak, please do – you can contact Eric Windheim, Director of Stop Smart Meters! Sacramento @ 919-395-7336 to coordinate.
To support Stop Smart Meters! Sacramento: send donations to Stop Smart Meters! Attn: Sacramento SSM!  Donations will help offset printing and office costs associated with organizing resistance to SMUD's smart meter policies.  We thank you.