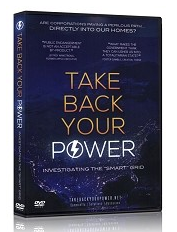 QUANTITY DISCOUNT ON DVD'S AVAILABLE NOW!      *PLAN A LOCAL SCREENING TODAY*
The newly released documentary, Take Back Your Power, is one of the most powerful tools we have to wake up the public to the smart grid scam.  We have heard numerous stories of even die-hard smart grid supporters waking up and changing their tune after seeing the film.
That's why Stop Smart Meters! and the Take Back Your Power team want the film to be seen and the truth understood by as many audiences as possible.  Here's where you come in:
Due to popular demand, Stop Smart Meters! is coordinating a bulk order with new special discounted, below-wholesale rates for purchases over $100. (further discounts may apply if you distribute to local elected officials)   Please e-mail info[at]stopsmartmeters[dot]org to get the whole scoop and pricing info and how to get affordable copies to the people who need to see this film the most.
Let's get copies of this film to decisionmakers, friends, family, your local library, Michael Peevey for Christmas….
SCREENINGS
TBYP Screenings are happening all around the world- make sure your local area is included.  For info on how to host a screening, see:  http://www.takebackyourpower.net/screenings/host-screening/   Or just invite neighbors and friends and have a screening in your living room! Screening events are also a powerful and effective way to distribute copies of the film and spread knowledge – reportedly the Sedona AZ Smart Meter Awareness group quickly sold out of their box of 100 at the screening & ordered more.
Please e-mail info[at]stopsmartmeters[dot]org for more details on bulk orders of TBYP DVD's for advocates and groups.
View the full, September 2013 Stop Smart Meters! Bulletin
Take Back Your Power-– or just don't give it up in the first place