———————————
Stop Smart Meters! Bulletin
Vol. 14   September 2013
https://stopsmartmeters.org
PO Box 30 Davenport CA 95017
———————————
QUOTES OF THE MONTH (thanks to the Cecils!!)
"There is a demon in technology.  It was put there by man and man will have to exorcise it before technological civilization can achieve the eighteenth-century ideal of humane, civilized life."*
-René Jules Dubos (1901 – 1982)
"Rise like Lions after slumber;
In unvanquishable number;
Shake your chains to earth like dew;
Which in sleep had fallen on you;
Ye are many;
They are few."*
-Percy Bysshe Shelley (1792 – 1822)
CONTENTS
1. Order 'Take Back Your Power' DVD's At Special Quantity Discount Through Stop Smart Meters!  Plan A Screening Today!
2. Families Getting Electricity, Water, & Gas Shut Off, But Utilities And Local Govts. Lack The Legal Right
3. EMF Refugees Increasing; Site Chronicles Human Rights Abuses
4. Michigan Stop Smart Meters! Launches National Smart Meter Health Campaign
5. What To Do About Forced Smart Grid Installations?
Remove The Stupid Meters!
6.  Volunteer Or Donate! Support Stop Smart Meters!
1. ORDER 'TAKE BACK YOUR POWER' DVD'S AT SPECIAL QUANTITY DISCOUNT THROUGH STOP SMART METERS!   PLAN A SCREENING TODAY!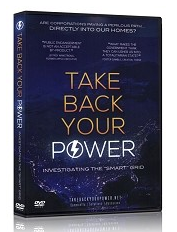 The newly released documentary, Take Back Your Power, is one of the most powerful tools we have to wake up politicians and the public to the smart grid scam.  We have heard numerous stories of even die-hard smart grid supporters waking up and changing their tune after seeing the film.  That's why Stop Smart Meters! and the Take Back Your Power team want the film to be seen by as many audiences as possible as soon as possible.  Here's where you come in:
Due to popular demand, Stop Smart Meters! is coordinating a bulk order with new special discounted, below-wholesale rates for purchases over $100. (further discounts may apply if you distribute to local elected officials)
You must place your order by this Thursday Oct. 3rd Midnight PST in order to be included in this big bulk order.
SCREENINGS
TBYP Screenings are happening all around the world- make sure your local area is included.  For info on how to host a screening, see:  http://www.takebackyourpower.net/screenings/host-screening/   Or just invite neighbors and friends and have a screening in your living room! Screening events are also a powerful and effective way to distribute copies of the film – the Sedona AZ Smart Meter Awareness group quickly sold out of their box of 100 & ordered more.
2. FAMILIES GETTING ELECTRICITY, WATER, & GAS SHUT OFF, BUT UTILITIES AND LOCAL GOVTS. LACK THE LEGAL RIGHT
'For the first time since Aug. 30, Cindee Zlacki of Springdale and her seven kids could shower at their own house on Tuesday. An Allegheny County Court judge has ordered the borough to restore water to the family's Railroad Street residence while the Zlackis and borough officials work toward a resolution over Springdale's mandated "smart meter" system.'  More: https://stopsmartmeters.org/2013/09/29/more-families-getting-water-shut-off-but-utilities-lack-the-legal-right/
3. EMF REFUGEES INCREASING; WEBSITE CHRONICLES THE HUMAN RIGHTS ABUSE
More people are experiencing unexplained health symptoms, as the 'smart' grid is deployed around the world, and 4G cell towers go up.  This is not a psychosomatic or psychiatric disorder, but a major bona fide health threat that threatens to become a pandemic.  Here at StopSmartMeters.Org we work hard to keep up with inquiries from a steady flow of people caught in untenable situations.  The mainstream culture says they're crazy but their bodies tell them it is our culture that is crazy.  More: https://stopsmartmeters.org/2013/09/28/emf-refugees-increasing-great-site-addresses-the-problem/
4. MICHIGAN STOP SMART METERS! LAUNCHES NATIONAL SMART METER HEALTH CAMPAIGN
According to Michigan SSM!:
A new national campaign is being launched in the US, culminating on October 25th, to document health damage from utility smart meters.   If you are suffering symptoms you believe are linked with a smart meter, consult a doctor and document your case.  For more information on how to participate in this mass action, see http://michiganstopsmartmeters.com/2013/09/29/how-to-be-heard-on-our-smart-meter-health-complaints/
5. WHAT TO DO ABOUT FORCED SMART GRID INSTALLATIONS?  REMOVE THE STUPID METERS!
You're not asking the utility company or your state regulatory agency what your rights are, are you?  We didn't think so!  All around the US and beyond, utility companies and government agencies have been lying to people, telling them that smart meters are mandatory.  Smart meters are NOT mandatory.   If you don't want a smart meter on your house, it is your right to have it removed.  Period. Fees being charged are illegal and extortionate.  Listen to Malvina Reynolds, get off your knees, stop being nice and have those stupid meters removed already!! See: https://stopsmartmeters.org/2013/09/27/what-to-do-about-the-men-of-ice-pushing-the-smart-grid-stop-playing-nice-have-the-stupid-meters-removed/
6. VOLUNTEER AND/OR DONATE! –SUPPORT STOP SMART METERS!
If you have some time to spare and a special talent you want to use to help spread awareness about this critical issue, please contact us.  If you are able to contribute to our costs with a donation, we thank you very much! See:  https://stopsmartmeters.org/donate
STOP SMART METERS! ON TWITTER! NOT FACEBOOK
For the latest campaign updates and links to breaking news stories, follow us on Twitter!  We are "stopsmeters"  Please retweet and encourage your friends to follow us!!  Our latest tweets also appear on the upper right hand side of our website. We are not on Facebook.  See: https://twitter.com/stopsmeters
"Our lives begin to end the day we become silent about things that matter."
-Martin Luther King Jr.