California's largest utility and smart meter cheerleader PG&E was indicted last week on federal felony charges in the 2010 San Bruno gas explosion, related to their fabrication of pipeline maintenance records, and systematic lying to investigating authorities.  We are told that the same corrupt individuals who used ratepayer money to pad their own salaries at the expense of people's lives should be trusted that smart meter radiation can't make you sick.
Last week, the Canadian province of Saskatchewan recalled 105,000 smart meters after several homes caught fire, adding another major fire safety scandal to previous ones (including those in Portland, OR and Philadelphia, PA.)  Yet we are expected to believe that smart meters are safe and do not put you and your family at risk.
The heat is on the utility industry and the (not so) smart grid, but as we reported in July, that doesn't stop Chicago's Com Ed from wooing people with free ice cream so they will presumably allow that friendly temp worker to swap out the meter.
You've got to hand it to Com Ed's marketing team- at least they are practicing honesty in advertising.  Their flavors don't really sound too appetizing to us- in fact they make us want to be sick, but they probably sound delicious to the utility's shareholders.
Com Ed's "Smart Meets Sweet" Ice Cream Flavors
Vanilla Grid
Chocolate Implanted Chip
No-Privacy Pistachio
Smart Metered Mint
Surveillance Sherbert
Radiating Raspberry
Possibly Carcinogenic Peppermint Stick
Burning House Brownie Fudge
Big Brother Blueberry
Cyber Criminal's Creamy Caramel
An assortment of Intelligence Gathering Ice Cream bars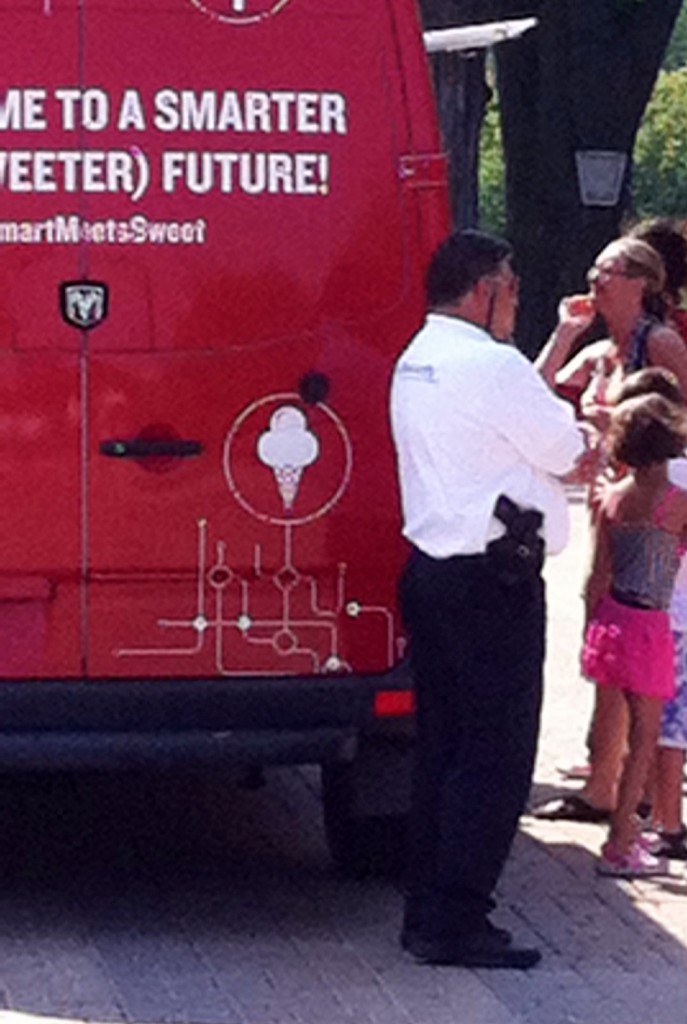 The DuPage Watchdog reported last week that a family stumbled upon the Com Ed ice cream truck when out at the swimming pool in Chicago, went home to make awareness signs to counter the shameless corporate propaganda effort, came back and were harassed by an armed security guard (see pic to left).
There's just something about ice cream trucks and gunmen together that should make the people of Chicago very wary about what is coming their way.
If you are on twitter, let Com Ed and the nice people of Chicago and the world know how "sweet" you think their "smart" meters are by posting at hashtag #smartmeetssweet
Flavors courtesy MM and Rebecca St. George