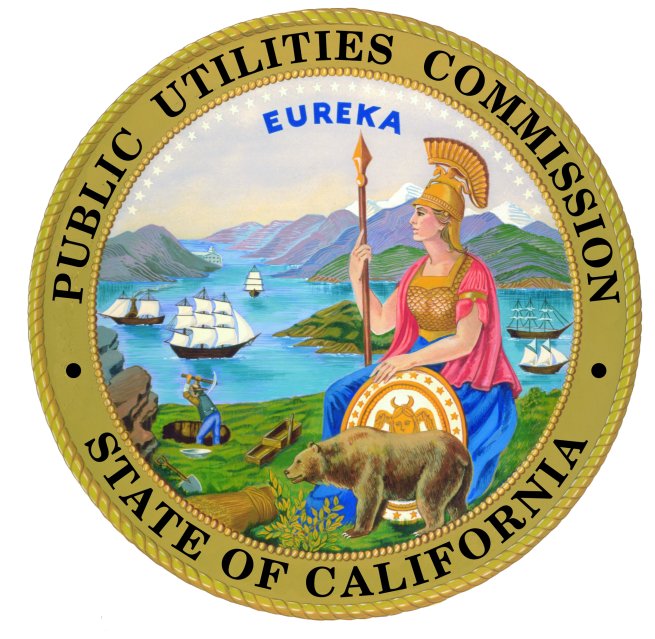 SAN FRANCISCO- Some utility customers in California are getting utility smart meter "opt out" fees reversed in hearings at the California Public Utilities Commission, even as the Commission itself drags out a decision about the legality of such fees, having postponed making a decision on the matter five times now– more than nine months beyond their statutory decision deadline.
Victory for California Public
Last Friday August 8th, CPUC Administrative Law Judge W. Anthony Colbert ordered Pacific Gas and Electric (PG&E) to immediately remove opt out fees from the bill of a customer who has retained his analog meter.
The complainant in this case- Thomas Rainey, a resident of Livermore, CA and a PG&E customer- challenged PG&E directly based on its tariff, claiming successfully that the opt out fees did not apply.  Mr. Rainey did not indicate whether or not he wanted a smart meter, or whether he wanted to join the 'opt out' program.
A Concerned Observer at the hearing provided this report:
"A decision was rendered at the end of the Evidentiary Hearing by the
ALJ Anthony Colbert, in Mr. Rainey's favor.
It was so ordered that PGE is to immediately remove (AND CREDIT) and
cease from charging the $75 surcharge AND each monthly $10 fee for
meter reading.  PG&E reluctantly had no other option but to agree to
this.  
The PG&E Representative was sadly ill prepared, which the ALJ actually
pointed out to him, twice."
PG&E's tariff (which apparently their Representative could stand to read) says:
"a customer must affirmatively elect to opt-out of the SmartMeterTM Program, and shall default to SmartMeterTM-based utility service absent such an election. If PG&E makes a field visit to a customer's residence for purposes of installing a SmartMeterTM and the customer does not provide reasonable access to PG&E to install a SmartMeterTM after being provided notice of eligibility for service under this Opt-Out Program and not electing to opt-out, the customer shall be deemed to have elected service under this Opt-Out Program."
-Advice Letter 3278-G/4006-E filed by PG$E on 16 February 2012
An astute observer at the hearing mused that:
"So the burden of proof is on PG&E to show EITHER:
(1) That you "affirmatively elect to opt-out of the SmartMeterTM Program";
or
(2) that all of the following factual "elements" are true:
(a) PG&E makes a field visit to a customer's residence (note that a visit
by Wellington- the contractor may not qualify);
(b) the visit was "for purposes of installing a SmartMeterTM "
(c) access was not provided;
(d) the non-provision of access was by the customer (how PG&E would prove this in the case of e.g. physical barriers if you aren't home is unclear);
(e) the non-provision of access was not "reasonable" (this makes any
evidence as to the reasonableness of denying access relevant and
admissible at the CPUC hearing).
PG&E has to 'prove' they tried a number of resolution avenues (site
visit, site visit homeowner refusal, certified and snail  mail, AVR
calls) to get the homeowner to allow access expressly for the purpose
of installing SmartMeters.
*If* PG&E makes a visit for the purpose of installing a SmartMeter, one may consider presenting them with a form to sign, as a precondition of access for that purpose, accepting liability for any RF interference or other damage caused by the SmartMeter.
Presumably, they would decline to sign. Then if it gets to the CPUC you
could argue that this was a reasonable condition of access, just as it would be reasonable to require that they warrant that they aren't carrying any weapons or contraband, agree to be subject to search while on your premises, agree to allow filming and recording, etc."
In other words, use your power as a party within a contractual relationship to demand that the utility meet your requirements if they wish to access your property.  Put the ball in their court and begin dictating to them on what terms you will accept service.  Absent any consent from you, you still have an agreement with your utility to provide service through an analog meter.  No matter what they say or how they try to spin it, if you have never given your consent to accept smart meters or pay fees to avoid them- there is no new agreement.   No contract.
Rainey's victory is a black eye to PG&E who were unprepared for the hearing, and who are defending a program that clearly violates state utility code, charging more to accommodate people's medical conditions and to protect their safety.  Every melted plastic meter and displaced family (or worse) makes it that much more difficult for the CPUC to argue with a straight face that the utilities "opt out" fees are not- in reality- a safety charge- and thus illegal under state law.
Instead of making a decision to uphold their "opt out" fees in a form that could be challenged in court, the Commission led by Michael Peevey is deferring and deferring and deferring, allowing the status quo of utility intimidation and extortion collection to continue throughout the state.  Even though California's interim "opt out" policy does not even have final approval, it is still being cited and replicated all around the US by industry, many times with higher fees and non-analog, electronic meters.
This is not acceptable.
CPUC: Piss or Get Off the Pot

Californians have been murmuring about the indefinitely continuing postponement of the PUC decision and new questions about the legitimacy of "opt-out" fees are being raised.   Those on the inside say the "opt out" fee program is simply not on sound legal footing, vulnerable to challenge under the state utility code section 453(b) prohibiting disabled discrimination, as well as other statutes.
Speculation in the comment section at the EMF Safety Network site is that:
"the CPUC's legal team simply can't come up with any bona fide legal authority to charge the fees.  The extension statements read: 'The issues in this proceeding are complex . . .'  Perhaps they should read, 'insurmountable.'"
In addition to all this, the CPUC's credibility has been severely undermined in recent days by revelations about intimate collusion between PG&E and CPUC President Michael Peevey's staff who helped the utility avoid a safety-related inquiry into the San Bruno gas pipeline explosion case.  Critics (such as ourselves) say this "twisted love-in" is resulting in deaths and serious injuries and it's time for Michael Peevey to step down.
The corporate culture that led to the San Bruno explosion, that killed eight people including one of the state's leading gas pipeline regulators, Jacqueline Greig is the same culture that led to the rapid deployment of untested smart meters and subsequent destruction and death they have caused.  The "opt out" fees are part and parcel of this system, intended to prop up a failing smart grid at public expense while suppressing demand for safer, more accurate and private analog alternatives.
Thus, like a middle school dropout who hasn't done his homework, scamming the other kids of their lunch money, utilities are trying to extort the fees the same way they tried to force the meters- through intimidation, bullying and coercion.
CPUC President Michael Peevey is like the principal looking the other way, getting kickbacks for his silence while snickering at the bullying of the other children, telling parents to "shut up" when they complain about the abuse their children are suffering.
Essentially by approving extension after extension, the PUC is refusing to "piss or get off the pot" preferring the status quo where the utilities exploit a new source of revenue from illegal "opt out" fees, intimidating people into paying without any solid legal backing.
The Smart Grid: Unable to Complete?
Those who have sole control over access to their meters are in a much stronger position, clearly.  The question of what happens with such residents is not an insignificant one, as this article from Baltimore points out, 350,000 residents-  more than 25% of BGE's customers- have not responded to utility installation efforts (we don't blame them).   Other households in places like San Francisco where electric meters are typically located inside the home- have also refused access and still retain their analog meters- without being billed for- or paying fees in many instances.
What are the utilities going to do with millions of "Unable-to-Completes?"  Start breaking down (front) doors? Disconnecting people's electricity even though they have paid their bill (sounds familiar). Gradually upping the "opt out" fees during a time of economic hardship until families cry uncle, forcing a possible carcinogen and fire risk into the home?  How much is too much to require people to pay when some can't even pay their utility bills currently?
Who do these people think they are, anyway?
The Judge's decision raises a number of legal and ethical questions:
What if a person decides they don't want to decide, seeing as here's a person who declined to decide, and doesn't have to pay?
Why should a person who just happens to have an inaccessible meter get the privilege of not being forced to pay?
Is it "reasonable" to install a device onto people's homes which has shown itself to be hazardous, shorting and arcing out and burning, subject to fire hazard recalls in Pennsylvania, Oregon, and now Saskatchewan?
In light of these documented safety problems with so-called "smart" meters, is it "reasonable" for a homeowner to consider sticking with the analog meter for the time being?
Is it "unreasonable" for utility corporations to put a price tag on safety and health, so only some people can afford these "premium" services?
Mr. Rainey's victory against PG&E has helped answer some questions but raised many more.  Critics of the relevance of this verdict might claim that Mr. Rainey's victory was based on a mere technicality.  To us, what this verdict brings to light is that under existing law and under the existing tariff structure, individuals are getting these ridiculous fees overturned and retaining their analogs.  We'll be following Mr. Rainey's case, as well as others who push their individual cases at the CPUC.  Let's flood the courtrooms and bring down this dangerous beast of a smart grid with a thousand tiny cuts.
Those wanting to challenge the illegal fees and take their case to the CPUC can begin here.  Let us know how it goes.
Case reference:
8/8/14 11:00 a.m. ALJ Colbert ECP – C.14-04-002 (EH) – Thomas Rainey, Complainant, vs. Pacific Gas and Electric Company, (U39E), Defendant, California Public Utilities Commission Courtroom, San Francisco
Note that no formal written decision was issued in this case.  The ALJ agreed to dismiss the complaint against PG&E and PG&E agreed to drop the fees.
Here is another case where PG&E was forced to reverse "smart" meter opt out charges:  http://hasbrouck.org/blog/archives/002101.html