A journal article entitled "Self-Reporting of Symptom Development From Exposure to Radiofrequency Fields of Wireless Smart Meters in Victoria, Australia: A Case Series" by Federica Lamech, MBBS has been published in the November/December 2014 issue of the peer-reviewed medical journal Alternative Therapies. Lamech, who has suffered symptoms from wireless smart meters herself according to the EMF Refugee site, says she was "unable to function" after smart meters were installed in her neighborhood near Melbourne Australia. She describes the context of her research at the outset of the article (emphasis ours):
"In 2006, the government in the state of Victoria, Australia, mandated the rollout of smart meters in Victoria, which effectively removed a whole population's ability to avoid exposure to human-made high-frequency non ionizing radiation.  This issue appears to constitute an unprecedented public health challenge for Victoria.  By August, 2013, 142 people had reported adverse health effects from wireless smart meters by submitting information on an Australian public Web site using its health and legal registers."

"(It appears that)…the effects of these symptoms on people's lives were significant."
Records from the study- according to Lamech- were stored in her home office "under lock and key."
"Of the 92 participants reporting symptoms from exposure to wireless smart meters, 87 were adults and five were children.  Of the adults, the youngest person was 23 years of age and the oldest was 74; 55 (63%) were female and 32 (37%) were male."

"Five most common symptoms were (in order of frequency: Insomnia (48%), headaches  (45%), Tinnnitus (33%), Lethargy (32%), and Cognitive Disturbance (30%)"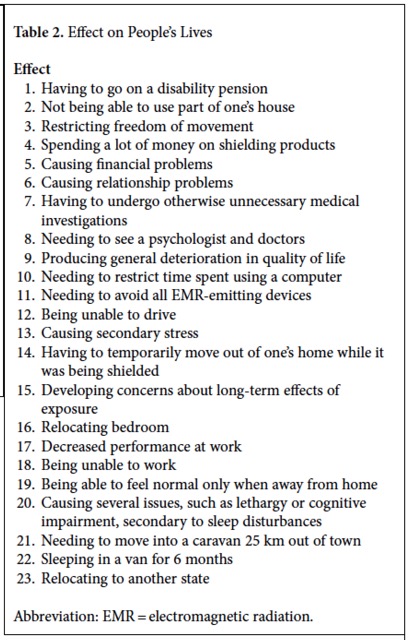 Lamech addresses critics who imply that people are just suffering from hay fever:
"It is..unlikely for the reported symptoms to be associated with any seasonal factor (eg, extremes of temperatures, degree of humidity, bushfire smoke, or high pollen count), because the reporting period stretched between September 2012 and August 2013, which meant that symptoms were reported during all 4 seasons.
Smart meters represent an ubiquitous presence throughout the state of Victoria, having been rolled out across the entire state.  Their presence is not subject to seasonal variation.  Therefore they are a credible possible cause of the symptoms reported in this study, although a case series cannot prove causality.  It can and does, however, offer a new hypothesis, one that will have to be tested by further research."
Lamech cites similarities between her research into smart meter health impacts and previous studies:
"What is immediately apparent is the fact that most of the symptoms reported in the current case series were also present in the Naval Medical Research Institute report."
Mandated, Involuntary Exposure
Lamech identifies the difference between past wireless exposures and that imposed by the smart grid:
"With regard to smart meters, 2 unique features should be considered:

(1) exposure may be involuntary.

(2) exposure can be universal.

In Victoria, smart meters were mandated, thereby removing the individual's choice to avoid exposure in his or her own home, and involuntary exposure also occurred to meters in neighboring homes.  Each smart meter in the mesh networks transmits an unknown and variable number of burst transmissions per day, which typically reach into many thousands in number.

…belief is increasing in the concept that intermittent pulses of radiofrequencies, such as those used in  the smart grid, are more biologically significant compared with constant-type exposures, even when the time-averaged exposure is miniscule."
The report concludes:
"Victorians in this report claimed a direct chronological association between exposure to wireless smart meters and symptom development."
Lamech comments on the urgency of additional research:
"An evidence based approach, such as the one used in all other areas of medicine, must be applied, which would mean the establishment of a post rollout surveillance study and funding for further research into the particular effects of wireless smart meters, in conjunction with research into the short-term and long-term consequences of EMR exposure.  Until more knowledge is accumulated and until this type of wireless technology can be proven safe, the author believe that communities should use a cautionary approach, asking for a moratorium on deployment of wireless smart meters and smart grids and for the use of safer technologies for smart meters, such as hard-wiring, fiber optics, or other non harmful methods of data transmission, including reading of meters by meter readers. Living in a wireless smart grid makes the Austrian Medical Association's recommendation to 'take all reasonable measures to reduce exposure to electromagnetic fields' impossible to implement."
This is the first peer-reviewed and published study into smart meter health problems, but something tells us it won't be the last.  Thank you Federica Lamech for your important research into this area.
This article is in the print version of the Nov/Dec 2014 Journal Alternative Therapies. The digital version of the article can now be bought online for $15 via this link.

Individual issues can be purchased directly from the publisher. The cost of the Nov/Dec print issue is $ 15 incl. delivery within the US and $ 25 incl. delivery internationally.  The PubMed listed abstract is available here.