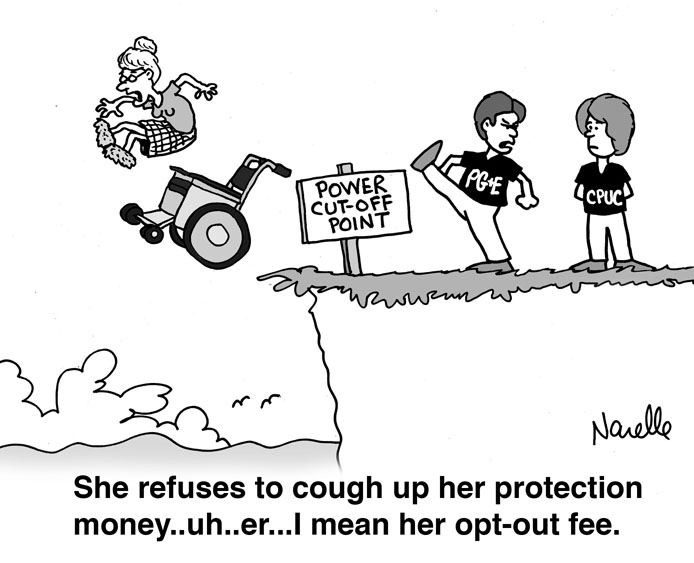 PG&E and other investor owned utilities (IOU's) in California have been playing a cat and mouse game of threatening to disconnect people for refusing to pay coercive opt out fees, and then backing off at the last moment- in many cases repeatedly.  As far as we are aware, none of the thousands of people refusing to pay "opt out" fees to SCE, PG&E, or SDG&E have been disconnected (apart from some customers of renegade municipals and "cooperatives" including yours truly). The California IOU's undoubtedly face a serious, renewed backlash if they attempt to initiate disconnects for those declining to pay "opt out" fees– and they know it.

Based on communications received from people around the state, it is evident that utilities are threatening and coercing people on a systemic level.  They are deceiving people about the (ready) availability of analog meters, and delaying smart meter removals for weeks, sometimes substituting smart meters that appear to be analogs- so called "trojan horse meters" while still charging people a fee.   These practices are not only eroding (what shreds remain of) the utility's credibility, they are creating stress for some of our state's most vulnerable residents. Thanks to Brian Narelle for the above illustration and the EMF Safety Network  for the following originally posted March 10:
Santa Cruz, CA- Utility giant PG&E is threatening to turn off the power to Lois Robin, an 84 year old woman from Santa Cruz because she's refusing to pay "opt-out" fees for keeping an analog meter.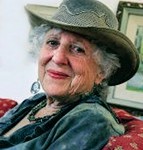 PG&E sent Lois a 15 day shut off notice in February, stating she owed $115. On Friday she received a message they will cut off her power on Tuesday if she doesn't pay.  So far her power remains on.
Lois writes, "I have always paid all my bills, except the opt-out fees. I insisted on keeping my old meter. They did not give me a new one. I have been on record all along as refusing a smart meter.  I am 84 years old, with rapidly deteriorating vision. I would not want them to disconnect me as I get along poorly without light. Yet, I would rather they turned me off than pay their extractive fees."
PG&E claims they have legal authority granted by the California Public Utilities Commission (CPUC) to collect the fees.  Emails between PG&E and the CPUC recently made public expose collusion, cover-up, multiple exparte violations and the broken regulatory process by which smart meter opt-out fees were concocted.  Smart meter opt-out fees were fabricated between the CPUC and PG&E long before the evidentiary hearings on costs began….
…In 2011, The County of Santa Cruz passed an ordinance banning smart meters, but PG&E deployed smart meters anyway. Lois Robin is one of many, who refuse to be coerced into paying the fees. Lois says, "This has been very stressful. PG&E doesn't listen to you. Talking to PG&E is like talking to robots."
More: http://emfsafetynetwork.org/pge-threatens-to-disconnect-84-yr-old-womans-power-for-refusing-smart-meter-extortion-fees/